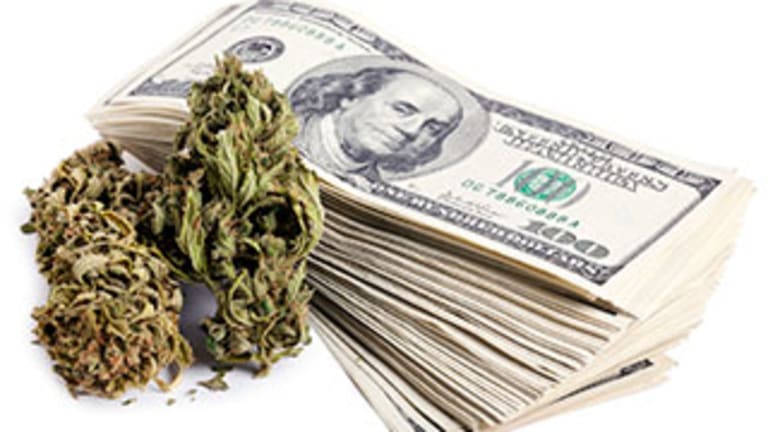 Top Marijuana Penny Stocks for 2014: Consulting, Biotech and Infused Products Win
The top performing marijuana penny stock this year was the consulting company Novus Acquisition Development Corporation (NDEV) with 3,400% in gains.
NEW YORK (MainStreet) — The year 2014 was fortuitous for pot penny stocks when on January 1, recreational marijuana was legalized in Colorado. But that sudden surge forward during the first quarter was followed by one SEC halt after another which dogged the sector ever since.
The category is expected to continue its decline next year, according to Viridian Capital & Research.

"The valuations among publicly traded companies are unsustainable relative to the underlying fundamentals," said Scott Greiper, CEO with Viridian Capital & Research in Manhattan. "Unless there's hype and fundamental strength coming back into the market, we will continue to see the majority of marijuana penny stocks drop in price."
Hype contributing to fundamental strength could arrive in the form of announcement of contracts, acquisitions, new products and ultimately legalization.
"Federal legalization would change everything, because it would take the risk out of the sector, but I don't think it will happen next year," Greiper told Mainstreet. "We see it happening four to five years from now."
Overall, the category of marijuana penny stocks was up 105% through November, according to Viridian data, and the entire gain for the sector was in the first quarter when recreational use was first legalized in Colorado.
Despite the ups and downs, the top performing cannabis penny stocks in 2014 include companies from biotech, consulting and infused products.

The top performing pot penny stock this year was Novus Acquisition Development Corporation (NDEV), a consulting company which gained 3,400%.
"They have put together an insurance plan for medical patients which operates like a medical savings plan or loyalty program," said Michael Swartz, analyst with Viridian Capital & Research. "It's a network of doctors and dispensaries through which registered medical marijuana patients can save money buying cannabis."
Cannabis Sativa (CBDS) was the second highest performing penny stock of the year with gains of 953.3%.
"This combination biotech and infused products company acquired Kush, which is researching and developing cannabis lozenges," Swartz told MainStreet.

WATCH: More personal finance videos on MainStreet | More videos from Scott Gamm
View Today's Auto Loan Refi Rates
Marijuana is undergoing a cultural shift in how it is consumed. When recreational was first legalized, edibles accounted for up to 10% of sales at Colorado dispensaries, but by October, marijuana infused edibles like chocolate and soda accounted for 40% of sales, according to Viridian research.
"Edibles are the fastest moving product in dispensaries because lollipops or eating and drinking your drug is perceived as cleaner than smoking it," Greiper said. "You don't have to light it and you don't have to touch the flower. You can eat an infused brownie on the street legally whereas smoking a marijuana cigarette on the street in Colorado is illegal."

With gains of 850%, Biotech company Abattis Bioceutical (ATTBF) is 2014's third top performing cannabis penny stock.
"Abattis is a majority owner in Phytalytics, which got a provisional license to act as a marijuana laboratory in Washington to improve controls around testing of strains for specific diseases and medical conditions," said Greiper.
—Written for MainStreet by Juliette Fairley