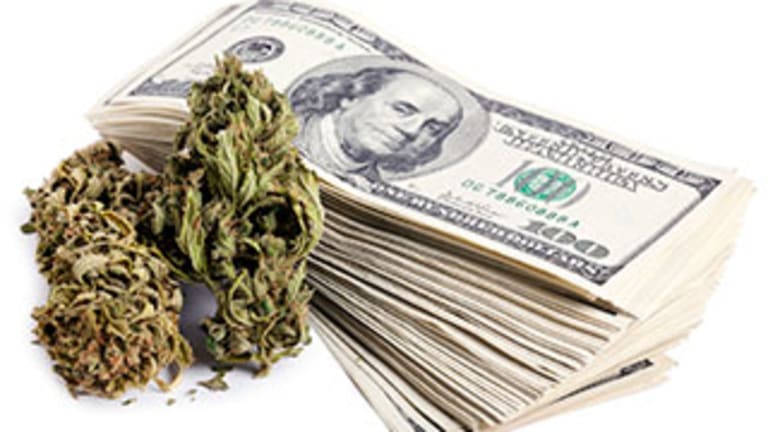 These Penny Stocks Ranked Among the Highest Performing Pot Consulting Firms in 2014
As eager CEOs rushed to market, consulting was the top performing sector of all marijuana penny stocks this year, returning 665%
NEW YORK (MainStreet) — Consulting was the top performing sector of all marijuana penny stocks in 2014, according to Viridian Capital & Research. That's because the legal pot business is brand new and largely without a nationwide standard.
"As more states roll out and mimic what Colorado and Washington have modeled in their application process, cannabis consultants will find ways to stay relevant by adding expertise in the areas of software, security and cash management," said Scott Greiper, founder of Viridian Capital & Research. "They will become management consulting consultants."
The cannabis consulting sector as a whole returned 665.5% this year.
"The majority of cannabis consulting services companies advise CEOs and investors who are seeking to gain a license to launch a recreational or medicinal dispensary or grow facility," said Scott Greiper. "It's a complex process, and there's a lot of competition to identity appropriate real estate properties and zoning. Most CEOs don't know how to do it on their own."
The top performing marijuana consulting stock this year was Novus Acquisition Development Corporation (NDEV) with gains of 3,400%. The company has reportedly aggregated an insurance plan for medical patients that operates like a medical savings plan or loyalty program.
"It's a network of doctors and dispensaries through which registered medical marijuana patients can save money buying cannabis," said Michael Swartz, analyst with Viridian Capital & Research.
Medbox (MDBX) and United Cannabis Corporation (CNAB) ranked second and third, respectively.
"There's a demand now for experts to lead the entrepreneur through the application process and that demand will continue as these entrepreneurs who are licensed will also need to be taught how to sustain a marijuana business by adhering to compliance as standards are set along the way," Greiper told MainStreet.
For example, once a marijuana dispensary is licensed, entrepreneurs must set up a cash management system complete with transaction tracking, inventory controls and distribution methods that adheres to state requirements And if ever the federal government legalizes marijuana or declassifies cannabis as Schedule I drug, state regulations are subject to change.
"For this reason, consulting will remain among the sectors we expect to outperform year after year," said Swartz.

WATCH: More personal finance videos on MainStreet | More videos from Ross Kenneth Urken
View Today's Auto Loan Refi Rates
In October, Medbox added former FBI executive Jennifer Love to its board of directors, joining Mitch Lowe, co-founder of Netflix.
"As we make the move to NASDAQ, adding an executive with Ms. Love's background and character is critical to ensuring that Medbox is able to properly secure, monitor and oversee cannabis operations for our clients," said Guy Marsala, CEO with Medbox. "She fits into our security minded, compliance focus seamlessly."
—Written for MainStreet by Juliette Fairley