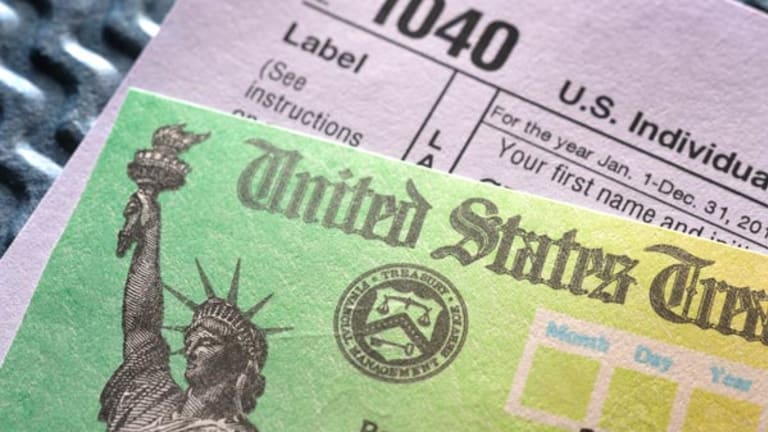 Taxes in 2002: Investing for Education
Get smart now about the changes in federal tax law that will help you save more for education.
This is the first article in a series about how the new federal tax law can save you money. The series begins today with a look at investing for education. On Tuesday, we will address how changes in the law affect saving for retirement and, on Wednesday, estate planning.
Taxes in 2002: Retirement Plans
Taxes in 2002: Estate Planning
Patriotism is all well and good, but let's not kid ourselves: At tax time, most people want to write as stingy a check to Uncle Sam as the letter of the law allows.
With that in mind, we've surveyed a handful of financial planners to find out what they think are the most significant changes for investors in 2002, as the new federal tax law that passed last year takes effect. By giving some thought to your situation now, you should be able to whittle down your tax bill next spring.
But since the law includes so many changes, today we're focusing on just one: investing to pay for education.
You can now take a deduction for the cost of higher education.
Starting this year, you can deduct from your income up to $3,000 for tuition and fees used for higher education. The expenses can be for you, your spouse or your children. (Before, there was no deduction at all.) To qualify, married couples must have an adjusted gross income below $130,000, singles below $65,000.
The deduction rises to $4,000 in 2004 and 2005, but disappears altogether in 2006.
State plans that let you invest to pay for college just got a whole lot better.
Starting this year, you can make tax-free withdrawals from state-sponsored 529 plans used to pay for college. Before, withdrawals were taxed at the student's rate. (Some states also exempt tax on withdrawals or let you take deductions for your contributions to 529 plans).
Basically, 529s come in two flavors. The first kind, known as a college savings plan, lets you contribute money that will be used for higher education expenses like tuition, room and board, and books. States hire professional money managers to invest your cash, usually allowing you to choose portfolios that range from conservative to aggressive.
The second kind of 529, the prepaid tuition plan, lets you lock in today's tuition rates. You make payments in either a lump sum or through an installment plan to the state, which hires managers to invest the funds; your investment will eventually be used to pay college tuition for your child.
Starting this year, you can contribute more to 529s -- up to $11,000 for 2002, compared with last year's maximum of $10,000. There's no cap on family income for participants, so even very affluent people can enjoy tax-free appreciation on their investments. "It's a great way to save for college for high-income earners," says Richard Johnson, chair of the tax working group at Waller Lansden, a Nashville, Tenn., law firm. "In effect, it can be a tax-free buildup if you use it for education purposes."
For greatest impact, investors can front-end load their contributions. A donor could make a gift of up to $55,000, using five years of gift-tax exclusions in one go. (He wouldn't be allowed to give any more money to that recipient for the next five years.) "So a grandparent could put $55,000 into an account the first year, and the IRS will allow him to elect as if he had made a gift for the next five years to that child," explains Johnson. "It gives the opportunity for the gift to grow a whole lot faster." A married (and extremely well-heeled) couple could double the size of a front-end-loaded contribution, making a tax-free gift of up to $110,000.
In some states, contributions could go even higher. "You can put in up to $250,000 in some states, for one child. That's a lot of potential tax-free earnings," says Joseph Hurley, CEO of
Savingforcollege.com, a reference on college savings plans. A donor avoids taxes in that case because the contributions are counted against his lifetime gift exclusion (we'll say more about these exclusions on Wednesday).
Also starting in 2002, you can change the asset mix of your 529 plan once a year. Under earlier rules, once an investment was made, it couldn't be altered unless you rolled the assets over to a different program. (To compare available 529 plans, check out Savingforcollege.com's
evaluator.)
You now can make investments to help cover the cost of private or public school below the college level.
Coverdell education savings accounts, or ESAs, formerly known as Education IRAs, invest money in mutual funds or securities that will later be used to pay for elementary and secondary school, as well as for higher education. (In the past, they could only be used to cover college costs.) According to Vanguard, expenses could include not only tuition, but also tutoring, supplies, computer equipment and transportation. Distributions from the accounts aren't taxed, as long as the money is used to pay for educational expenses.
Unlike 529s, ESAs let you more freely choose how your money is invested. "You can set up an account with a brokerage or mutual fund and invest it however you want, just like an IRA," says Tara Unverzagt, a certified financial planner in Torrance, Calif. "If you're invested in stocks, you can sell a stock and buy another when you feel it's appropriate. You do have control, and that's the advantage of an educational IRA if you feel you have the savvy."
Plus, this year the contribution per child has risen from $500 to $2,000. At the previous $500 limit, "it was almost not worth doing," says David Keister, managing director and chief trust officer for Chevy Chase Trust in Bethesda, Md. "But now, for families with kids in private schools, it can be a great way to save."
And more families will be able to open an ESA because the new rules have raised the income limits for eligibility. A married couple can now make the full $2,000 contribution if their income is less than $190,000 (last year, their income had to be less than $150,000). If their income is between $190,000 and $220,000 (also up from $150,000 to $160,000), they can make a partial contribution based on a formula determined by the IRS.
The income limits remain the same for singles: Individuals with income of less than $95,000 can make the full contribution, but contributions are phased out for those with income between $95,000 and $110,000.
Which Option Is Best for You?
But enough details. Say you just want to know which plan is best for you. The bottom line: If you can stand handing over control of your investments to a professional money manager, a 529 may be your best bet.
"Most of the time I would say the 529 is really the way to go," says Unverzagt. "The only time it would make sense for a Coverdell savings account is if somebody wants control over what the money is invested in. Personally, I think most of the 529s are run by really good mutual fund companies with really good histories. You can count on them to do as good a job as the average person can in investing."
529s also let you invest more money per year than Coverdells, and they don't impose income limits, making them an excellent choice for people with high income.
People who aren't rolling in money also have an incentive to choose 529s for a different reason: Compared with the alternatives, 529s make it easier to get financial aid. That's because 529 accounts are considered to be the legal property of the parent, not the child. Colleges are allowed to assume that only 5.6% of the parents' assets are available to help pay for college, but 35% of the student's assets are available. So when it comes to receiving financial aid, it's in a family's interest to have as few assets in a child's name as possible.
Because Coverdell accounts are considered an asset of the child, they'll make the child appear relatively better-off, thus reducing eligibility for financial aid.
Besides the financial-aid benefits, the 529 lets the giver determine when withdrawals are taken and for what purpose. (The donor has less control over a Coverdell account because the child technically owns it.) Most 529 plans let a giver change the beneficiary of the money if he chooses, or even reclaim the funds for himself, though taxes and penalties will apply if the money isn't used for education.
Also, unlike the Coverdell account, some states offer tax breaks on 529 plans.
So that's a rundown of the most popular kinds of college savings plans. Tomorrow, we'll look at an area financial planners say is even more important: investing for your own retirement.