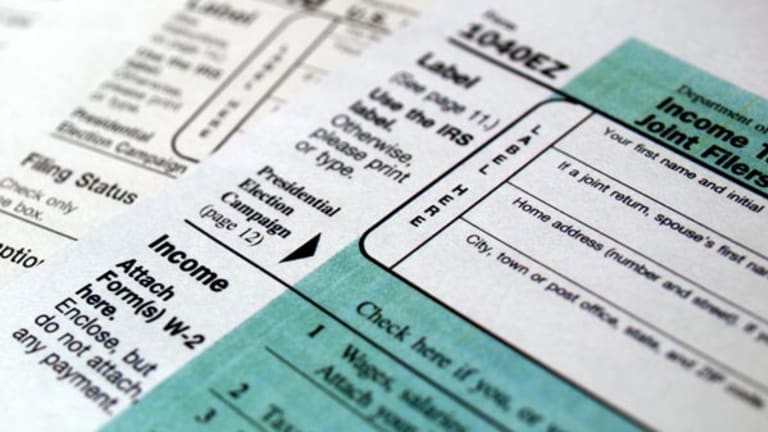 Share the Wealth: How to Donate Your Rebate to Charity
Before you relieve a store of one less flat-screen TV, consider giving your stimulus check to charity. Here are some tips for donating your rebate.
There are other ways to stimulate the economy with your tax rebate check then by shopping.
This spring some 130 million American households will receive as much as $1,200 from the Bush administration's $168 billion economic stimulus plan. Checks between $300 and $600 for qualifying individuals and between $600 and $1,200 for married couples, with an additional $300 for each child under the age of 17, are already being distributed according to the Internal Revenue Service.
But before you relieve Sears (SHLD) of the flat-screen TV you've been coveting, consider giving your mad money to charity. Here's how:
START ONLINE
You might know that you want to donate to your local soup kitchen or house of worship. But if you're not sure of the color of your do-gooder parachute, find inspiration online. Charles Best, founder of DonorsChoose.org, a site that connects donors to classrooms in need of school supplies, calls his work "a new breed of web 2.0 charity that believes in enabling anyone into being a philanthropist." Even causes that pre-date the Internet also make it easy to donate over the World Wide Web. You can go online to give to your local Red Cross chapter or to the ASPCA.

CHECK UP ON YOUR CHARITY
The majority of charities put their money where it is intended and are not scams, says Sara Beinart, major gifts officer for the Center for Constitutional Rights, which promotes upholding the Universal Declaration of Human Rights and the Constitution. But if you want to double check that your benefactor is legit, the Better Business Bureau, Charity Navigator and GuideStar are good resources, she says.
KNOW THAT ANY AMOUNT HELPS
Your last name doesn't need to be Rockefeller or Astor for your money to make a difference. "I think there is a misconception that if you only have $100 or $50 to give, it'll be one drop in a huge bucket," says Best. Sometimes, one drop, however, can go a long way. For example, at DonorsChoose.org, $50 might be enough for an art teacher to buy new clay for her students or it could pay for a high school English teacher's New Yorker subscription for the classroom. Also, ask your employer if they can help your 'small' donation go further. "One of the wonderful things that corporate America has done is matched donations for employees," says Beinart. A corporation can often double or even triple the power of a charitable donation, she says.
TAKE THE TAX WRITE OFF
The federal government requires that donors are given a tax receipt for donations over $250, says Beinart, so make sure to hold onto your paperwork. Donations of lesser or greater amounts are tax-deductible, although you should talk to your accountant about specifics, she says.
EXPECT A HEARTWARMING 'THANK YOU'
Most charities will write thank you notes to their benefactors. For example, DonorChoose.org donors receive letters of thanks from students they've helped and people find the feedback "moving and vivid evidence" of their good works, says Best.
In the digital age donations are easier to make than ever. So when that piece of paper from the federal government arrives in the mail, keep in mind that Wal-mart (WMT) may not need your $600 as much as a charity probably does.

Related Stories:
"Retailers Want Your Stimulus Check"
"Here's When You Can Expect Your Stimulus Check"
"Don't Fall Victim to a Stimulus Check Scam"