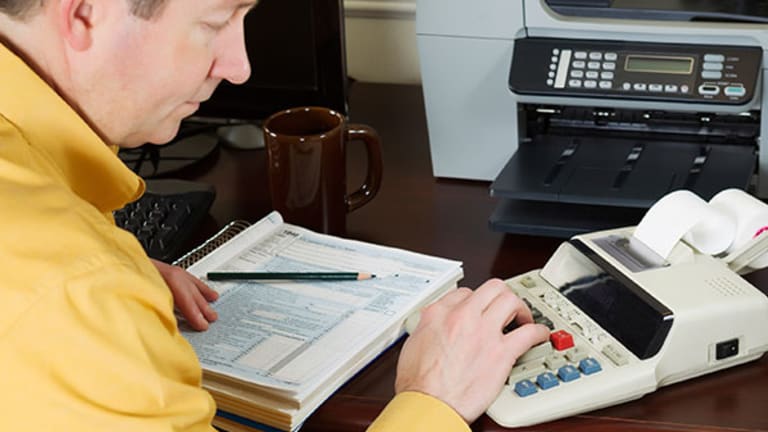 Relax: You Still Have Plenty of Time to File Your Taxes Correctly
The tax deadline has been pushed back a few days this year, but you still have time in the next few weeks to organize and even make deductions for 2015.
Relax, you have so much time left to file your taxes this year.
We know: you see that "April" approaching on the calendar and suddenly you transform into Homer Simpson, racing to the post office to file your wadded-up ball of last-minute tax documents. This year, however, you get a bit of a reprieve. 
The Internal Revenue Service opened tax season on Jan. 19 and expects more than 150 million tax returns to be filed this year, but you have until Monday, April 18, to file tax returns and pay any taxes due. You can thank the Emancipation Day holiday in Washington, D.C., for falling on April 15 this year. However, taxpayers in Maine and Massachusetts can wait until Tuesday, April 19 because of Patriot's Day observances on April 18.
Also, though the the IRS received a minor budget boost this year, that's just putting a few more operators on duty after the agency answered just 37% of taxpayer calls last year. It won't pay to replace any of the hundreds of tax-compliance employees who are expected to retire this year. That means the odds of a taxpayer facing an audit will fall from last year's 0.84%, though odds of folks with income of $1 million or more being audited still stand at roughly 10%.
Still, even if you'd prefer to pay it straight and not cut corners on your return, you still have a whole lot of time. Last year, we came to the realization that though most accountants are booked during the final weeks of tax season, there are still typically slots available at swamped tax preparation services. Tax software is still an option but Eric Meermann, a certified financial planner and enrolled agent with Palisades Hudson Financial Group in Scarsdale, N.Y., told us last year that there's always one last tool in the procrastinator's chest.
"If you wake up on April 15 with nothing done, there is one major step you can still take that day: electronically file Tax Form 4868 to request an automatic filing extension," says Eric Meermann, a certified financial planner and enrolled agent with Palisades Hudson Financial Group in Scarsdale, N.Y. "This action secures you six months of additional time to prepare and file your return without any late filing penalties."
Anthony D. Criscuolo, a certified financial planner with Palisades Hudson Financial Group, notes that workers can still contribute to their IRA by April 18, but you can contribute by the October extension date if you're self-employed and have a SEP IRA. You can still contribute if you haven't filed your 2015 tax return yet, are eligible and haven't already put in the maximum amount. You can even set up a new IRA by April 18 and make the maximum $5,500 contribution ($6,500 for people 50 and older).
"Retirement contributions are valuable for people in all tax brackets—especially for the affluent who are paying the highest tax rates," Criscuolo says.
Just don't put off filing for that extension or put off calculating your contributions against what you think you'll owe. The federal penalty for failure to file starts at 5% per month and tops out at 25% of taxes owed. That's just from Uncle Sam. Failure to file in New York State, for example, exacts a 7%-per-month penalty. Oh, and you're going to want to calculate what you think you owe and send it in. Otherwise you're subject to a 0.5% to 1% monthly federal penalty for late payment, which also caps out at 25% of your unpaid taxes. The monthly federal penalty for failure to file and failure to pay is capped at 5%, but still isn't ideal to incur both with state penalties on top of them.

As Meerman notes, if you pay at least 90% of your taxes owed when you file an extension request, there's a good chance the failure-to-pay penalty may be waived. Doublecheck information like date of birth and Social Security Numbers before mailing in payment, and get a receipt or e-mail confirmation for any payment sent.
If you're filing late because you don't have the money to pay the IRS at this stage, file anyway. If you're filing in New York State, for instance. the 5% federal penalty and 7% state penalty for failure to file are a lot worse than the 0.5% levy for failure to pay. Take the hit and use those six months to build your resources. Also, if you're self-employed and have your first quarterly tax payment of 2016 due on April 15, you'll again have to consider your priorities but might want to consider going with the current year obligation to keep the interest rates down.
Just don't blow through either the April 18 deadline or the October extension deadline and expect that everything will just work out. Meerman points out that those who file their returns more than 60 days after the deadline (or the extended deadline) are also subject to a minimum penalty of $135 or 100% of the unpaid tax, whichever is less.
"If you can't afford to pay your whole tax bill, the IRS generally works with taxpayers to set up installment payment plans or other compromises if necessary," Meerman says. "While lateness is never the best-case scenario, the sooner you get your taxes done, the less your tardiness will cost."
This article is commentary by an independent contributor. At the time of publication, the author held no positions in the stocks mentioned.