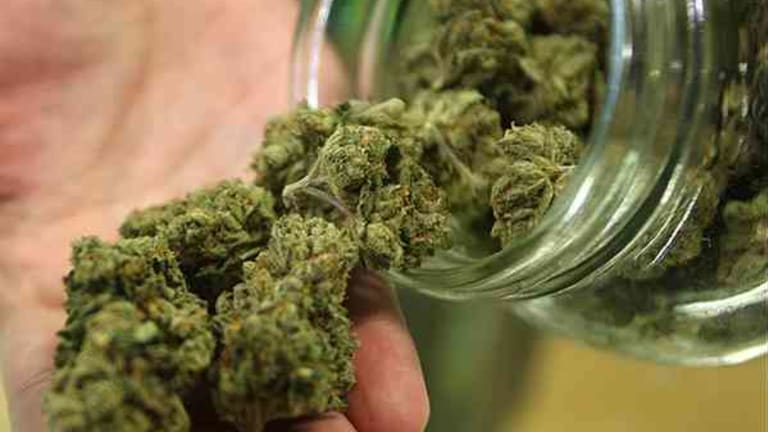 Pot Stocks to Watch in 2015 Among Software, Compliance and Security Sectors
Stocks stand to gain from continued pot legalization in 2015.
NEW YORK (MainStreet) — The software sector is poised to launch in 2015 as more states join the fray and legalize marijuana. Just this year, four states came on board to legalize recreational use, including Colorado, Oregon, Washington and Alaska, and plenty more blessed medicinal use of the plant-based drug.
"There will be a need for software to track seed to sale distribution of marijuana and governments are wanting to monitor for diversion while CEOs of dispensaries and grows are seeking peace of mind that they are not breaking state law," said Scott Greiper, founder of Viridian Capital and Research in Manhattan. 50 billion in pot sold nationwide
What is expected to help pot entrepreneurs across the nation next year is that the Congress just this month promised that no federal money will be used by the Department of Justice to prosecute regulated marijuana markets.
"If a state has a regulated market, there will be a huge need and demand to increase security and compliance at dispensaries and grows," said Michael Swartz, analyst with Viridian Capital and Research.
In addition to pot-related software, security and compliance, specific penny stocks to watch include Surna (SRNA).
"Because it offers differentiated technology, Surna could ride a wave of new products and increasing concerns about the costs of providing power to grow operations," said Alan Brochstein, founder of the 420 Investor investment group.
While this year was a year of planning for Surna, experts expect 2015 to be a year of execution.
"Surna Inc. is compelling, because it has industry veterans on board combined with people who have come out of both tech and law industries," said Robert Hunt, a cannabis investor and fund manager. "Through their connections they have a better shot at raising institutional money than almost any other public OTC cannabis stock."
The American Cannabis Company (AMMJ) could attract investor interest with its business model of consulting and product offering. The consulting sector itself outperformed the entire category this year with gains of 665% followed by biotech with returns of 339% and infused products with gains of 135%.
"American Cannabis Company is by my measure the only profitable company in the space," Brochstein told MainStreet.
With cannabis testing slated to be a hot button issue in 2015, CannLabs will be an interesting stock to watch. Trading as CANL, it is not only a data mining and software company but also a testing company.

WATCH: More personal finance videos on MainStreet | More videos from Ross Kenneth Urken
View Today's Auto Loan Refi Rates
"In my opinion, CannLabs will gain at least 30% in 2015 to see their share price jump to more than $1.30 based on the growth of revenue they will experience from the recreational cannabis market in Colorado that now has batch testing requirements," Hunt told
MainStreet
. "They are best positioned to capitalize on this state mandated windfall."
As smokers increasingly use vaporizers to try to quit cigarettes and to ingest marijuana, companies such as Vape Holdings (VAPE) and Vaporin (VAPO) stand to gain prominence.
"Vape Holdings suffered a series of setbacks some of which were self-inflicted, but the company could regain investor interest following new product offerings, a more diversified business model and the introduction of a battery-powered dabbing nail," Brochstein said.
For investors who have yet to summon the courage to invest in cannabis stocks and want a less risky path than penny stocks, there are well known publicly traded companies trading on the New York Stock Exchange that could see a benefit from continued cannabis legalization in 2015 For example, electricity providers such as Xcel Energy (XEL) and Pacific Gas & Electric (PCG) supply power to run lights for indoor grow facilities.
"The same is true of Koninklijke Philips NV (PHG), which supplies many of the high intensity discharge bulbs to the industry," Hunt said. "I also like Waters Corp (WAT), which manufactures almost all of the equipment needed for lab testing of cannabis. They have entered the market directly by manufacturing super critical CO2 extraction machines."
—Written for MainStreet by Juliette Fairley