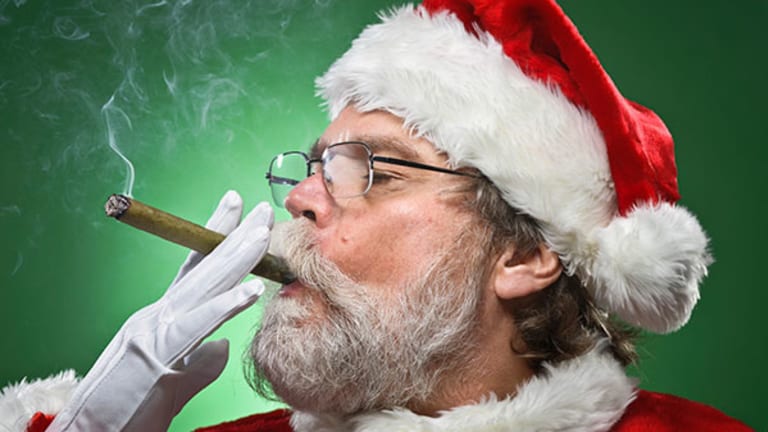 Pot Smoking Santa Painting Removed From Dispensary Windows after Complaints in LA
Local outrage over pot themed Christmas pictures force unlicensed marijuana store to conform to community standards and regulations
NEW YORK (MainStreet) - In Los Angeles this month, as the nation approaches the last days before its first truly "green" if not ganja-scented Christmas, local sentiment about legalization if not use has been expressed in controversial ways amid the Yuletide cheer.
Enter the newest cultural discussion of the season.
A local medical marijuana dispensary received hundreds of complaints after it painted the exterior doors and windows with pictures of a pot smoking Santa, a snowman holding a prescription bottle and a cartoon joint wearing a red Christmas hat. The store had commissioned a local artist to create the Christmas themed paintings, which immediately sparked a local furor.
After receiving hundreds of complaints when the pictures were posted on the "Coastal San Pedro Neighborhood Watch" page on Facebook and facing a swarm of local media coverage, The Harbor House of Dank retreated from its foray into pushing cultural norms. Less than a day after the local press showed up, the paintings had been scraped off the window.
Facebook posts in response to the store's marketing fail included comments like "kids walk by that store all the time" and "just could not understand why."
Unfortunately for the store, this may just be the beginning of its legal problems. It appears also to be in violation of a newly passed local ordinance allowing only 135 dispensaries established before 2007 to stay in business in the city. The Harbor House of Dank is a brand new store, open for less than a month - although it is already receiving favorable reviews on both Leafly and Weedmaps, two national dispensary listing services online.
This also seems to be a particularly egregious case of flaunting fairly universal municipal sanctions present in every city where marijuana is legal - even for "only" medical use. The store is a block away from a local junior high school - an issue of major concern to those who posted comments on the Facebook page.
The incident comes during a time when medical dispensaries as an industry vertical, and not just in California, are facing multiple pressures to staying in business, even when in compliance with local ordinance even if not facing pressure from the Drug Enforcement Agency.
Several dispensaries particularly in the northern part of the state, have just escaped federal prosecution with not only with the Congressional action this year to defund the DEA but also a federal court decision to remove the threat of asset forfeiture from the landlords of medical dispensaries (also targeted by local prosecutors and the DEA in the past) out of the 9th Circuit.
For this very reason, the drama in L.A. this week is exactly the kind of situation which is not supported in the advocacy community either - and on several fronts - starting with non compliance with local regulations. The issues involved in the L.A. case, which include using a cultural icon of importance particularly to children on the exterior of a clearly unregulated store less than a block from a local junior high school, are ones that reform advocates fight every day.

WATCH: More personal finance videos on MainStreet | More videos from Ross Kenneth Urken
View Today's Auto Loan Refi Rates
"It was a poor decision," said Mason Tvert of the Marijuana Policy Project. "That said, this kind of incident also happened before marijuana was made legal and on a non-marijuana stores. And it's something that we see happen with non-marijuana-related subjects on non-marijuana-related stores."
--Written by Margurite Arnold for MainStreet