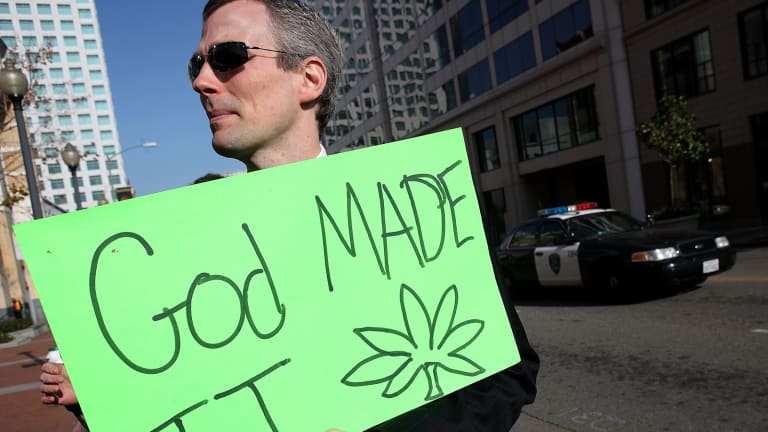 North Carolina Vets Organize to Put Medical Marijuana Use on State GOP Platform
Fayetteville-based military veterans organize to put marijuana reform on the state Republican ballot as House Democrats introduce new reform bill.
NEW YORK (MainStreet) -- Military veterans in North Carolina, especially around Fayetteville, a center of both active military personnel and vets, are now organizing to put marijuana legalization on the state's GOP platform.
In February, the North Carolina House saw the introduction of a bill to legalize medical marijuana. It was introduced by Representative Kelly Alexander, a Charlotte-based Democrat. This is Alexander's fourth attempt to legalize medical use in the state. This is the first time, however, that medical reform has attracted so much support in the North Carolina House. There are now over a dozen cosponsors. Republican support for the measure, however, is non-existent.
That may be about to change thanks to efforts from David Hargitt, Sr., president of NC RAMP (Republicans Against Marijuana Prohibition), one of several groups leading the charge to put the issue of legalization on the Republican state party platform.
"The reason I have gotten involved in advocating for medical cannabis in North Carolina is to ensure patients and doctors have the ability to prescribe and use cannabis as medication without the fear of retribution, prosecution and being treated like criminals," he said. Hargitt's goal, as he explained, is "[f]or this platform to become one of the GOP's stances."
"It is time that Republicans, Conservatives, Libertarians, Liberals, Democrats and Independents to realize that there is scientific evidence that cannabis is medication," he said.
Veterans may yet be one of the strongest forces for reform in states that lag behind on the cannabis legalization debate, especially in the South. They may also turn the tables on Conservative state legislatures who are still stalling on even comprehensive medical reform.
According to Guy Rocourt, both a vet and the co-founder of a vape pen company called Neos, "Veterans will be a strategic voice in the reform of cannabis laws. I believe the reason that most vets will be in favour of cannabis reform is because of its proven benefits for issues like PTSD." Beyond scientific evidence, however, Rocourt also believes the support of this community will convince more Americans to support reform for a very simple reason. "Veterans are viewed as upstanding citizens who want to protect, defend and do what's right for our country," he said.
Mike Betts, also a vet and the Director of Community Outreach for Southern Nevada for Terra Tech (TRTC), concurs.
"I completely agree that veterans can be very strategic voices in forward reform," he said. "Many veterans are mission driven and do not stop until their mission is complete. Many veterans also lose that mission when departing the military and participating in forward reform helps reinstill that mission. Once a veteran or group of veterans has a purpose they believe in that ultimately benefits others, they cannot be stopped."
Like many vets, Hargitt is organizing reform in his home state not just out of personal need, but a deep sense of duty to his fellow vets. "I have personal experience of watching several friends become addicted to the opiates the VA has prescribed to them," he said. "This is an epidemic with implications that reach beyond the veteran. It affects the families and has created a generation of veterans that are comatose on extremely potent and dangerous pain medications."
Hargitt only sees support for legalization in the state growing. Seven out of ten North Carolinians believe a doctor should be able to prescribe cannabis to qualified patients, he said. As a result, his current efforts are focussed not only on the legislature, but also public education.
"The majority of the legislators don't even know the basics about cannabis, other than hippies smoked it in the 60s and Cheech and Chong made a bunch of movies about it," he said. "So the hurdles we have to overcome is education. And by educating we remove the false stigma that has been given to cannabis."
Hargitt also believes the time is long past when reform could be painted an idea supported by one political party over another. "I believe once upon a time this issue was partisan," he told MainStreet. "But I think the philosophy by both parties is changing. Unfortunately both parties still have dissenters. The Republicans have many more dissenters than the Democrats do."
One of the more powerful arguments for Republican legislators is the level of income that could be generated in the state, post reform. It is estimated that the legal medical market in the state could be a source of about $100 million for North Carolina coffers.
Hargitt, however, like most veterans now advocating for medical reform, believes legalization is not just about money but a moral imperative. "We are a country that was founded on principles of freedom, individual responsibility, and that we are all created equal," he said. "Legalizing cannabis for medical and recreational use absolutely should be an issue on the GOP platform. Every American regardless of party, should have the right to choose the medication that works best for them, and/or the recreational intoxicant that they prefer."
--Written by Marguerite Arnold for MainStreet