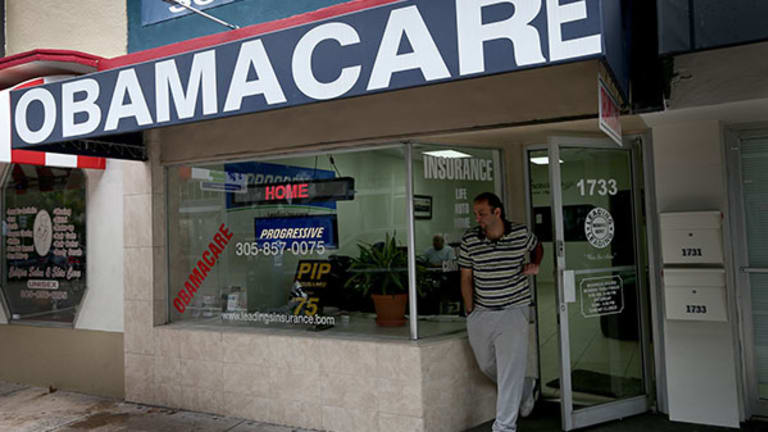 New Tax Forms for Obamacare -- Getting Clarity on New Tax Wrinkle
The IRS has created a new series of information returns to report details of health insurance coverage.
NEW YORK (MainStreet) — Under the "Individual Shared Responsibility Provision" of the Affordable Care Act (ACA) – aka "Obamacare" - everyone must have "minimum essential" health insurance coverage beginning in 2014. The IRS has created a new series of information returns to report details of health insurance coverage.
You must indicate on Line 61 of Form 1040, or Line 38 of Form 1040A, whether or not you had qualifying coverage every month of 2014 for yourself, your spouse if filing jointly, and anyone claimed as a dependent.
If you didn't have adequate coverage for 2014 you must pay a penalty, unless you qualify for one of the exemptions. Taxpayers who are exempt must complete, and attach to their 2014 Form 1040 or 1040A, new IRS Form 8965.
The new information returns are -
Form 1095-A If you purchased 2014 health insurance coverage from an ACA Health Insurance Marketplace Exchange, you were asked to estimate your 2014 income. Based on this estimate, you may have been granted an advance on the new Premium Tax Credit to be applied against your monthly premium payments.When you file your 2014 tax return, you must determine the Premium Tax Credit to which you are entitled based on your actual 2014 income. If the advance credit that was applied during the year is more than you are entitled to you must pay back the excess by adding it to your 2014 tax liability. If you are entitled to a larger credit than actually received the additional amount will reduce your 2014 tax liability. The Premium Tax Credit is "refundable."You calculate the credit, and any overage or shortage, on new IRS Form 8962, which is attached to your return. The information needed to complete Form 8962 is provided on Form 1065-A, which will be sent to all individuals who purchased health insurance from the ACA Marketplace in 2014.
Form 1095-BThis form provides information about health insurance coverage purchased directly from the provider. It is issued by your insurance company. This form is not required to sent out for 2014, but it is expected that several insurance companies may be mailing them anyway.
Form 1095-CThis form provides information about the health coverage offered at your work, and is issued by your employer. This form is also not required to be sent out for 2014.Give any Form 1065-A, B or C you receive for 2014 to your tax preparer.
--Written by Robert D. Flach for MainStreet