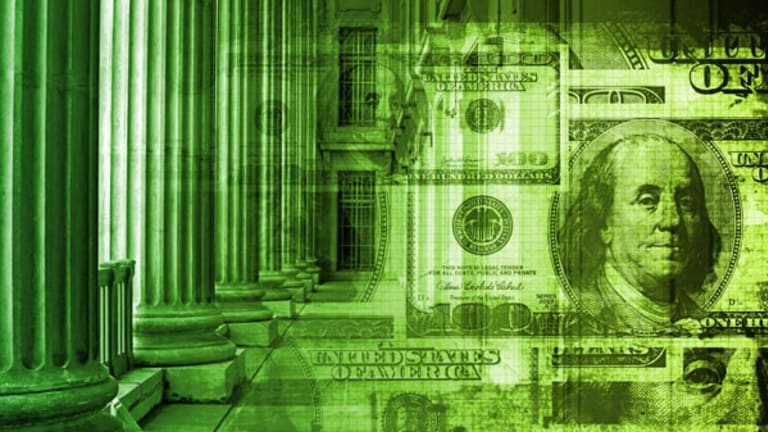 Mike Bauer's 1040: Good Record-Keeping Makes for Easy Return
Bauer would have received a refund if not for some extra taxes generated by a Roth IRA conversion.
Bauer would have received a refund if not for some extra taxes generated by a Roth IRA conversion.
Editor's note: This article is part of a four-day series in which TSC examines one reader's taxes to help all readers better understand their own. For an overview of the series, click here.
Mike Bauer is a homegrown Indiana trucker and self-taught stock trader.
He's been driving a truck for more than 20 years and currently hauls a variety of things on local routes for
Consolidated Freightways
. Each workday, he leaves his Fort Wayne home around 8:30 a.m. and is back every night by 7 p.m.
Bauer, 39, is proof you don't have to have one eye on a computer screen and the other on
CNBC
to be a successful trader. Because he's on the road all day, he has no idea what's going on in the market. So at every stop, he finds a phone and calls his broker, an old high school buddy, to make trades and get market updates. "I call him every day; otherwise I'm in the dark," he says.
Because he is disconnected from the daytime market action, he relies strictly on technical analysis. "I look at the history of supply and demand. I couldn't do it any other way," he explains.
Although he is completely self-taught, he says, "If it wasn't for the Internet, I wouldn't be doing what I'm doing today. I'm no genius. The information is just laid in my lap."
Until late 1995, Bauer had no exposure to the stock market at all. He kept his "money in a mattress until age 35," he says. Then his wife insisted the family purchase a computer, not knowing she was creating a techie. He got so hooked on technology that the family now has a second PC.
Bauer started out investing in mutual funds, poring through prospectuses to decide which ones to buy. He then turned to the stock market and now trades options regularly as well. "You learn more when you lose than when you win," he says. He seems to have learned quite a bit. His approximately $50,000 stock portfolio is up 70% since he began actively trading two years ago, he says.
His tax return illustrates many of the issues taxpayers -- and
TSC
readers -- will face this April 15. In addition to income from his day job and his wife Molly's job as a cost accountant for a plastics manufacturer, Bauer's return reports trading gains and losses, the conversion of an IRA to a Roth IRA, a home mortgage refinancing and child-care expenses.
Bauer could have done the return without
TSC's
help. But he volunteered because he wanted someone to double-check his calculations. Still, says Bauer, people should do their own returns. "Who knows better than you your own tax situation?" he asks.
His meticulous record-keeping made our job pretty easy. Bauer says he's on his computer every night for two to three hours. Much of his time is spent updating his trading records, which he keeps in an Excel file. He enters closing prices, highs, lows and the average volume of all his holdings every night.
Better yet, he knows his way around a tax return, too. Bauer has created a trading spreadsheet that mirrors
Schedule D --
Capital Gains and Losses
. The spreadsheet lists each trade's description, sales price, cost basis and dates acquired and sold. In addition, all wash sales are highlighted in blue. We'll take a closer look at the spreadsheet when we tackle Bauer's Schedule D Friday.
For a look at Bauer's Form 1040 --
U.S. Individual Tax Return
,
click here.
Here's a quick rundown of his tax stats.
Unfortunately for the Bauers, they'll have to send a check to Uncle Sam because they decided to roll their traditional IRA into a Roth. Though they elected to spread the tax burden of that move over four years, they still had to pay tax on that unanticipated income for 1998. We'll get into the details of their Roth conversion Thursday.
Here are some highlights from Bauer's 1040, along with some pointers from the pros who went over his return, Bill Fleming of
PricewaterhouseCoopers
in Hartford, Conn., and Tom Ochsenschlager of
Grant Thorton
in Washington, D.C.
IRA Contribution
Even though Bauer did not contribute to an IRA in 1998, he certainly was eligible, thanks again to tax law changes in 1998.
Form W-2 --
Wage and Tax Statement
for Molly Bauer indicates she contributes to a 401(k) plan at work, but Mike Bauer's W-2 indicates he does not. A new rule for 1998 says that if your spouse is covered by a retirement plan at work, but you are not, you can deduct a $2,000 IRA contribution as long as your joint adjusted gross income is above $2,000. The deduction is phased out when your adjusted gross income falls between $150,000 and $160,000.
The Bauers' adjusted gross income is $79,452, so Mike can contribute to an IRA. In fact, he should. The additional deductible contribution would lower his adjusted gross income and, in turn, lower his tax bill.
Bauer knows this, but he says he doesn't want to tie the money up until he's 59 1/2 (you must pay penalties on any withdrawals before that point). Still, it's a good idea to contribute, and he has until April 15 to do so for 1998.
Child Care
The Bauers spent $1,770 on child care for their 10-year-old son, Josh. Putting Josh in day care after school allows both parents to hold full-time jobs, so the money spent will qualify for the child-care/dependent-care credit in 1998.
To claim the child-care credit, Bauer must file
Form 2441 --
Child Care and Dependent Care Expenses
. Because the Bauers' adjusted gross income is above $28,000, his credit is limited to 20% of his total expense. (It could be as high as 30% for taxpayers with earned income below $28,000.) So only $354 is allowed as a credit for Bauer on line 41 of his Form 1040.
For next year, Bauer can try a flexible-spending account at work, suggests Fleming. If this extra benefit is an option, he or Molly can set aside up to $5,000 in pretax dollars, depending on the plan, that can be used to pay child-care expenses. The money comes directly from wages and will not be taxed. "He'd get more bang for his buck with this flexible account," says Fleming.
These kinds of accounts can be used for medical and dental costs as well. The thing to keep in mind is that these are use-it-or-lose-it accounts. If you don't deplete them by year-end, you forfeit the remaining balance. There may be some uncertainty with medical expenses. But it's pretty easy to estimate how much you will need for child care.
By avoiding in-home child care from, say, a babysitter or nanny, the Bauers saved themselves a lot of additional expense and paperwork. They might have had to file
Schedule H --
Household Employment Taxes
. This form is required if you spent $1,100 or more on wages for a household employee. They also would have been required to issue a W-2 and pay Social Security and Medicare tax on the employee's wages.
Here's some more good news for the Bauers: They qualify for the new $400-per-child tax credit on line 43 of their 1040 because their adjusted gross income is below $110,000 for joint filers. (It's $75,000 for single parents.) The
Internal Revenue Service
recently reported that many taxpayers are neglecting to take this new credit. Don't forget it! Every little bit counts!
Other Issues
Bauer did not have to file Schedule B -- Interest and Dividends because neither his dividends nor his interest totaled $400. There were no noncash charitable contributions this year. The Bauers really should consider cleaning out their closets to get a deduction for next year. And after all, those things go to the needy. Any fees Bauer pays for anything that helps him make investment decisions are deductible. That means TheStreet.Com, books, etc. are all deductible on line 22 of his Schedule A -- Itemized Deductions. Those expenses have to surpass 2% of your adjusted gross income -- a tough barrier to overcome. Still, it's worth a shot. Need suggestions? Check out the list we offered in this previous Tax Forum.
Any questions? Send them to
taxforum@thestreet.com, and we'll try to address them in Saturday's Tax Forum.
TSC tax stories aim to provide general tax information. They cannot and do not attempt to provide individual tax advice. All readers are urged to consult with an accountant as needed about their individual circumstances.