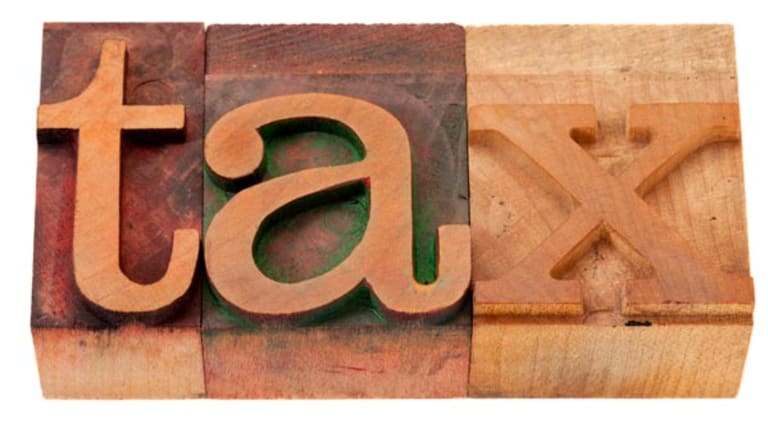 Publish date:
Major Can't-Miss Tax Tips for the Self-Employed
If you're in business for yourself, every dime counts. That's why you need to leverage some creative and savvy tax strategies before April 15.
If you're in business for yourself, every dime counts. That's why you need to leverage some creative and savvy tax strategies before April 15.
There are about 15 million people, or 10.1% of the total U.S. workforce, who are self-employed, according to the U.S. Bureau of Labor Statistics.
It's not hyperbole to suggest that the vast majority of those small business owners and freelanceres consider tax season a pain in the neck, at best, and a major worry, at worst.
That's because the tax laws that cover self-employed Americans are considered to be "overcomplicated and chaotic" and lead to a "huge headache," according to the folks at Napkin Finance, publishers of the Napkin Finance Ultimate Tax Survival Guide for the Self-Employed.
To get ahead of the issue, TheStreet reached out to tax experts nationwide and asked them for their best tax tips for the self-employed. Here's they had to say:
Get a SEP - One of the best ways for a self-employed business owner to currently save tax dollars and retirement spending is establishing a Simplified Employee Pension, or "SEP," says Mike Frost, senior wealth planning strategist, at Wells Fargo Private Bank in McLean, Va. "A business owner can contribute the greater of $53,000 or 25% of their self-employed income for 2016," he says. "In addition to the current year deduction, the SEP does not need to be funded until the actual filing of the tax return including the extension deadline. So a small business owner can file an extension in April, contribute the funds to the SEP in September, and then file their return before the October 15 extension deadline."
Pocket health care deductions - Another over-looked item is health insurance premiums, Frost says. "Generally, health insurance premiums paid by self-employed individuals for themselves and their families can be used as a deduction to reduce their adjusted gross income as opposed to an itemized deduction, which is subject to limitations," he notes. "Self-employed individuals should provide the amount they pay for medical, dental, and vision insurance to their tax preparer to take into consideration."
Pay attention to business insurance - While small business owners may know that insurance is key to protecting their business, they may not be aware that business insurance expenses are tax deductible in many cases, says Maxime Rieman, director of online product marketing at CoverWallet in New York City. "The qualifiers are that the insurance coverages are ordinary and necessary for the business operations," Rieman states. "This can include such policies are professional liability insurance, commercial auto insurance, general liability insurance, and several others."
Take a close look at financial statements - Crystal Stranger, tax operations specialist at 1st Tax Inc., strongly advises self-employed tax filers to check and recheck their bank and credit statements. "At tax time, go back through every credit card and bank statement again," Stranger says. "This can help to refresh the individual's memory about business expense events that may not have made it into the bookkeeping software."
Book business and leisure together - If you travel for work and have any influence over the destination, make it a place you enjoy, says Nathan Miller, a tax software specialist with Rentech Direct in Grants Pass, Ore. "The travel expenses, motel and even food for most or all of your stay can be 100% written off," he says. "If you drive, and have a spouse or family come with you and stay in the same room, their travel and lodging are also deductible. Also, if are you talking business at lunch, know that although meals and entertainment are only 50% deductible, they can still be a huge tax savings, Miller adds. "I talk business over lunch, either with clients or co-workers, at least a few times a week," he says. "Each of those lunches is 50% deductible now. Just be careful to keep records of what was discussed and who was there. I like to write this right on the receipt and scan it into Google Drive right at the lunch table."
As far as mistakes self-employed tax filers should avoid, start with organizing all of your business receipts.
"The small business owner needs to make sure they have all receipts to substantiate and justify their deductions," explains Frost. "If not immediately clear from the receipt, the owner should directly note the business purpose. In the case of meals and entertainment, the individuals attending, the business purpose, and what business was discussed should all be included."
Also, make sure to get your home office deduction right, as the IRS will likely be checking your math. "The home office deduction has always been an area the Internal Revenue Service focuses during an examination," Frost says. "So, the business owner will want to show how the home area is regularly and exclusively used for the business."
"Exclusively used" is the requirement that trips most owners, Frost says. "For example, paying the business' bills from the kitchen table does not make the kitchen area eligible for the home office expense," he adds. "If an area is not exclusively used for the business -- family room, kitchens, bedrooms where people sleep -- that area cannot be included in the home office expense calculation."
As Frost states, the rules for self-employed business owners are complex. "Items thought to be deductible may only be partially deductible or not deductible at all," he notes. "The self-employed business owner should seek the advice of a tax preparer with experience working on these issues to avoid inadvertent mistakes."