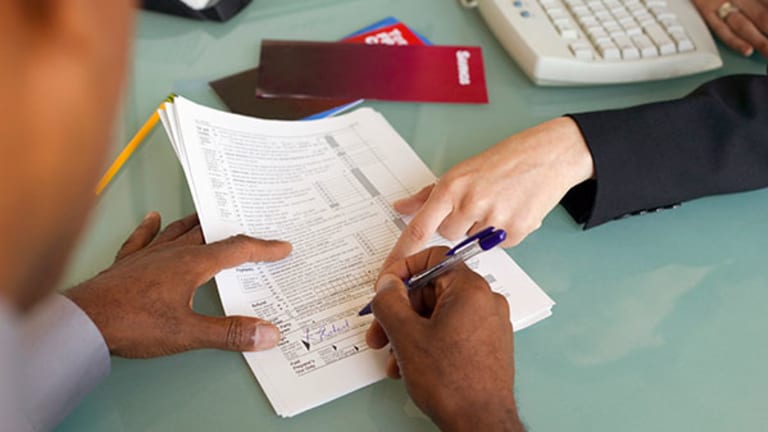 Looking For A Last Minute Tax Deduction? Try These Worthy Charities
There's no shortage of good charitable tax donations to make before year-end.
There's no shortage of good charitable tax donations to make before year-end.
The end of the year is a busy time for Americans looking for a tax break, as December 31, 2015 represents the last chance, in many ways, to keep Uncle Sam from grabbing more of your hard-earned money.
One way to to curb tax debt is to reduce what you owe by the end of the year via charitable donations.
According to the online giving website YouGiveGoods, 10% of all charitable donations happen between December 29 and January 1.
Consequently, if you want to do well by doing good, spend this week looking for some deserving charities and non-profits which could use the financial aid, and where you can go to reduce your financial liabilities to the U.S. government.
Let's start with YouGiveGoods.com, which recommends three deserving charities: Mercy Housing & Shelters Assist Homeless Men, the Holiday Pet Food Drive and the Ronald McDonald House Online Food & Supply Drive are all fantastic charities in need.
Here are a few more charities, just as deserving:
Wings of Rescue - This is a 501(c)3 of volunteer pilots conducting on-going, life-saving sustainable airlifts that have saved 16,498 high-risk shelter pets and counting, the charity tells TheStreet. The group says it is committed to saving the lives of shelter dogs and cats that are facing certain death by transporting them from over-crowded shelters to shelters that are under populated and in need of animals for adoption. Each flight costs thousands to execute and Wings of Rescue rely solely on donations to pay for the cost of each rescue flight. To donate, visit.
CAST Foundation - CastForKids.org allows special needs populations (like kids and wounded veterans) the opportunity to enjoy a quality outdoor recreational experience fishing on the water. "I am a philanthropist who gives to CAST Foundation because special needs kids who go fishing with CAST, and their parents, are often changed forever," says Jeffrey Kelly, one of the charity's biggest advocates. "They both learn after a day with CAST that they can fish... they may have limitations in countless other areas physically or mentally but fishing isn't one of them." (Give at this website.)
Kars4Kids.com - Kars4Kids, a nationally recognized 501(c)3 nonprofit that funds educational and youth programs, is "open round the clock until the ball drops to accept charitable donations across the country," as the charity tells us. Its most well-known program is car donation, but the group also accepts boats and real estate. (Give here.) Donors can claim a tax deduction for the amount their car sells for (the group evaluates each car to determine how it can make the most from it and contract with auction houses around the country to ensure the charity is getting the maximum price for each car). So, say you donate a car in fair condition and Kards4Kids sells it for a few thousand dollars. That's the amount of your deduction.

The Tiverton Foundation - This outdoors-based charitable group works in collaboration with the National Park System to support the U.S. park system, says Conor Keenan, one of the trustees for The Tiverton Foundation. "My family started the foundation in the early '90s to help support the National Park System and conserve its beauty, awe, and wonderment for generations to come," he says. The charity works for greater government funding for national parks, and to support establishment of new Parks to preserve wildlife habitats for a wide range of species, among other causes. "We are a completely volunteer organization, which means we have no overhead, and that 100% of a donor's gift goes to help the National Park system," Keenan adds. Give here.
When you do give to charity at year-end, do so smartly experts say.
"Charitable donations are a popular tax write-off, but before sending a donation to a charity, a donor should take three steps," says Mollie Cullinane, an attorney and charitable giving specialist at Cullinane Law Group in Austin.
Tax-exempt status verification: The donor should make sure that the charity is in good standing with the IRS. For a gift to be tax-deductible, the donation has to be made to a charity organization that has been granted 501(c)3 status by the IRS. Having this 501(c)3 status is not automatic - nonprofits have to apply for this status. Donors can verify a charity's status by using an online IRS. tool or by reviewing a copy of the charity's determination letter.
Mission check: The donor should understand the charity's work, mission, clients, and methods it uses to accomplish its work. Donors can find this in annual reports and in talking with the charity's team.
Money check: The donor should see how the charity spends its money - on programs, administration, or fundraising. This can be found in the required IRS Form 990 returns that charities file each year.
Giving to charity at year-end really is a win-win situation. It benefits truly needy causes, and keeps less money out of Uncle Sam's pocket, and into yours. And that's a great way to end the year on a upbeat note.