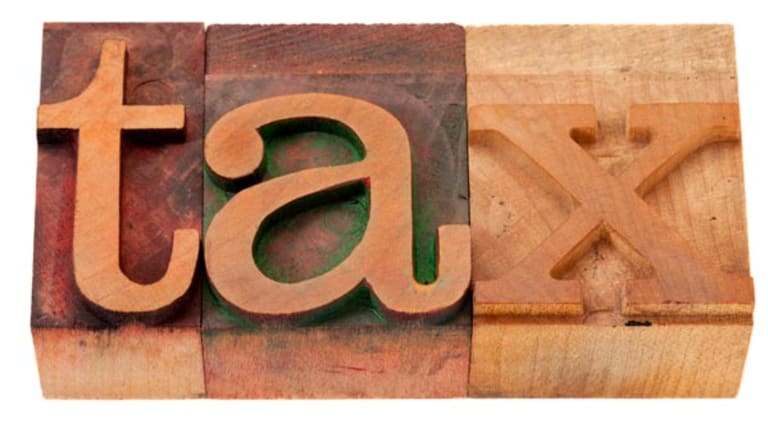 <I>TheStreet.com</I> Does Reader Mike Bauer's Tax Return
We chose Mike to illustrate how the tax laws apply to real people.
We chose Mike to illustrate how the tax laws apply to real people.
No, we're not taking on H&R Block.
We're doing just one tax return, that's all.
Why? To put a human face on a tax story. Tax returns are so complex that it's hard to avoid becoming bogged down in the numbers and the arcane rules. By explaining how the tax laws apply to one
TSC
reader, we make them easier to understand.
So we posted a notice on the site last month asking for volunteers. That's how we found
Mike Bauer
, a truck driver and self-taught stock trader from Fort Wayne, Ind. We chose him because we thought his return would have instructional value for the widest range of readers.
He converted a traditional IRA to a Roth IRA in 1998, and he refinanced his home. And as a stock trader, he's got a pretty detailed Schedule D, with wash sales and short sales to make life a little more interesting.
Bauer sent us all his tax information. We put together his return, and Bill Fleming at
PricewaterhouseCoopers
and Tom Ochsenschlager of
Grant Thorton
reviewed it.
We are not Bauer's accountants, though, so we are not sending him the completed return. The only numbers he'll see are the numbers we post on the site. Bauer believes people should do their own returns anyway. "Who knows your tax situation better than you?" he asks. "I just wish I had
a person to double-check." In the end, Bauer knows he's completely responsible for the return he files.
Here's the schedule:
Today we'll tell you a little about Bauer and his family and go over his Form 1040. Thursday we highlight some of the more complicated parts. We'll show you how Bauer reported the conversion of his IRA into a Roth IRA and how he handled a refinancing of his mortgage. Friday we examine Bauer's Schedule D to see how he reports his stock trades, including his wash sales. Saturday's Tax Forum will be a special edition that deals exclusively with the reporting issues addressed in this series. So send in your questions to taxforum@thestreet.com, and please include your full name. Tuesday, join me and my special guest, Martin Nissenbaum, national director of personal income tax planning at Ernst & Young, for a Yahoo! Chat. We'll try to answer all your tax return questions.