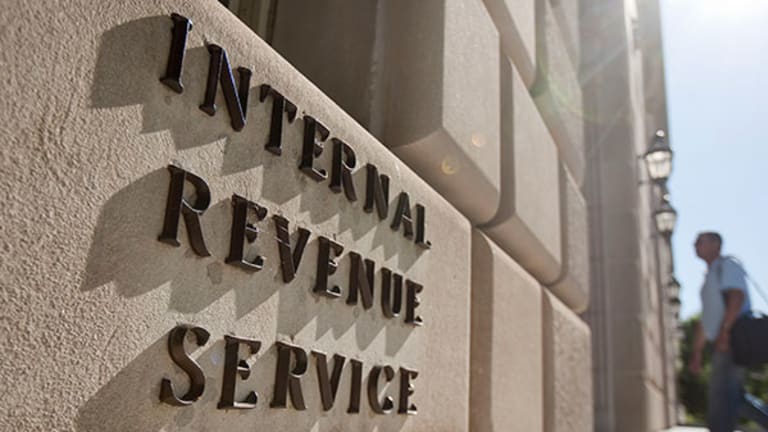 It's Officially Tax Season: Get Organized And Get Filing
The IRS began accepting tax returns this week, which means you can get the worst over with early if your employer plays along and your receipts are in order.
You're three months away from the tax filing deadline for 2015. Is your return anywhere near ready?
If you didn't start making year-end tax plans before December 31, it might be worth your while to start gathering up all your documents now and getting organized. The Internal Revenue Service began accepting tax returns on Tuesday, though technically you could have prepared a return on paper or through tax software and submitted it earlier. However, the IRS wouldn't accept them until January 19.
Filing this early makes it less likely that you'll be a victim of tax fraud, since someone would have to sneak in a return with a fraudulent refund amount before yours arrives, but it also requires everyone to play along. If you haven't been collecting pay stubs all year, you'll have to wait on W-2 or 1099 forms from your employer. Those don't have to reach taxpayers until Feb. 1, which almost guarantees you'll kick off tax season behind the pack.
Granted, you have a few extra days to file this year. The deadline for 2015 returns is Monday, April 18, rather than the traditional April 15 date, thanks to the fact that Washington, D.C., is celebrating Emancipation Day on April 15. However, since Maine and Massachusetts are celebrating the battles of Lexington and Concord on Patriots Day that Monday with the Boston Marathon and a Red Sox game, the deadline in those states will be Tuesday, April 19. That said, you don't want to be among the hordes racing to the Post Office that day, as Jonathan Medows, a New York-based certified public accountant, knows all too well.
"You have a lot of people in this situation," Medows told us around the 2015 deadline. "I get a lot of these last-minute calls, but unfortunately I'm really only handling the current clients and taking care of them, because there are always a lot of last-minute issues that come up -- making sure their stuff is e-filed, making sure extensions our e-filed."
In the really unlikely event that you're audited -- which has seen its budget slashed nearly 20% in the last five years and has slashed audits from 1.4 million in 2013 to close to 1 million last year -- the state and IRS tend to go a lot easier on folks who didn't receive their 1099s or misplaced them than those who outright withheld them.
Also, this is a good time to figure out whether or not you're going to itemize your return. Scott Stavin, a certified public accountant and tax principal at Friedman LLC in New York, notes that itemized deductions are a year-round concern that taxpayers generally forget about until the last minute. If you've made charitable donations of any kind, it's time to dig up those receipts.
"We're always reminding clients to remember cash charity as well as clothing and household items that they may have contributed," he says. "Clients should retain and forward to their accountants the documentation."

Enrolled agent and certified public accountant Anthony Criscuolo of Palisades Hudson Financial Group in Fort Lauderdale, Fla., also reminds taxpayers that they can deduct casualty losses from thefts, car accidents, earthquakes, terrorist attacks and storms. You can claim casualty and theft losses as an itemized deduction on Schedule A - Itemized Deductions, but you have to subtract $100 from each casualty or theft event that occurred during the year after you have subtracted any salvage value and any insurance or other reimbursement. Then, you add up all those amounts and subtract 10% of your adjusted gross income from that total to determine your deduction.
"Don't overlook unusual deductions or credits—sometimes even a car crash can be deductible," Criscuolo says. "These deductions are often overlooked because they can be taken only once in a while."
Meanwhile, you also may be able to deduct moving expenses if you moved because of your current job or a new job. If you paid private mortgage insurance (PMI) on your home or just adopted a child, those expenses are deductible as well. It's little deductions like those that can add up to huge savings if you view your tax return as a yearlong project.
For self-employed taxpayers or business owners, in particular, it's helpful to set a strategy in place at the beginning of the year instead of waiting until next tax season. Create a specific file for business receipts and store them there throughout the year. If you own your own business, maintain a separate checkbook and credit card for that business and keep records for those accounts.
"During the year is when we can really talk to clients and do the proper planning to minimize their short-term and long-term tax liability," Stavin says. "With clients who pay quarterly estimates, we're talking to them at least once a quarter."

Just about everyone can contribute to their IRA if they haven't filed your 2015 tax return yet, are eligible and haven't already maxed out this year's contribution, Criscuolo says. You can even set up a new IRA by April 18, and make a maximum 2015 contribution of $5,500, or $6,500 for people 50 and older. If you're single, or married but neither you nor your spouse is covered by a retirement plan at work, you'll be able to get a full IRA deduction regardless of your income. However, if you or your spouse are covered by a retirement plan at work, that's going to limit your deduction a bit.
Contributions to Simplified Employee Pensions (SEP) IRAs, SIMPLE IRAs, and cash-balance plans are helpful for the self-employed, but can reduce the adjusted gross income (AGI) of all taxpayers. You also won't be taxed on any of that until you've withdrawn it. If you're self-employed and don't have the cash to contribute by April 18, you can get six more months to make a contribution. Apply for an automatic six-month extension to file your return, pay any taxes due by April 18 and you'll be able to make 2015 contributions as late as Oct. 18.
"Retirement contributions are valuable for people in all tax brackets—especially for the affluent who are paying the highest tax rates," Criscuolo says.
This article is commentary by an independent contributor. At the time of publication, the author held no positions in the stocks mentioned.