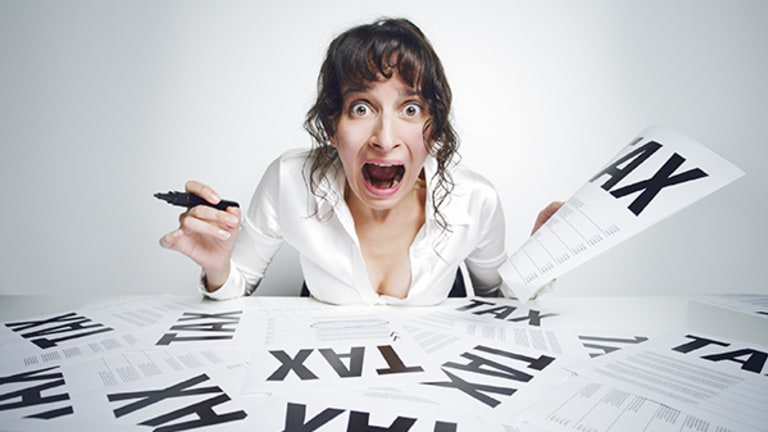 Editors' pick: Originally published May 11, 2016.
Preparing for next year's Tax Day may sound like talking about Christmas on Martin Luther King Day. But, in the words of a certain government agency that should know -- the IRS -- "if you start your tax planning now, you may avoid a surprise when you file next year."
The best year-long planning involves tracking receipts, documents and other scraps of paper for deductible expenses. "Start saving receipts and documents now," says Laurie Ziegler, an enrolled agent at Sass Accounting in Saukville, Wis. "Keeping track of expenses not only can help you stick to a budget, but it will be much easier to track potentially deductible items such as medical expenses and charitable donations."
Enrolled agent Terri Ryman of Southwest Tax & Accounting in Elkhart, Kan., advises getting a year-long organizer from a tax professional. "When [clients] bring in their year-end tax docs, they're inevitably missing two or three things which they would've known to bring if they'd paid attention," she says.
Handling taxes as gradual process allows consumers to tackle bite-size pieces and elevate their thoroughness when it comes to each piece of paper or concern.
"Start organizing deductions by category right away, a little at a time," said Brian Stoner, certified public accountant in Burbank, Calif. "Doing a little each day or week will make it easier at the end to compile everything. Also, scanning all the documents as you get them makes it easier to keep track.
"Many of my [filing] extensions are the result of waiting till the last minute to get stuff together then having to rush it," Stoner adds.
Janet Sienicki, an enrolled agent in Schererville, Ind., notes that missing documents at tax time is not always your fault. "Income documents are being distributed closer and closer to the filing deadline," she says.
But in terms of doing your part to keep track of your necessary paperwork, you should find a storage system that allows you to stay organized. Places to store your tax documents range from the internet cloud or your own hard drive to a loose-leaf notebook or fireproof home safe. Ziegler also points out that many issuers of tax documents store them electronically for you.
"The one that sticks out most in my mind is the 1098-T for college education," she says. "These used to be mailed but are now usually available electronically in the student's account."
Best online tools and apps?
"The best record system is to simply keep some basic records," says Richard Ogg, enrolled agent at The Master's Tax & Financial Services in Santa Rosa, Calif. "They most important aspect is consistent use. Keep a set of envelopes, use a spreadsheet, use any personal finance software or any of the online tools. But do it consistently."
Your planning for next April should continue long into 2016. Sienicki recommends contacting a tax professional before making financial decisions that might have a tax implication. "Schedule a tax check-up in July," she adds, "to verify that planning is on track with your goals."
One of your next considerations: the amount of tax withheld from your paycheck. Have too little tax withheld, and you might owe big next April. Have too much withheld, and you give the government an interest-free loan. (You generally must pay about 90% of your owed federal income tax through the year to avoid penalties.)
"The best first step is to consider how this year's income [will] compare to the prior year, and make withholding adjustments if you owed additional taxes or had a large refund," Ogg says. "A small change now is easier than a large adjustment late in the year."
Ziegler recommends looking at your 2015 tax return to plan for your 2016 results. "If there aren't going to be major changes to jobs, family size, itemized deductions and other factors, ask yourself if you will be O.K. if the 2016 results are the same," she says. "Did you receive an unexpectedly large refund? If so, adjust your W-4 to have less withheld." Owe taxes with your recent return? "Have more withheld from your paycheck or your pension, or make quarterly estimated payments," she says.
(The IRS adds that you should also report changes in circumstances to the Health Insurance Marketplace if you enroll in insurance coverage there this year.)
When Ryman's clients owe taxes at filing time, "we try to get our hands on their check stubs so we can see what they're claiming on their W-4 form, then adjust it so they won't owe in the future. If we have a client change their W-4 information," Ryman adds, "we have them come back with a check stub in July or August to make sure that enough tax is withheld."
Irregular income can suddenly make your year's withholding or estimated tax payments fall short. "This could be from the sale of assets, closing of an estate, sale of rental property or any number of possibilities," Ogg says, adding that near the end of the year marks a good time to evaluate investments and address capital gains and losses.
"Capturing a loss on an investment that is unlikely to recover for a long time is important [for your taxes] if you also have gains," Ogg says.
Readying for next year's taxes can depend on where you are in your worklife. Derec Mieden, an associate advisor with Wipfli Hewins Investment Advisors in Wausau, Wis., recommends working a tax pro to examine your 2016 tax brackets.
"Are there opportunities to defer income to get you into a lower bracket by deferring income into a qualified retirement account, itemized deductions or increasing charitable contributions?" he says.