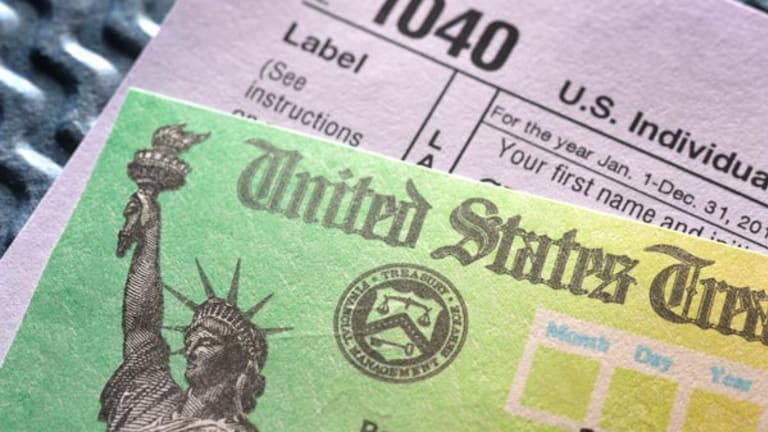 How to Get a Bigger Tax Refund Next Year
Disappointed by your refund check? Here's what you can do this year to make sure it doesn't happen again.
NEW YORK (
) -- So, you got your refund check and feel more than a little disappointed with this year's kickback.
In theory, it isn't a good thing to get a big check, because that just means the government was handing back the money you loaned it all year -- interest-free. But let's admit it: You'd prefer the bigger check, right?
For those looking for a bigger refund, Uncle Sam offers countless tax breaks and credits that apply to all sorts of situations.
If you think of a refund check as forced savings, you might be inspired to save more on next year's return, says
, a tax expert and blogger in Chicago who, like other 1040 experts, had plenty of advice on plumping up your kickback next year.
Whether you choose to
save
the money is up to you, but either way, you'll be happy to have it.
Uncle Sam offers countless tax breaks and credits that apply to all sorts of situations, whether you're in a young family just starting out, or a single divorced parent.
Here are a few useful tax deductions and credits:
You're supporting kids (or parents)
Has your college grad returned home or are you supporting an elderly parent? There's a tax credit for that.
"The Child and Dependent Care Credit can apply to a relative you're taking care of, like if your sister came to live with you," says
Kay Bell
, a blogger and tax reporter for Bankrate.com.
But as the IRS says on its
website
, "the care must have been provided so you and your spouse could work -- or look for work," and it covers only up to $3,000 of annual expenses for an individual, or $6,000 for two or more people.
If you meet the requirements, "the beauty of credits is that once you get your taxable amount, then your credits are dollar for dollar," Bell says. So if you owe Uncle Sam $6,000 and get a $3,000 credit, for example, your tax burden will be cut in half come April 15. Deductions, on the other hand, reduce the amount of taxable income.
Claim the child credit on Form 2441 and make sure to include any and all documentation of what you paid for the care, including the taxpayer EID of the facility (such as a day care), and the Social Security number of any caregivers, such as a live-in nurse.
"It's a double-check for the IRS to ensure
the caregiver reports the income," Bell notes.
You can also cut taxes by claiming a family member as a dependent if you're providing more than 50% of that person's living costs, even if that family member sometimes doesn't live with you, Johnson says. That's why so many parents claim their college-bound kids as dependents.
But taxpayer beware: One of Johnson's clients claimed her mother -- who was getting Social Security -- as a dependent and the IRS balked, saying public assistance was more than enough to live on.
"You have to really look and see whether you are really providing more than half their support," Johnson says. "I have that conversation every day with clients," especially with regards to claiming student loans as "living costs."
You're in school
If you're long past college age but hitting the books, claim the
Lifetime Learning credit
.
It's a great incentive to be a lifelong learner and continue building skills for your career, says Flexo, a personal finance writer who founded the blog
, though he adds it's easy to overlook the credit when you're scrambling for receipts at tax time.
"This is one thing I would always encourage people to do," Flexo says. "Continue your education in some way, and when you do, you could possibly qualify for this."
The
American Opportunity credit
, which applied to college undergrads or parents helping to pay for a student's post-high school courses, was extended last December for this year and next.
You're paying student loans
Perhaps you were already aware you can deduct student loan interest from your tax bill. But parents who want to write off student loans or claim their college student as a dependent had better make sure only one person is doing the claiming.
"My firm prepares about 3,500 returns a year, so we've had at least 10 tax returns that were rejected because a dependent was claimed on another tax return, whether by the dependent himself or the other parents in the case of divorced families," Johnson says.
"If you are claimed as a dependent, then you cannot deduct student loan interest on the deduction, even though you are being claimed as a dependent," Johnson says. "All these college kids line up and do their tax returns, claiming themselves as a dependent, and they're not even providing 5%, much less 50% of support. So when the parents do their tax returns, it gets rejected
because their child had filed one previously."
Parents, map out deductions with child before tax time or you'll wind up like Johnson, who "had to go back and amend my daughter's tax return and tell her she owed me $28."
Get more
facts
about deducting student loan interest on and learn
four ways
the IRS can help you pay for school.
You've bought property
Uncle Sam
loves
taxpayers who buy a new home -- after all, this drives the economy -- so there are plenty of ways homebuyers can cut their taxes.
"It's one of those things that's kind of hyped up by the real estate industry a little bit," Flexo says, "but for some people, it can be a significant benefit and you'll owe a significantly lower tax bill."
Basic real estate taxes -- municipal, county, school and more -- paid by homeowners each year can be deducted on Schedule E,
writes
tax expert Robert Flach. There are two kinds: acquisition debt, or debt acquired after Oct. 13, 1987, that was used to buy, build or improve a property; and home equity debt, or debt that wasn't used for these purposes, but for anything else that wasn't tied to the home, such as a wedding, a car or even college.
Deducting mortgage interest
is also useful, even for owners of multiple (up to two) homes, says Flach, who recently outlined some
common mortgage deduction loopholes
.
Unfortunately for many Americans, the
First-Time Homebuyer credit
expired Sept. 30.
You've moved
As Flach writes, you can
if you left for a job, to be closer to a job or were relocated by your company. Sadly, this doesn't include trips to Waffle House (or any meal, for that matter), but if you meet the tax man's distance and time test -- "the distance between your new job and former residence must be at least 50 miles more than the distance between your old job and former residence ... or you must move at least 50 miles closer to work," he notes -- you can write off moving expenses on just about anything, from overnight lodging and storage to renting a car and household insurance.
Your income is low
Designed to help Americans living on low wages and saddled with bills, the Earned Income Tax Credit may be helpful if you meet the criteria outlined on the IRS
website
.
"The key here is you have to have
particular wage income," says Bell. "There's a sweet spot there, and if you don't make a lot you might be eligible."
You're Looking for Work
With unemployment still high, there's no doubt many Americans should claim
job-hunting deductions
, which cover all manner of job-seeking costs, from typing, printing and mailing out resumes to round-trip travel, telephone calls and more, Flach notes.
If you count yourself among America's unemployed,
here
are some additional tips.
You're a single parent
Flexo offers the following tips for lowering single parents' tax bills:
"File as head of household if you qualify," including if you're unmarried, considered unmarried or separated with at least one dependent, and you've paid for more than 50% of household expenses, he says. This will help you benefit from lower tax rates in general and higher standard deductions.
Widows who qualify should file as a qualifying widow with a dependent child to get the same breaks.
If you get alimony, increase your withholding on your W-4, the form employers use to determine how much of your paycheck should go to the IRS (see below for adjusting withholding) or else "you may end up owing more in April than you're prepared for," Flexo says.
MORE WAYS TO SAVE
Experts also recommend doing the following to get an edge on your kickback next year:
Give to charity
Whether it's donating an old clunker or a bag of used duds, Flexo, the personal finance blogger, urges all taxpayers to note charitable contributions on Schedule A.
"It's more money out of your pocket, but if you have the excess income to do that, that's great," he says.
The IRS offers a comprehensive outline of qualified charity organizations on its
website
. And remember, charitable giving isn't just for grown-ups, so
include your kids
in the fun.
Go green
Since the early '90s, the government has made great strides in rallying Americans behind its energy initiatives.
Today
taxpayers
can get more green by "slapping some solar panels" on their roof to reduce reliance on fossil fuels, for example, or by buying an electric car, which can net a tax credit up to $7,500.
Max out your 401(k)
As if you needed another reminder, maxing out your company-sponsored 401(k) matching plan is a surefire way to save come tax time, Flexo says, especially for retirees.
"By maxing out your 401(k), you'll still receive the amount of income, but reduce your tax liability significantly," he says, as contributions to those accounts reduce your adjusted gross income.
If you're still just not that into your 401(k), learn how it can
help you save
.
Get a hobby
If you're the family shutterbug and recently spent $200 on film to shoot your cousin's wedding, you can write that off on your taxes.
Just note that "there's a distinction between a hobby and something you're really doing as a business with a profit motive in mind," says Diane Rosenberg, a tax and estates attorney in New York City.
If it's a legitimate business, it should be filed on Schedule C.
And if your hobby does morph into a full-fledged business, be prepared to pay self-employment taxes and save your receipts.
Double your savings on FICA
For better or worse, the one year-only FICA tax holiday could put more money in America's pockets, "especially if you earn the full $106,800," Brian O'Connell
writes
.
Still, "as many in the economy are moving toward more frugal approaches to their savings, putting that additional cash towards a pre-income tax retirement account will save on income taxes, too -- a double tax savings," Rosenberg says. Remember, the "exact amount of the income tax savings will vary depending on your tax bracket."
QUICK FIXES
When all else fails, our experts' quick-and-easy fixes will help you save come April 15.
Adjust your withholding
As we explained earlier, getting a big kickback from Uncle Sam is sort of like having him hand back the money you loaned him all year, interest-free. That isn't a good thing, as you're better off having that money to invest however you want during the year (while accruing attractive interest).
"You wouldn't give an interest-free loan to someone you don't know," Flexo says. "Instead of looking for the biggest tax refund, look at it as savings."
Change your W-4 allowance to withhold a higher rate, and you'll marvel as the savings pile up.
Change names
Just married? While congrats are in order, so is a legal name change made through the Social Security Administration, Bell says. If it's not done, you'll slow down the process, especially since joint filing often results in
bigger refunds
.
Change your name by filling out and returning the form as instructed on SSA's
.
Check the numbers
"The biggest mistakes people make are math errors," Bell says. "That used to be more of a problem before tax software, but you always have to remember that if you write down the wrong number, all the calculations will be wrong."
Short of having an accountant on call while you file, make sure to double-check everything, she says.
"If you earned $2,100 from a stock and then you transpose the numbers and write $1,200, the IRS is going to have a record and come back and say, 'We think you screwed up.'"
A roundup of the
13 most common tax errors
should keep you inspired to heed Bell's advice.
Ask an expert
"If your taxes are even the slightest bit complicated, meet with a tax pro," Flexo (and
Flach
) urges, adding that taxpayers want someone who's familiar with recent tax law changes. "They'll be able to find deductions and credits you may have overlooked, even if you used software like Turbo Tax."
Get organized
Having a solid tax record system in place will spare you headaches in the long run, Flach
says
. So, like checking your math, it pays to be organized.