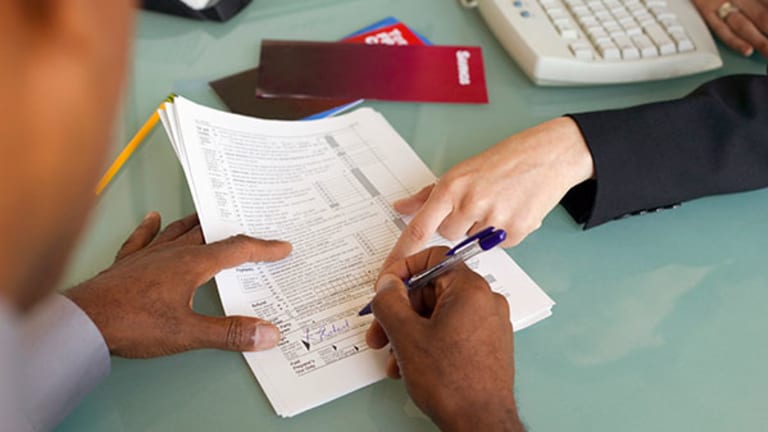 How to Combat Errors on Tax Forms
Errors on tax forms may appear benign, but some have led to audits of taxpayers, which can be costly in both time and finances.
Editors' pick: Originally published March 26.
Errors on tax forms may appear to be benign, but some have led to audits of taxpayers, which can be costly in both time and finances.
Even seemingly innocuous errors from employers can have far-reaching repercussions. A year ago, Eric Lee, an Arlington, Va.-based health economist who conducted consulting work for a non-profit organization, learned during an IRS audit about a mistake. The IRS claimed Lee and his wife both underreported their income as consultants because the non-profit submitted their 1099 forms twice by accident.
While the IRS agent believed the couple, the government required a corrected 1099 be issued by the employer along with a signed letter.
"The IRS said I underreported my 1099 income by exactly twice the amount," he said. "The IRS computers showed twice of what we actually earned. The nonprofit's finance director didn't know how it happened."
The IRS audit was resolved, but Lee said the mistake "caused a big headache because of the audit. I barely survived it."
When the error is caught early on, taxpayers have more recourse and can discuss the matter with someone at the company to ask for a corrected information return, said Chris Karachale, a partner with San Francisco-based law firm Hanson Bridgett.
"Employers can easily issue a Form W-2c or corrected 1099 addressing almost any reporting error," he said. "Employers, employees, and contractors should review their information reporting returns now and determine whether there are any inadvertent errors. In some cases, a correction may be penalty free."
The cost for companies is nominal and the current penalty for issuing an incorrect reporting W-2 and 1099 form is $250 per form, Karachale said.
"The penalty is reduced to $50 if the correction occurs within 30 days of the filing deadline and reduced to $100 if the correction is made before August 1, 2017," he said. "In addition, Congress recently amended the Internal Revenue Code and the IRS issued guidance in January 2017 making clear that de minimis reporting errors, which are generally less than $100 difference between the amount reported and the correct amount will not be subject to a penalty."
Mistakes on forms are common and a 2016 survey of 240 accountants and business tax preparers conducted by ComplyRight, a Pompano Beach, Fla.-based company which helps businesses comply with employee-related laws, found that 28% said their clients most common W-2 or 1099 corrections related to dollar amounts. The second most common mistake consisted of employee record errors such as an incorrect social security number.
Many of the mistakes continue to occur because companies are processing these forms manually, said Rick Roddis, president of ComplyRight Tax Solutions.
"It's actually quite common for employees to find mistakes in their 1099s and W-2s," he said. "Many small businesses still treat tax form filing by filling out forms on a computer and lining them up with paper forms in a printer."
When businesses use cloud-based filing, they are able to make corrections for the forms online and send the corrected forms to the contractor or employee and updates to the IRS electronically, Roddis said.
"Using technology streamlines data collection and form dissemination," he said. "You update the forms, they are automatically printed and mailed to the recipient and the corrections are e-filed with the government."
Editors' pick: Originally published March 24.