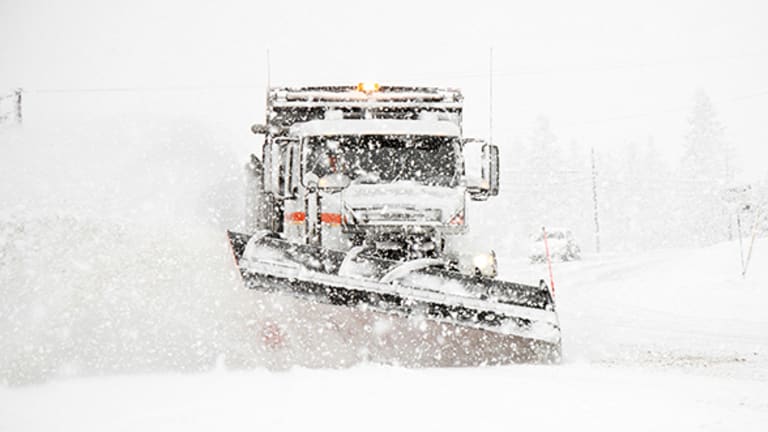 How Snow Can Actually Reduce Your Tax Liability
Inclement weather can result in unexpected expenses such as the removal of snow, but this expenditure is among many tax breaks for maintenance.
Inclement weather can result in unexpected expenses such as the removal of several feet of snow on driveways and walkways for home-based small business owners, but this expenditure is among many tax breaks for maintenance.
Small business owners who operate out of their homes and dealt with the hassle of purchasing de-icing salt or hiring a company to shovel around their offices can deduct the expenses based on the percentage of the home that is used for the business, said Rebecca Pavese, a CPA and financial planner with Palisades Hudson Financial Group, the Scarsdale, N.Y.-based financial planning firm.
Common Tax Breaks
While the most common expenditures include utilities, property taxes, mortgage interest and insurance, home maintenance is also a "broad indirect expense" that benefits your office, Pavese said.
"Home maintenance includes the housecleaning of your entire home, furnace repairs, snow removal and pest extermination fees among others," she said.
The easiest way to calculate the amount of business deductions from a home is based on the size of an office, said Richard Feldman, a partner at Margolin, Winer & Evens, a Garden City, N.Y. CPA and business consulting firm. A self-employed graphic designer with a studio of 300 square feet in a house measuring 3,000 square feet can deduct 10% of certain home expenses.
Among other expenses, a business owner could take a 10% deduction of snow removal costs from their driveway following a winter storm "if the driveway is also used for employees or clients," he said. "As you can imagine, these deductions really add up."
The deduction for snow storm-related services can be expanded if a driveway is used for customer parking or a walkway for the home office are separate entrances, said Grafton "Cap" Willey, managing director of CBIZ MHM, a Cleveland accounting and professional services provider.
Small business owners who stay on top of their bills each month could save thousands of dollars as the overhead for operating a firm can add up quickly.
"Make sure to keep track of all direct expenses and which are expenses incurred just for the business portion of your home," he said. "Some examples of direct expenses include painting the office and other repairs to the office, which can be deducted in full."
Entrepreneurs who use their home to meet clients or customers on a regular basis can also include a portion of their lawn care expenses, Pavese said.
"You may also take a depreciation expense for a portion of your house or condo if you own it," she said.
Other common business-related expenses include highway tolls, homeowner association fees, parking, subscriptions and professional dues.
"HOA fees for office space are deductible, but it would have to be apportioned based on the square footage of the office space versus personal space," said Willey.

Overlooked Deductions
Taking an online class or one to be certified for a certain skill are all considered to be deductions, said Stephen Sheinbaum, founder of Bizfi, the New York-based small business lender.
"If you or your employees had to be certified in a new repair technique or a new professional service, the spending on those classes can be a deduction," he said.
Costs for participating in trade shows and business seminars or the renewal of a professional license in 2015 or membership of a professional association to expand your network of contacts are also qualified deductions.
"Investment in self-improvement can be a really good idea for both improving your business and your bottom line," said Sheinbaum.
The deductions for local trips are often overlooked such as paying to park for a business appointment. Instead of saving paper receipts which can be misplaced, download mobile parking apps.
"Sign up for it to get a comprehensive record of your usage," he said. "There are also deductions to be had for highway tolls and mass transit when you are traveling for business. Toll and ride-sharing or transit apps and their record-keeping systems can save you from sifting through a mountain of paper when April rolls around."
New entrepreneurs can deduct up to $5,000 in expenses for their start-up year ranging from advertising to taking a class to learn skills to help you open a business, said Sheinbaum.
"Any spending above that amount has to be written off in smaller amounts over the following 15 years," he said.
Expenses That Are Not Tax Breaks
Home maintenance conducted for an area of your home that does not include the office, such as having the bedrooms repainted, does not qualify as an expense, said Pavese.
Although making improvements to your home are not counted toward an immediate tax deduction, they can contribute to paying fewer taxes after the sale of a house and the gain is "calculated based on the difference between the cost basis and the sales price," said Joshua Wu, an associate at Caplin & Drysdale, a tax firm in Washington, D.C. and New York. Some of the common improvements include adding insulation, energy efficient windows or energy efficient heat pumps, which can increase the homeowner's cost basis in the home.
"While this provides no current tax savings, it may provide tax savings down the road when the home is sold," he said.
Business owners who are not sure about a deduction should seek "competent tax advice before claiming any deduction or loss," said Wu.
"The owner of a small home-based business is able to deduct expenses such as home repairs, new carpeting, light bulbs, smoke detectors and an alarm system, to name a few," said Joel Mutnick, a CPA with Fiske & Company, a CPA firm in Plantation, Fla. "If you add up all of the expenses a home-based business is eligible to deduct, it could result in significant tax savings."