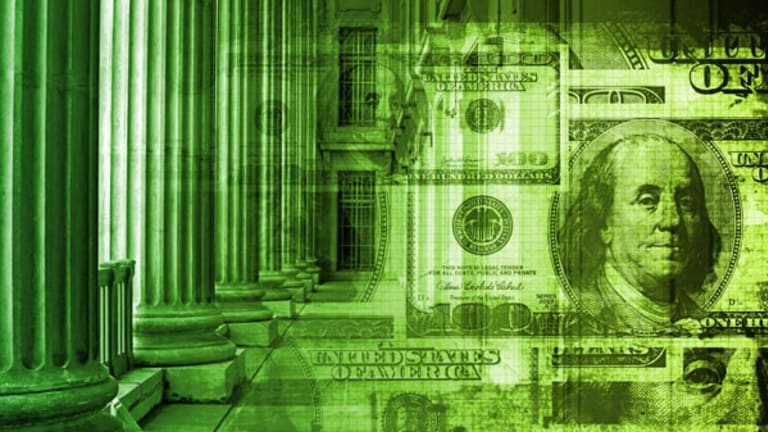 Global Tax Forum: Offshore Tax Shelters Aren't Just Something From a Grisham Novel
You can legally stash your money in exotic locales, but you'll need millions to make it worthwhile.
Editor's note: With this column, we introduce the Global Tax Forum. Every other Wednesday, TSC tax reporter Tracy Byrnes will explore (occasionally in Q&A format) tax issues that arise from investing across borders. Send any questions to taxforum@thestreet.com, and please include your full name.
Sheltering money in the Cayman Islands sure seemed sexy in John Grisham's
The Firm
. But don't be misled like the book's hero, Mitch McDeere, was. As Mitch came to realize, there are pretty good options back home.
If you're in a high-risk profession and you worry about potential creditors coming after your estate, you can set up an offshore trust and shelter some of your assets. Thanks to the recent bull market, there has been a surge of interest in setting up these trusts. It even has become an indicator of social status. The new hip question at certain cocktail parties is "So where's your offshore trust?"
But these trusts are very expensive to set up and maintain. If your estate is worth less than seven figures, it's probably not worth it. On the other hand, you may be about to make a killing on an upcoming initial public offering, so it's a subject worth knowing about.
Why an Overseas Trust?
The only reason to consider an overseas trust is for asset protection. That's the buzzword in the financial planning community. Granted, this is protection for a problem that may never happen. But "we live in such a litigious society, many people feel the need to protect assets at all costs," says Nigel Taylor, a certified financial planner in Santa Monica, Calif.
An offshore trust is not foolproof, but it definitely slows your creditors down. By putting your assets into a trust that is governed by a non-U.S. jurisdiction, any lawsuits your creditors file against you in the U.S. will not hold. So they will have to file additional lawsuits in the outside jurisdiction.
"And they don't want to do that. It's too expensive and they'll have to get witnesses down there," says Barry Engel, a principal at the law firm
Engel Reinman and Lockwood
in Englewood, Colo., who has been setting up these trusts for 12 years.
But just because you put barbed wire around some of your assets by moving them offshore doesn't mean your creditors won't go after your unprotected assets.
So if your creditors are closing in and "your house is not in the overseas trust, they'll just take it," says Bill Fleming, director of personal financial services for
PricewaterhouseCoopers
in Hartford, Conn. "It's like a little kid pulling on your pants leg until you pay attention." Your creditors may just clean you out at home until you have no choice but to relinquish your assets overseas.
A few more things to note:
These trusts need to be in place long before your creditors come knocking. If you attempt to set one up after a claim is brought against you, it's too late. At that point, it is creditor fraud, and you could go to jail for it.
There's no tax benefit to setting up an overseas trust. It's tax-neutral, in accounting-speak. As long as you're a U.S. citizen, Uncle Sam is going to get a cut of your worldwide income, whether it's in an exotic place or not.
If you're engaged in something illegal, an offshore tax shelter won't help you. Many of these offshore jurisdictions have agreements with the U.S. that require them to report criminal activity.
So Who Needs It?
"By no means is an overseas trust right in every single case," says Charles Vallone, a partner at
Frankel Loughran Starr & Vallone
, a financial advisory firm in New York. These trusts primarily are recommended for such high-risk professionals as:
Real estate developers. "If a building collapses in a landslide, the first person they sue is the developer," says Timothy Kay, an estate planning and trust lawyer at
Gibson, Dunn & Crutcher
in Irvine, Calif.
People in highly litigious professions, such as doctors and lawyers. "One lawyer from L.A. said to me, 'I don't want someone to do to me what I do to them all day long,'" jokes Engel.
A chief executive officer, even a low-profile one. "If you have large exposure day in and day out to the company's decisions, you may be subject to shareholder lawsuits," says Vallone. This is particularly important for an executive whose net worth will explode when his company goes public. Vallone says shareholders name executives, in addition to the company, in lawsuits because of their involvement in cutting the deals. As a result, he has seen executives getting cold feet lately and protecting themselves.
Wealthy people who want to protect their assets from a spouse, particularly going into a second or third marriage (assuming the first marriage is actually for love).
Cost and Other Considerations
Some say you need an estate worth $20 million or more to even consider these trusts, though there is no minimum. Engel has created an overseas trust for an estate worth as little as $250,000.
Whatever the amount you want to protect, be prepared for setup fees ranging from $12,000 to $30,000, along with annual maintenance fees of $4,000 to $6,000.
Besides cost, there are other tradeoffs you'll make in return for your money's safety.
You have to be willing to travel to your offshore haven (OK, maybe that's not so bad, given where it could be), but you also must realize that some of the world's markets are not as stable as those in the U.S., notes Fleming.
You'll have to deal with the local politics, not to mention the headache of trying to get a phone call through. In addition, the trustee must be from the overseas jurisdiction. So you'll have to be comfortable with that.
Have your financial planner or attorney walk you through the domestic possibilities first before you ship your money off to the Cayman Islands. If you're afraid of lawsuits in your profession, try getting an umbrella liability policy. Or if you're self-employed, consider incorporating your business to keep creditors away. In addition, always keep your personal and business accounts separate.
Setting Up an Overseas Trust
You'll need an attorney. A good one. These trusts are very complicated to set up, so make sure it's done properly.
Then you'll need to decide how much money you want to shelter. By putting money in a trust, you are essentially giving up control, so you don't want to shelter all your assets. "We'll protect anywhere from one-third to 80%," says Engel.
But the biggest challenge is selecting a jurisdiction in which to establish the trust that best suits your needs.
Remember, you can only set up an overseas trust in a country that has trust law. It's an English concept, so it is not recognized worldwide. Below are some jurisdictions that have tough asset protection and bankruptcy laws:
The Cook Islands are touted as having the most comprehensive asset-protection legislation in the world. This English-speaking territory of New Zealand, 1,750 miles north of Auckland, won't recognize an out-of-country judgment, so your creditors would have to re-litigate the whole issue over again and employ local counsel. And there's a two-year statute of limitations. The Cayman Islands, in the Western Caribbean, 500 miles south of Miami, entered into a Mutual Legal Assistance Treaty with the U.S. in 1988 to supply information in connection with certain drug investigations and white-collar crimes. Otherwise, the islands offer a six-year statute of limitations and strict secrecy laws. The islands were the setting for Grisham's The Firm. Gibraltar, 20 miles off the northern tip of Africa, has as its principal protection statute the Bankruptcy Ordinance, which provides that a creditor cannot reach trust assets in many bankruptcies. The Isle of Man, in the Irish Sea, boasts a 1,000-year-old political system, offering rock-solid stability. The Bahamas, 60 miles east of Palm Beach, Fla., recently updated its laws to attract more asset-protection business. It now has a two-year statute of limitations and places the burden of establishing the settler's fraudulent intent on the creditor. It also has entered into mutual assistance agreements with the U.S. in connection with suspected criminal activity.
Bottom Line: Do They Work?
Does an overseas trust hold up when your creditors attack?
"You always start with hope you never need this," says Engel, but he has seen his clients' overseas trusts challenged about 60 times. In only a handful of those cases have creditors gotten to the money. But he says even those clients were better off because creditors would have gotten more if there was no trust.
So if you have the money and the potential for high liabilities, you might think about sheltering some assets overseas. Hopefully things will work out for you like they finally did for Mitch McDeere.
TSC Tax Forum aims to provide general tax information. It cannot and does not attempt to provide individual tax advice. All readers are urged to consult with an accountant as needed about their individual circumstances.