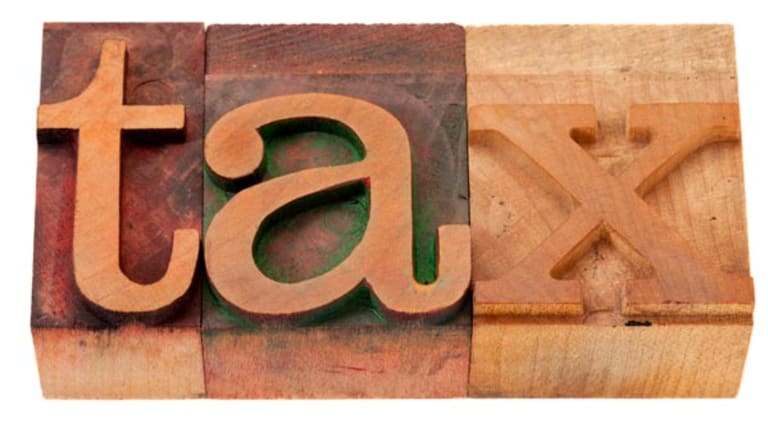 Documents Show IRS Washington Targeted Groups
Senate Democrat pressured IRS.
NEW YORK (MainStreet) — Documents obtained by a watchdog group indicate that the policy of extra scrutiny - and alleged harassment - of Tea Party groups applying for tax exempt status came from IRS headquarters not a field office. They also show a powerful Senate Democrat was very interested in the issue.
The information was obtained by Judicial Watch, a conservative government watchdog organization in Washington D.C., via a Freedom of Information Act (FOIA) lawsuit filed after the IRS did not respond to four previous requests. Emails confirm that the IRS Tea Party scrutiny was directed out of Washington D.C. Previously, IRS officials testified this inappropriate and possibly illegal inspection of Tea Party groups was done by a rogue office based in Cincinnati.
The documents also indicate that Senator Carl Levin (D-Mich.) was pressuring the IRS about alleged political activities of conservative-leaning tax-exempt organizations.
According to Judicial Watch, emails by Lois Lerner detail her "misleading explanations" to investigators about the targeting of Tea Party organizations. Lerner is the former director of the IRS Exempt Organizations division. She was recently held in contempt of Congress because of her refusal to answer questions posed by a Congressional committee investigating this issue.
Another disturbing email, dated July 6, 2010, was from Steven Grodnitzky, a manager in the IRS Tax Exempt Organizations office and formerly a tax law specialist in IRS Exempt Organizations Technical Unit (EOT). He sent it to Cindy Thomas, the former director of the IRS Exempt Organizations office in Cincinnati and Sharon Camarillo, a Senior Manager in the Los Angeles field office. The email is just one example, according to Judicial Watch, that IRS Washington was quarterbacking the effort to deny conservative organizations tax-exempt status.
"EOT is working the Tea party applications in coordination with Cincy," Grodnitzky wrote. "We are developing a few applications here in DC and providing copies of our development letters with the agent to use as examples in the development of their cases. ...we cannot resolve any of the cases without coordinating with Rob."
The documents also contain correspondence from Levin that indicates his fervid interest in conservative organizations' tax-exempt status. Judicial Watch said they reveal, "an intense effort by Levin and IRS officials to determine what, if any, existing IRS policies could be used to revoke the nonprofit exemptions of active conservative groups and deny exemptions to new applicants."
A July 30, 2012 letter from Levin expresses concern that some groups- including the Club for Growth, Americans for Tax Reform, and the Susan B. Anthony List - are engaged in political activities that are in violation of nonprofit status.
He also sent a series of letters to the IRS asking for copies of the answers to IRS exemption application question 15 – about planned political expenditures – from Crossroads Grassroots Policy Strategies, Priorities USA, Americans for Prosperity and Patriot Majority USA.
Levin also complained that the IRS "misinterprets the law" by permitting any political activity. He asks the IRS to tell him how many 501(c)(4) groups have been told they may have violated their exempt status because of political activities.
Levin is the second influential Congressional Democrat involved in this scandal. Last month the House Oversight and Government Reform Committee issued a release with newly received internal IRS e-mails sent and received by Lerner and other IRS employees that showed that committee staff, working for Ranking Member Elijah Cummings (D-Md.), contacted the IRS in August 2012 about a targeted non-profit applicant True the Vote.
Cummings had previously declared that the investigation should be closed and that there was nothing more to be learned. He said this despite the fact that one year ago, on May 14, 2013, the Treasury Inspector General for Tax Administration (TIGTA) issued a report stating the IRS used "inappropriate criteria" to identify tax exempt organizations for review. TIGTA was established in 1998 to oversee IRS operations and conduct.
TIGTA said: "The IRS used inappropriate criteria that identified for review Tea Party and other organizations applying for tax-exempt status based upon their names or policy positions instead of indications of potential political campaign intervention.... 1) allowed inappropriate criteria to be developed and stay in place for more than 18 months 2) resulted in substantial delays in processing certain applications, and 3) allowed unnecessary information requests to be issued."
The report recommended that the IRS improve its documentation as to why applications that could involve organizations engaging in potential political activities are chosen. TIGTA also recommended that social welfare activity guidance be developed by the Treasury Department.
"These new documents show that officials in the IRS headquarters were responsible for the illegal delays of Tea Party applications," said Judicial Watch President Tom Fitton in a press release. "It is disturbing to see Lois Lerner mislead the IRS's internal investigators about her office's Tea Party targeting. These documents also confirm the unprecedented pressure from congressional Democrats to go after President Obama's political opponents."
--Written by Michael P. Tremoglie for MainStreet