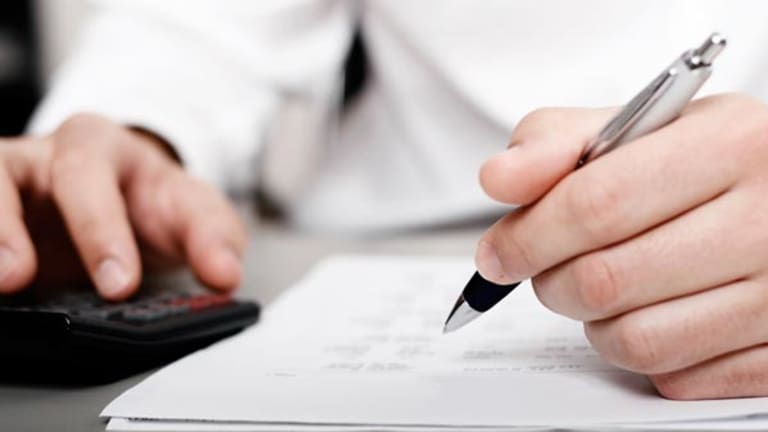 Cash or Charge? Think Twice Before Paying the IRS With Plastic
A 'convenience fee' and interest rates make it expensive to charge your tax bill.
A 'convenience fee' and interest rates make it expensive to charge your tax bill.
This year, for the first time, you can pay your income-tax bill by credit card. But you might be better off buying a 33-cent stamp and mailing a check instead.
If you want to charge your tax bill, you will have to pay a "convenience fee" for the privilege that will add between 2% and 3% to the total.
This fee, levied by a third-party broker, may make it too expensive to pay by credit card in order to collect points toward premiums like free airline tickets.
And if you are charging your taxes because you can't afford to pay them immediately, you probably can get better financing terms from the
Internal Revenue Service
than you can from your credit card company.
The
Taxpayer's Relief Act of 1997
authorized the IRS to accept credit card payments for tax bills. We
reported last week you can now use your
American Express
,
Mastercard
or
Discover
card by calling 1-888-2PAYTAX. (
Visa
isn't participating.)
Congress stipulated that the IRS could not charge any fees for its credit card service. But neither could it afford to swallow the costs of processing credit card payments. So the IRS turned to the private sector for help.
U.S. Audiotex
, of San Ramon, Calif., was hired to orchestrate the credit card payment system. For IRS payments, the company charges a graduated rate ranging from 3% for amounts under $200 to 2.2% for amounts between $95,000 and $100,000. A complete fee schedule is listed on U.S. Audiotex's
Web site.
The costs associated with processing and settling your bill and the toll-free phone number are all rolled up into this fee. The fee is then divided between the credit card company and U.S. Audiotex. The IRS gets nothing but the tax payment.
The IRS says it expects somewhere between 75,000 and 475,000 taxpayers to pay by credit card this year. So far, the number of credit card payers is ahead of projections, says says U.S. Audiotex senior vice president Steve Johnson, who couldn't give exact figures.
The company expected two thirds of the transactions to occur in the last week before April 15. But "I'm actually surprised at the number of people using their credit cards so early in the season," he says.
The IRS caps the amount of taxes you can charge at $99,999.99, but your credit card limit will determine the actual amount you can charge.
Paying for Points
If you're charging your tax bill in order to collect premium points, you should first check with the credit card company. Holders of the American Express card will get their full points, just like any other purchase, and can charge up to the IRS' maximum, says Judy Tenzer, an American Express spokeswoman. But you can't use an American Express corporate card to pay your tax bill.
Most likely all your points will be honored with Discover and Mastercard, as well, but to be safe, "contact the issuing bank to determine how they're going to treat this transaction," says Chris Monteiro, director of U.S. regional communications at MasterCard.
We also reported
previously that you can use your Discover card with Intuit's
Turbo Tax
after Feb. 28. But you'll pay a fee equal to 1.5% of the balance plus 25 cents, says a Discover spokesperson, who had no idea of the reasoning behind the additional 25 cents.
Paying your tax bill with your credit card is not necessarily a good deal, even to collect premium points. "Assuming it takes 25,000 miles to get a free ticket, charging $25,000 for tax payments will get you a ticket but at a cost of $656 in fees. Not a good deal," points out reader
Dennis Mytykyn
.
Consider IRS Financing
If you're forced to pay by credit card because you don't have the cash, it still may not be a good option. The IRS may be able to put you on an installment plan, allowing you to pay off your bill a little at a time. It charges around 7% in interest a year to do this.
The average variable card rate is 15.6%, according to
Bank Rate Monitor's
Web site. Still, you might find a lower "teaser" rate for new accounts. If your credit card rate plus the convenience fee still is less then the IRS' rate, you might be better off paying by credit card. (Check your bank's loan rates too. They may be even cheaper.)
The IRS and U.S. Audiotex say they are investigating the possibility of paying your bill over the Internet. The company has surveyed potential users and "the early response to it has been very positive," says Johnson
Meanwhile, for more information about the credit card fees, you can visit the IRS'
Web site or call the automated toll-free customer service line at 877-754-4413 and enter your tax balance due. The automated system will calculate the credit card payment fee. You also can use this line to find out if your payment was processed and get answers to frequently asked questions.