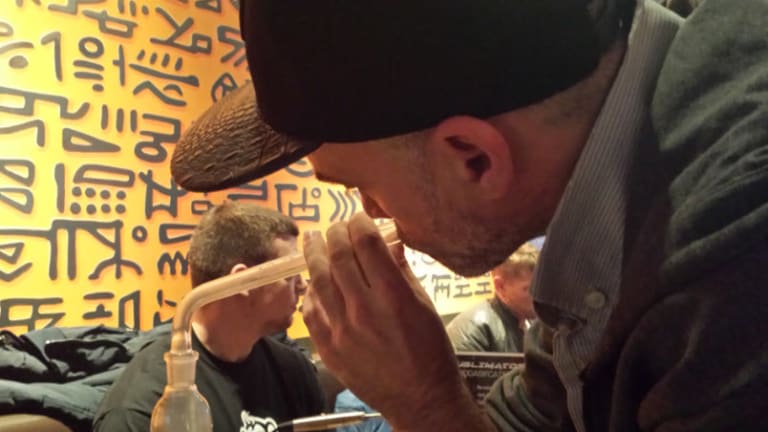 Beyond Politics: Cannabis Cup Amsterdam 2014 Gets Down To Business
By midweek, business is mostly back to normal and the conference gets fully underway.
AMSTERDAM (MainStreet) - Cannabis Cup Amsterdam, at its heart, is an international trade fair. The deals may be smaller than those done between vendors and customers at a traditional exhibition hall like Javits Center (but not necessarily). The venues, however, while more modest, are no less profitably transactional, or at heart, any different. The philosophies and goals of those that drive them are the same.
On the second day of the Cup, attendees got down to business both on conference grounds and beyond them.
The conference started more or less on time on Tuesday, attendance was brisk and the event space hall full from midday. Memorabilia sold well and participants were clearly enthusiastic to be here.
The police, while obviously circling in marked uniforms on foot and in cars, stayed distant. The shock of potentially being arrested on Sunday after setting up for the hastily cancelled Expo was often at least the introductory throwaway by people who were willing to talk. An Irish film crew comprised of a Northern Irish marijuana activist, a man who professed an academic neurological background and a local fixer set up on the other side of the street and began collecting man-on-the-street reactions to a fest whose attendees were self consciously aware they were the subject of swirling controversy internationally.
As a result, comments were guarded and uniformly anonymous but were also astute and direct where merited. In general, attendees, particularly vendors who have been in the industry for some time, were wary of outside reporters but also were in general intrigued if not positive in turn, at the opportunity presented to talk to a wider and more mainstream audience looking in. This is still an "industry" event for people who have a serious interest (for one reason or another) in the business of marijuana.
Growing lectures kicked off the official events of the day led by High Times staff. In the back and upper reaches of the darkened auditorium, and from the beginning of the day, it was possible to get a beginner's look at growing, even if the questions from the audience plainly showed that those who paid a not inconsequential sum to be here were not novices. The education possible here, however, was not limited to official events on stage. This was also a good networking opportunity for professionals from Spain, Canada and the U.S., and growers held lively exchanges and took the opportunity to talk shop from the beginning of the day.
Because of a grimly determined mood to make the event run smoothly after the showdown with local officials on Sunday, the venue was markedly clear of commercial trappings and Cup competitors hawking (for the most part) silly and unrelated promos. And while there was some scuttlebutt about festival and local politics that salted at least initial introductions and salutations, the conversations at this point were primarily about sales. Vendors who lost out on official exhibition space at the Expo on Sunday by the third day of the conference had found participating and partner coffee shops in which to exhibit their wares off premises. Invitations to showcases, parties and anticipatory discussions of an invite-only hash dinner in town flowed from mid day too.
By mid afternoon, when it was clear that most of the industry in attendance who could not showcase their wares was dropping in, in some cases, to shuttle potential partners and in this case the press to the same, MainStreet was invited, with specific instructions not to quote for attribution, to a glassware demo at a coffee shop a fairly long taxi ride (for the city) from the conference.
The coffee shop was packed, the smell of marijuana hung heavy in the air and business here was also brisk. Along the walls vendors with glass and product demos invited passersby to sit, smoke and talk over a transparent floor where large goldfish swam in a submerged aquarium. Above it, business in at least four languages swirled in a scene a bit like the ganja-scented version of a Star Wars bar.
At this level, introductions, future events and immediate business was the order of the day. For the most part, however, transactions if not aspirations were in the land of retail and upscale connoisseur. Canadian, American and Dutch glassmakers exhibited contraptions that sported mood lights, packed a punch because of compression and delivery technology or whose makers had managed to craft glass ingestion devices that sparked the imaginations of their customers impressed by the artistry and industrial strength they displayed. At one table, where business was brisk all day, avid fans sometimes just took the opportunity to touch base if not just shake hands with an artisan of apparently some repute on two continents.
The editor of a trade magazine with a bicoastal footprint sat in one corner for hours just saying hello to both customers and readers and sharing industry gossip and stories with a regularly changing face of advertisers and vendors.
Animated exchanges about sponsorships and future plans (mostly in Europe) consumed a conversation between two Spanish representatives of the American firm Weedmaps and a Canadian vendor of a seriously technical (but highly effective) new vaporizer that may well yet go head-to-head with a more established product called The Volcano.
It is a community of people who care about pot. That is obvious. But here in the darkened and smoky rooms of a city where such conversations are part of the polyglot babble of everyday, it could be cannabis or carrots. The animated interchange of international merchants is not a rarity here - trade of all kinds has always been the real lingua franca of the city.
And as the slight of local political developments dissolved into ongoing negotiations and future business opportunities, Cannabis Cup 2014 was well underway by midweek, even though as of first thing Wednesday morning, High Times confirmed that the Melkweg would not be available for the last day of the event.
This might be, as more than one industry long timer speculated, the last official Cannabis Cup held here (the American market is far less complicated on all fronts, starting with the changing domestic political realities after the mid terms in November). That said, no matter the future of Cup itself in Amsterdam, the pot business is booming if not bursting with enthusiasm that global reform is opening and shaping the winds of trade in a way not seen by any in attendance. This trade vertical, indeed, is finally, and globally, going legit.
--Written by Marguerite Arnold for MainStreet