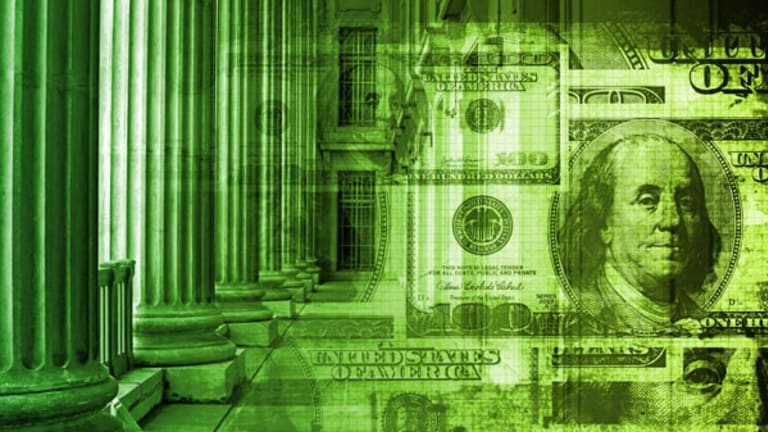 Bernanke Supports Second Stimulus, Do You?
"With the economy likely to be weak for several quarters…"
There's a lot of talk about a second stimulus, but no action yet.
Still the big names are coming out with an opinion http://www.thestreet.com/headlines-and-perspectives/political-pulse/index.html.
This week U.S. Federal Reserve Chairman Ben Bernanke's endorsed a second stimulus package; while President Bush said he is not opposed to the notion.
"If they want to provide some more details, we'll take a look at it," White House spokeswoman Dana Perino said October 21.
The Presidential candidates are in the mix: Barack Obama has proposed a $50 billion stimulus that would include about $25 billion for infrastructure and public works projects and a $500 rebate check for consumers. As for John McCain, his campaign spokespeople say: "He looks forward to any proposals and would evaluate them on the merits."
A CALL FOR ACTION
When Fed Chair Bernanke spoke on Capitol Hill about the details he'd like to see in a second stimulus package he mentioned improved access to credit for consumers, homeowners and businesses and a "well-targeted" charge of stimulus funds.
"With the economy likely to be weak for several quarters, and with some risk of a protracted slowdown, consideration of a fiscal package by the Congress at this juncture seems appropriate," he said. For more information on Bernanke's urgent call, click here .
Bernanke is not the first to support this idea.
House Speaker, Nancy Pelosi (D-CA) announced plans for a second stimulus package on Oct. 13 in a press conference in Washington. Further details, specifically, the cost of the package, will be announced over the next month, she said, but it is possible the second stimulus package could cost $150 billion, $18 billion less than the first stimulus package Congress passed in February, Pelosi has said.
The tentative plans for a second stimulus package include extended unemployment benefits, money for food stamps, possibly another tax rebate and money towards infrastructures like aging roads and bridges.
Previous published reports indicate that a potential stimulus would earmark about $3 billion for food stamp assistance, $6 billion to extend unemployment benefits and $37 billion to fund public work projects, among others.
The $168 billion package passed in February resulted in the government giving tax breaks to companies and sending rebate checks worth $300 to individuals and $1,200 to families
A stimulus vote is not likely take place until after the election.

QUESTION: Bernanke supports a second stimulus package. Do You? What do you think the package should include?