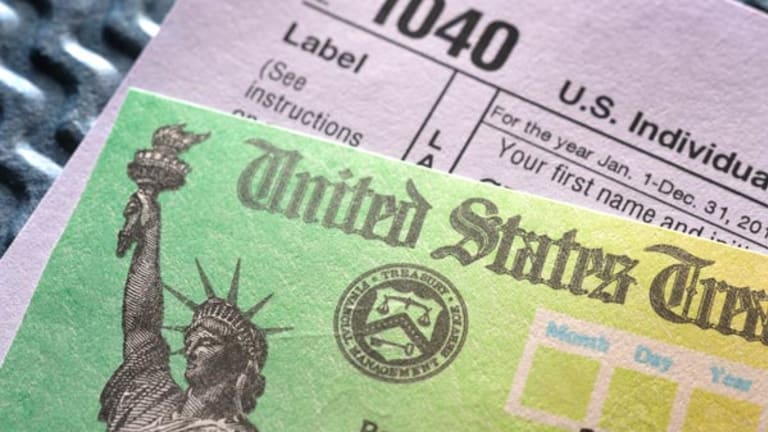 Are You Making Any of These Common Tax Mistakes?
The problem with tax mistakes is that you just don't know you are making them.
NEW YORK (MainStreet) — The problem with tax mistakes is that you just don't know you are making them. The income tax code has grown from just four pages in 1913 to more than 70,000 pages today and influences virtually every decision we make, according to The Tax Foundation, a non-partisan research think tank, based in Washington, D.C.
The IRS says the tax payer is responsible for everything on the tax return (and not on the return) and the tax preparer is responsible for anything he had knowledge of. So, if you don't tell your tax preparer all the details about how you earn money and how you save and spend money, he is not responsible for whether you could have paid less in taxes or gotten a bigger refund.
That got me wondering about some of the worst tax mistakes taxpayers make. So, I called up Steve Kunkel, Managing Director of CBIZ MHM, a Top 10 accounting and professional services provider.
Kunkel has more than 34 years of accounting and financial planning experience and told MainStreet that any one of these mistakes could cost you anywhere from hundreds to thousands of dollars.
Think about how you are preparing for taxes right now and ask yourself, "Am I making any of these tax mistakes?"
1. Not keeping good records: People have a tendency to forget to tell their tax preparer things that have happened during the year and they don't really know what's important either, says Kunkel. Did you pay for a new professional subscription, have out-of-pocket medical expenses, fix the truck, incur any education expenses, get married or divorced, have a baby, sign a pre-nup? You need to tell your tax preparer all of these things so he can maximize your return. If you keep a folder of records of anything new in your life or that you spend money on throughout the year, you will have those important records handy, at tax time.
2. Not reporting all of your income: People mistakenly think if they didn't get a W-2 or 1099-MISC, they don't need to report the income. All income is taxable unless specifically exempt. Don't forget the person or company who paid you the money is also required to report that expense. If you don't report a significant amount of money, it can flag the IRS to look more closely at your return as it appears you may not have appropriate means of support for your lifestyle. If you are self-employed and receive 1099s, keep a separate bank account for those earnings and expenses, so you can easily track and access those records, says Kunkel.
3. Not contributing to retirement plans that provide a tax benefit: Kunkel says a big way to reduce your taxable earnings is to contribute the maximum to your retirement plans allowed. For 2013 and 2014, the maximum contribution to all of your traditional and Roth IRAs is $5,500 ($6,500 if you're age 50 or older) and $17,500 to an employer 401(K) (with exceptions). Plus, you reap the tax-free rewards of the compounding interest effect over many years, especially if your company 401(K_ matches contributions, advises Kunkel.
4. Not taking advantage of your employer "Cafeteria Plan": Section 125 plans, called "Cafeteria Plans," allow participating employees to choose between several non-taxable qualified benefits or keeping their regular taxable wages. Plans typically offer a menu of benefits including medical, dental and vision insurance plans and often a flexible spending account (FSA) which allows employees to use pre–tax dollars to pay for dependent care expenses and additional unreimbursed medical expenses (such as deductibles and co-pays). Dependent care benefits are limited to $5,000 annually and medical reimbursements are limited to $2,500 annually. Using a cafeteria plan allows you to reduce your taxable income (and payroll withholding taxes) by the amount of the qualified expenses you would have spent any way, instead of using regular taxable income, explains Kunkel.
5. Failing to itemize: Taxpayers can choose the larger between claiming a standard deduction ($6,100 in 2013 for a single filer and $12,200 for married couples) and itemizing their deductions. Kunkel says if you're paying mortgage interest, you will almost always be paying more than the standard deduction, so always evaluate other allowable expenses (see no. 1) to itemize before simply choosing the standard deduction.
6. Missing out on tax credits. The government offers many tax credits to provide incentives for certain financial behavior or to benefit specific groups of tax payers. Tax credits directly lower your tax liability (the amount of taxes you have to pay) rather than reduce your taxable income. Tax payers miss out on credits simply because they don't tell their tax preparer what they are spending money on during the year, says Kunkel. In fact, according to a 2012 Government Accountability Office review entitled "Improved Tax Information Could Help Pay for College," 14% of filers of almost 11 million eligible 2009 returns failed to claim an education credit or deduction losing an average tax benefit of $466 per return. Some tax credits are refundable, in which you get a check from the IRS even if you owe no income taxes and some credits can be claimed even if you don't itemize, but a tax program or a tax preparer is necessary to know which will benefit you.
7. Not filing as early as possible (and protecting yourself from tax fraud): If you have all your information ready by early February, and you kept good records, you'll be ready to file early and be less likely to fall victim to tax fraud or identity theft. Here's why: when fraudsters use your social security number to file taxes in your name to get your refund, if you've already filed for it and gotten it, they are blocked access to your information and your return. In addition, if you file late, penalties are assessed and you'll miss out on beneficial elections that you can't make on a late return.
8. Not checking for clerical errors: Mistakes on your tax returns can result in misfiling of the return, penalties and assessments and a higher payment for taxes due. "The number of mistakes is infinite so take the time to double-check your withholding allowances on your W-4 every year and all pertinent information on your tax return carefully before filing," warns Kunkel. Check your filing status (which affects your benefits and tax rates), all bank routing numbers for receiving e-filed refunds, all social security numbers, birth dates and names and be sure to send all on-time returns via certified mail (if not e-filing) so you have proof of timely filing.
9. Using an online tax prep program: This may not be a mistake if you have simple taxes as in one employer W-2 and maybe a mortgage statement. If you own a business, are self-employed, have investments of any kind, plan to itemize deductions, have a large family with many different types of expenses or a combination thereof, you would want a CPA to prepare your taxes because it is their job to maximize the tax benefits of your life, says Kunkel. The programs are not meant to handle many types of complexity all in one return and can be confusing for the taxpayer who might make wrong choices and not know it.
10. Failing to plan: It takes time and planning to contribute to an IRA, take advantage of a Cafeteria Plan, set up bank accounts for different earnings and to keep detailed records and receipts for each and to make an appointment early in the year to speak with your CPA about your financial year (or carefully go through the entire questionnaire on an online tax prep program), but it might save you a lot of money.
Kunkel says, the best thing you can do for yourself is start planning for next year's taxes now, especially if you've made any of these common mistakes.
--Written by Naomi Mannino for MainStreet