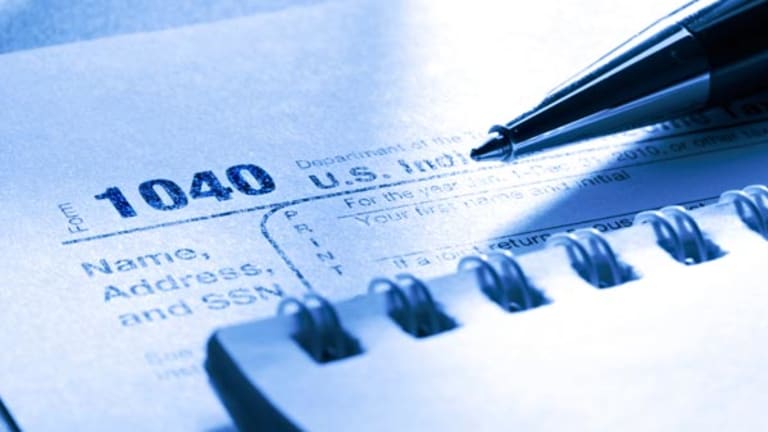 An E-Filing Site for Taxpayers Who Need Hand-Holding
Also, H&R Block doled out 30,000 freebie software programs while its tax-filing site was down.
While
TurboTax.com
,
H.D. Vest Online
and
hrblock.com
and others duke it out to attract do-it-yourself tax filers, a dark horse site is making a play for taxpayers who need a little hand-holding.
e1040.com
is trying to combine the convenience of Web data entry with the comfort of a live tax preparer. Customers fill in a questionnaire on the site (
www.e1040.com ) that is immediately sent to a live preparer. The preparer promises to contact you within 20 minutes (during business hours) with any follow-up questions and then complete your return.
This service starts at $49.95 for a Form 1040. Add in the cost of electronic filing, and filling out a Schedule A or B, and the total for a typical return comes to around $85 -- comparable, if not cheaper, than showing up at, say, your local
H&R Block
(HRB) - Get H&R Block, Inc. Report
office.
Share online tax-prep questions on the
E-Filing Forum board
Of course, once this information reaches an e1040.com preparer, you have already done the hard part -- collecting all your tax forms and receipts and entering all the numbers in the online forms.
The site is run by
Gilman + Ciocia
(GTAX)
a tax-preparation and financial-planning company with bricks-and-mortar offices in 17 states and $7 billion in assets under management. Last year, the firm prepared more than 150,000 individual tax returns.
Like tax giant H&R Block, Gilman + Ciocia sees online tax returns as the bait that will draw customers to its financial-planning services.
Another newcomer, Irving, Texas-based
H.D. Vest
(HDVS)
, is offering free online tax returns to lure customers. (See our recent
story.) Gilman + Ciocia's hopes the live-preparer option will allow it to hang with the big boys.
Although this is the first year e1040.com is included on the
Internal Revenue Service's
list of approved online tax-filing sites, it's the site's second tax season. Last year, with little advertising, the site's live preparers filed only about 2,500 returns. This year, thanks to $5 million in advertising, e1040.com expects close to 50,000 users to take advantage of its live-preparer option.
Already, e1040.com has been preparing an average of 220 returns a day, with a recent high day of 405 returns, according to Kathy Travis, the site's chief operating officer. The work is handled by 40 accountants at offices in New York, New Jersey, Florida and Washington.
Before the returns reach an accountant, a customer service representative has already fact-checked it so that when an accountant gets on the phone with the taxpayer, he's only asking necessary questions, says Tom Povinelli, chief operating officer of Gilman + Ciocia. "We have accountants doing 20 to 30 returns a day already."
e1040.com plans to add a strictly Web-based program this week so taxpayers can file without the assistance of a preparer.
To use the live-preparer option, taxpayers must first complete "tax organizer," a questionnaire that asks for all the information needed to complete a tax return. Taxpayers also are instructed to include any specific questions they may have and instructions on the best time for a preparer to call. Otherwise, the company promises a preparer will call the taxpayer back within 20 minutes -- anywhere in the world. Customers in Germany and France have taken advantage of this feature, Travis says.
Having a Hard Time at hrblock.com
hrblock.com says its online tax-preparation program, which was not working as of Feb. 1, was back online as of Feb. 3. However, several attempts to access the online-filing program via a
Netscape
browser on Tuesday were unsuccessful, though it seemed to work with the Internet Explorer browser.
Users who were unable to access the online filing program
last week were offered free downloads of
TaxCut
, a $29.95 tax-filing software program, which is produced by H&R Block's software arm,
Block Financial
.
More than 30,000 taxpayers took advantage of this consolation prize. And the freebie still is available to users who continue to have difficulty getting in, says Linda McDougall,
H&R Block's
vice president of communications.
Speaking of TaxCut, H&R Block's other Web site,
www.taxcut.com, finally launched its online tax-filing program Tuesday. It had been scheduled to launch a week earlier, but Block had to redirect its energies to get the hrblock.com site back online. The two products are identical, and the hrblock.com brand is expected to replace TaxCut.