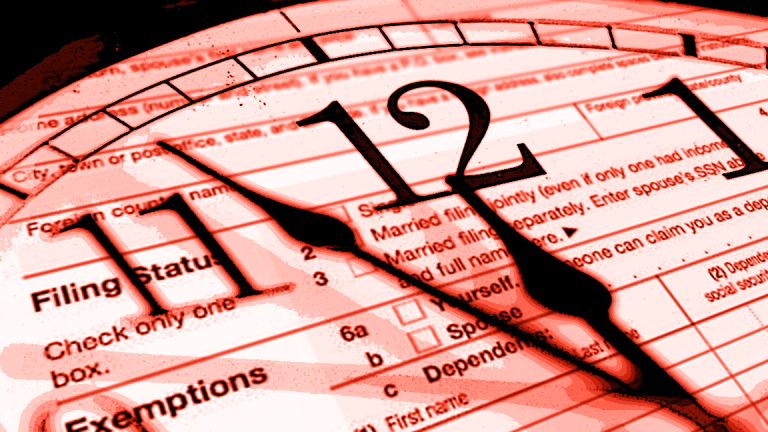 Here Are 5 Things You Need to Doublecheck Before Filing Your Tax Return
Tax season is winding down, but there's still plenty of time to check your deductions, make retirement contributions and do some final editing on your return.
A late tax deadline gives those filing taxes a little extra time, which they should use to doublecheck everything on their tax return.
The Internal Revenue Service started accepting tax returns on Jan. 29 and is expecting more than 155 million tax returns to be filed this year. However, the filing deadline for individual tax returns falls on Tuesday, April 17, this year. The standard deadline, April 15, falls on a Sunday and would typically be postponed to Monday, April 16, if that day didn't also happen to be Emancipation Day in Washington, D.C.
While that extra tax filing time is a bit of a reprieve, it's also an opportunity for taxpayers to make mistakes. For example, according to a survey conducted by finance site NerdWallet this year, 89% of taxpayers are worried about filing their taxes incorrectly. If that should occur, taxpayers' biggest fears include getting audited (28%), having to pay more after filing (21%) and going to jail (11%).
With a little more than a month left until the tax deadline, here are just a handful of items you should be giving some additional scrutiny before sending off your tax return.
Retirement Contributions
Self-employed people and business owners have until April 17 to contribute to SEP-IRA, SIMPLE IRA, or solo 401(k) retirement accounts. For 2017, the maximum contribution allowed is $5,500 for an IRA (or $6,500 for those 50 or older), $18,000 for a 401(K) ($24,000 for those 50 and over) and $54,000 for a SEP-IRA. Even those who aren't self employed can still open a traditional IRA and contribute $5,500 (or $6,500 for those over 50) by April 15.
Yet NerdWallet found that only 7% of taxpayers have opened and contributed to an IRA after Dec. 31 and before the tax deadline, while 75% wrongly think it's illegal to do so.
"Tax time is a great time to open an IRA because it has a double benefit," says Andrea Coombes, tax and investing specialist for NerdWallet. "You'll improve your retirement savings outlook, and if you're eligible, reduce your taxable income."
Quarterly Payments
The Tax Cuts and Jobs Act changes tax laws for all United States taxpayers in 2018. However, changes in state and local tax deductions, self-employment deductions and even smaller deductions like entertainment expenses will determine freelancers estimated quarterly tax payments through 2018 and early 2019.
Kim Dula, a partner at accounting and advisory firm Friedman LLP in Philadelphia, notes that freelancers typically have two ways they can calculate their quarterly payments to avoid underpayment penalties. They can estimate 90% of their income for the current year or they can use 110% of the prior year tax levy. Many of Dula's clients would chose the latter "safe harbor" since they were unsure what the current year income was going to be.
"The Tax Act will make taxpayers stop and think before using the safe harbor method," Dula says. "If they expect their tax to be less in 2018, they may choose to be more diligent in projecting their actual income and tax based on the new rules with the hope that their estimated tax payments can be reduced."
Charitable Deductions
Even "if you dropped off a bag of clothing at a local charity or gave them $5 at the cash register of your grocery store," Palisades Hudson financial advisor Melinda Kibler reminds taxpayers that charitable contributions can be deducted for up to 50% of adjusted gross income.
Donations to eligible nonprofits, religious organizations, and government organizations (such as a school or public library) are deductible, but you had to have made those donations in 2017 and you have to be organized. Now is a good time to not only dig around for receipts, but add up your mileage if you did any driving for a charitable organization. You can deduct 14 cents a mile if you, for example, drove to a shelter to serve meals to the homeless.
Your Paperwork
The Internal Revenue Service notes, folks who file their taxes on paper are about 20 times more likely to make an error than those who file online with a bit more guidance. This includes a whole lot of math, deductions and filing-status errors ("head of household" instead of "single").
However, far dumber mistakes can get a tax return bounced back. Wrong bank account numbers for direct-deposit refunds, unsigned and undated forms and wrong or missing Social Security numbers can all tank a return. However, the most embarrassing is one that the IRS considers all too common: The wrong name on the form. While misspellings happen, putting down a name other than the one that appears on your Social Security card creates problems, especially for newlyweds who've just changed names.
"The IRS has a number of ways to help taxpayers this filing season, and we encourage people to look into the many options available," says acting IRS Commissioner David Kautter.
You Need an Extension
If you aren't feeling confident in your ability to file a return on time, you still have plenty of time to file for an extension. However, you at least have to have a solid estimate of what you owe and you still have to pay it by April 17.
We found that 73% of Americans incorrectly believe that if they file a tax extension, they can delay their tax payment," NerdWallet's Coombes says. "However, if you don't pay your tax bill by April 17, you risk owing interest and penalties."
This article is commentary by an independent contributor. At the time of publication, the author held no positions in the stocks mentioned.