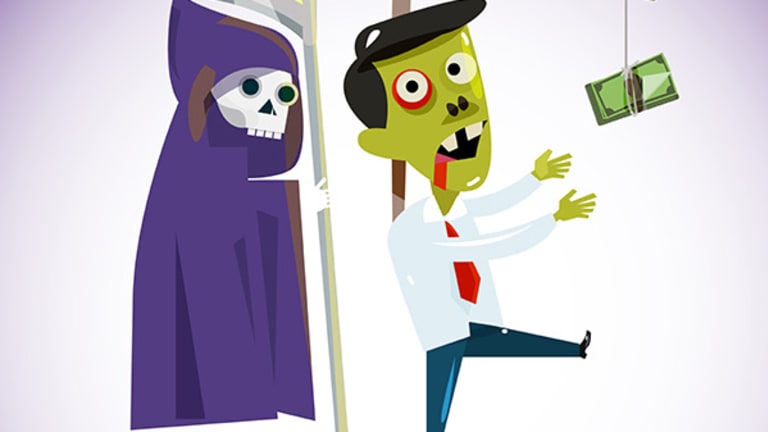 Publish date:
5 States Where You Don't Want to Die
Estate tax on a state level can chip away at the money you leave your heirs. Find out how to avoid a reduced inheritance for your loved ones.
Estate tax on a state level can chip away at the money you leave your heirs. Find out how to avoid a reduced inheritance for your loved ones.
I'm a total cliche of a Jersey Girl.
I celebrate Bruce Springsteen's birthday (September 23, FYI), I drove a 1987 Camaro and went through cases of Aqua Net hairspray as a teenager.
I'm proud of my state and presumed I would die here.
That was until I discovered that my fine Garden State -- with some of the most beautiful beaches in the country -- happens also to be the most expensive state to die in. 
What?!
Yep. 
N.J. is one of 15 states, plus the District of Columbia, that charge an estate tax at the state level.
That means depending on how much you are worth when you die, your heirs may owe the state government a big piece of it.
Awful. I know. But let's back up for a minute. 
There Already is an Estate Tax at the Federal Level
If you die, and your estate is more than $5.45 million as a single person or $10.9 million as a married couple, your estate may be hit with a 40% federal estate tax bill (which basically is the fourth highest rate in the world.)
That means, as a single person, you can leave up to $5.45 million to your heirs estate tax-free.
Now estate taxes only are due on the portion of an estate that exceeds $5.45 million. So a $6 million estate would owe estate taxes on $550,000. 
Granted, only the largest 0.2% of estates in the US will have to pay any federal estate tax. But that tax may generate around $275 billion over 2017-2026, according to Congressional Budget Office. So it's not going anywhere. 
The problem is many states have gotten aggressive and have instituted their own estate tax. 
That wouldn't be a big deal if they just followed the federal rules, because you don't have to pay estate tax twice. When you file your federal estate tax return, you'll basically a deduction for the estate tax you paid to your state, notes Bill Fleming, managing director in the Private Company Services group at PwC. (Check out the instructions to the Form 706 - United States Estate Tax Return for more details.) 
So you're not paying twice on the same amount.
But the states decided to create their own exemption amount and tax rates (the tax geeks say they "decoupled" from the federal rules), in an effort to get more money.
The 5 States that Suck the Most
The states with the lowest exemption (which means more money is subject to estate tax) are:
1. New Jersey: $675,000 (as if Bridgegate wasn't enough.)
2.. Massachusetts, Oregon and D.C.: $1 million
3.. Minnesota: $1.4 million (though its scheduled to increase to $2 million in 2018)
So that means that if your estate is $1.4 million and you die this year, depending on who inherits the money and the specific rules of the state, there may be an estate tax bill if you die in any of those states.
Not far behind with low exemption amounts are:
Rhode Island: $1.5 million
Connecticut: $2 million
Washington: $2.054 million
Washington has the highest estate tax rate at a maximum of 20%, whereas eleven states (including New Jersey!) have a maximum rate of 16%. 
Check out this great map by the Tax Foundation that details each state's exemption amount and tax rate.
(Big note: Six states also have an inheritance tax, which is assessed on each inheritance, as opposed to the entire estate. But know that Maryland and New Jersey assess both estate taxes and inheritance taxes so line up your accountant.)
Don't Call the Moving Trucks Yet
"The rules keep changing as the states realize they have to get on bandwagon," says Ellen Minkow, CPA and partner at MS1040 LLC.
So don't start packing yet.
Thankfully, many states have scheduled exemption increases over the next few years (that means a lower estate tax bill), so it's really important to be aware of what's going on in your state.
And be really careful if you do decide to move. If you decide to leave, go whole hog.
"Really get the heck out," Fleming says. "Leave nothing behind. Sell your old house, everything. Be gone."
Don't give the IRS any opportunity to say you are still a resident of your blood-sucking state. 
And once you move, well, try not to die that year. If you die in the same year. The government actually will count how many days you were a living resident in that state, says Minkow. If it's not enough to establish residency, you will owe your former state's tax bills. 
The IRS is very persistent and has been known to chase former residents to the end of the earth, says Fleming, noting that Connecticut, Massachusetts and New York are super tough.
So I'm not moving just yet, but if Jersey's laws don't change, watch me drive my Pink Cadillac the heck out of here!