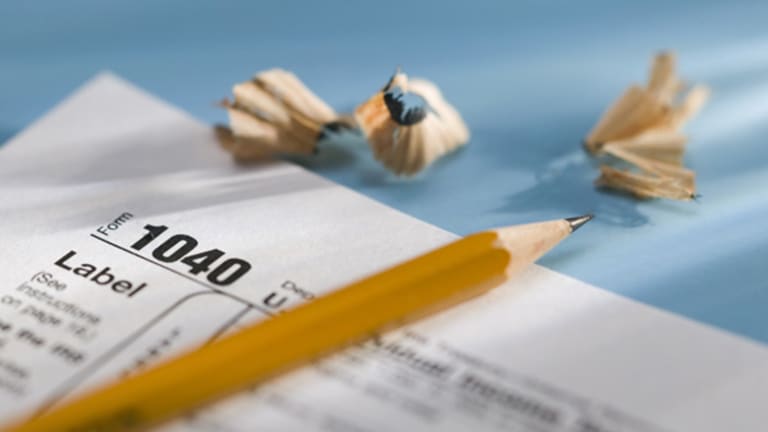 5 Life Events That Taxes Can Help or Hurt
Buying a house? Getting married? Raising a family? How the taxman figures into your big plans.
Buying a house? Getting married? Raising a family? How the taxman figures into your big plans.
BOSTON (TheStreet) -- Last year held many tax breaks and credits intended to get consumers spending. Federal stimulus money meant an $8,000 credit for homebuyers and breaks for buying hybrid vehicles and fuel-efficient cars and appliances.
That was then. Following the end-of-year passage of the Tax Relief Act, many of those stimulus-related perks have disappeared.
Nevertheless, there are some moves, purchases and life events taxpayers can count on for tax benefits and incentives throughout 2011. There are also some items where the tax incentive -- or lack thereof -- is a mixed bag.
Whether you're buying a house, getting married, raising a family or approaching any number of other life-changing moments, it's worth it to figure out the possible tax benefits.
"You can't make your decisions just based on taxes," says Jackie Perlman, principal researcher with
at
H&R Block
(HRB) - Get Report
. Anything you do -- getting married having a child, moving -- these are big personal and financial decisions to talk over with your family and your financial adviser and your tax adviser. The tax consideration is very important, but it is just a piece of what you need to think about."
1. Starting a family
No one should necessarily walk down the aisle or start a family based solely on IRS guidelines. But tax incentives may help thaw cold feet.
The American Recovery and Reinvestment Act of 2009 created a category of families with three or more children and increased the maximum benefit of the Earned Income Tax Credit for 2009 and 2010. The Tax Relief and Job Creation Act of 2010 extended these changes through 2012.
The maximum credit for 2010 tax returns is $5,666 for workers with three or more qualifying children. Workers without qualifying children may be eligible for a smaller credit amount. The Recovery Act included an expansion of the EITC worth, on average, $600 in additional assistance to families with three or more children.
The Child and Dependent Care Tax Credit provides a credit of between 20% and 35% or up to $3,000 ($6,000 for two or more children) of child care expenses for children under age 13 whose parents work or go to school.
"We just had the Tax Relief Act of 2010 that did extend many favorable tax provisions through 2012," Perlman says. "But what happens after 2012 is a big question mark. Right now, we have marriage penalty relief, and things like that are all important to think about. If you get married and have your child in 2013, you may not have so much. Of course it is not an either/or choice, because if you get married and have a child this year, hopefully you will still be married and have the child in 2013. You are going to be faced with those unknowns regardless of what you do. But these are things to consider. We have some historically great tax relief right now, and we don't know if we'll have it in the future."
For couples looking to expand their family through adoption, the new tax laws improve the existing incentives. The amount of the adoption credit increased by $1,000 and in 2011 is slightly more than $13,000. The credit is also fully refundable.
"A nonrefundable credit means that the credit can't be more than your tax liability for the year. You can carry it forward, but if you are a lower-income or middle-income person with many children and expenses, a nonrefundable credit may not be a great benefit to you," Perlman says. "With 'refundable,' you get that check in the mail."
There is also a new provision for those adopting special-needs children. It allows parents to get the credit regardless of their expenses; for other parents, it is weighted against the costs of raising the child.
The classification of "special needs" does not necessarily mean the child has any kind of disability. Each state has its own laws -- in some, for example, it can apply to adopting a sibling group, while adoption expenses in and of themselves are not deductible.
2. Going back to school
There are a variety of tax credits, deductions and savings plans available to taxpayers to help with the expense of higher education. In many cases, adults returning to academia can benefit just as their children's college education does.
"Your work-related education expenses may also qualify you for other tax benefits, such as the tuition and fees deductions and the Hope and Lifetime Learning credits," Perlman says. "If you have never finished your college degree, an American Opportunity Credit is still there for you through 2012, worth up to $2,500. Credits are usually better than deductions because they offset your taxes, as opposed to a deduction, which lowers your taxable income."
That credit, however, applies only to those enrolled in a two- or four-year undergraduate program. Those returning to get a graduate degree can qualify for up to $2,000 through the Lifetime Earning Credit.
The self-employed can also put qualified education expenses against their reported income.
"The education has to be something that you need for your business or enhances or improves your skills," Perlman says. "If you are a self-employed architect and you need a certain amount of continuing education to keep up your license, then absolutely that can be a deductable expense for you. On the other hand, if you are an accountant and you decide that you always wanted to be an architect, you cannot deduct that expense, because that's a new trade or profession."
3. Start a job
You may be able to deduct certain expenses you incur while looking for a job, even if you do not get one. Expenses may include travel, resume and outplacement agency fees. Moving costs for a job at least 50 miles away from your home may also be deductible. Even haircuts in advance of that big interview can be deducted.
Decide to chuck the corporate grind and go on the road with your high school metal band? The IRS offers musicians the opportunity to claim your spandex and fishnets as work-related garb.
4. Buy or sell a home
Taxes may not help much if you want to buy a new home, but other economic forces may help -- at least a little.
The bad news: The $8,000 homebuyer credit is off the table. The good news is that many predict that home prices are still going down. If historically low interest rates -- especially for 30-year mortgages -- start to show signs of inching upward, there may be an uptick in transactions. That's good news for buyers, not so much for sellers.
"It may be a great idea to get a home, but the homebuyer credit is gone and we are seeing a number of people thinking it was extended," Perlman says. "Be very careful with that. There are all sorts of proposals in Congress, and probably will be for a while, to extend it, but none of them have come to pass. It is a nice discussion, but it hasn't happened."
One recent change also narrows the incentive for buying a second or vacation home.
"You may be are thinking about buying a vacation home, moving into it later and getting the gain exclusion that you can get on selling your main home," Perlman says. "But there are some limitations there."
With the old law, if you wanted to buy a vacation home, use it as a vacation property and eventually move into it, as long as it became a main home for at least two years there was a $250,000 gain exclusion. But that's not entirely true anymore; now those years it wasn't a primary residence are going to figure into that exclusion and take some of it away.
5. Home improvements
"We had an extension of the Home Improvement Energy credit, but it is not last year's credit," Perlman says. "We are seeing some misinformation about that. What the tax relief act did was revive the old 2006-07 credit, but it is limited to $500 and is now a lifetime credit, as opposed to the big $1,500 credit."
Do your homework
It is important for taxpayers to help themselves by telling tax professionals of life changes or important pending events.
"The biggest mistake I see, and unfortunately I see it quite a bit, is the missed tax benefit, the omitted tax deduction, the overlooked credit and the overlooked deduction," says Mark Steber, chief tax officer for
Jackson Hewitt Tax Service
(JTX)
. "Unfortunately the system is not one that self-protects taxpayers from leaving stuff off their return. By and large you are responsible for the identification of all of your deductions and benefits. If you leave a W-2 or 1099 form off, or miss some income, the IRS and the regulatory authorities are very good at finding that. They are not so good, not so focused and not so motivated to go find your earned income tax credit, your child tax credit, your child dependent care credit or anything you might have left off, including some deductions available if you are an artist, a tree grower, a farmer or policeman."
Though software and preparers alike will make an effort to catch deductions, the onus falls on the taxpayer.
"You have to take responsibility for the life changes that you had this year and tell your preparer that," Steber says. "You have to find out if a tax law might be applicable. It is just a smarter safer way to go."
-- Written by Joe Mont in Boston.
>To contact the writer of this article, click here:
Joe Mont
.
>To follow the writer on Twitter, go to
.
>To submit a news tip, send an email to:
.
RELATED STORIES:
>>Estate Tax Makes its New Year Return
>>Tax Act Retains Some Education Perks
>>Unusual Income Can Complicate Taxes
>>Unlucky in Love, Punished by the IRS
Get more stock ideas and investing advice on our sister site,