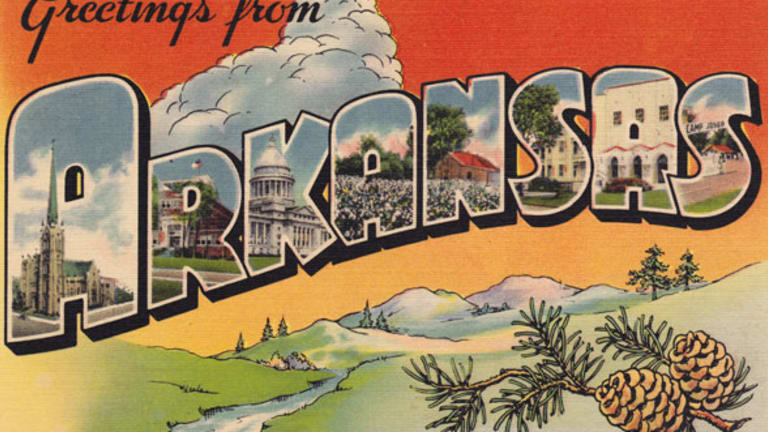 The 10 Worst States for Spending Your Tax Dollars
Some states are better at spending our tax dollars than others -- and these are just the worst.
NEW YORK (TheStreet) -- How well are your tax dollars being spent? If you're living in one of the states listed below, not very well. 
Live in Arkansas or Alabama? Then your tax dollars aren't being spent very well at all, according to a new study from WalletHub, a Web site with personal finance tools and information. 
The report ranked states based on "taxpayer ROI," or, the quality of services provided by the government compared with the amount of money paid in taxes. While tax receipts can be easily measured, quality of services cannot. WalletHub used 22 metrics in each state to determine how well tax dollars were being spent, including infrastructure, education, health and safety.
Arkansas and Alabama rank last in taxpayer ROI by these measures, with Arkansas taking the dubious crown. The two southern states rank Nos. 48 and 50 respectively when it comes to government services provided. While Alabama has relatively low taxes, ranking No. 12 among all states, Arkansas has relatively high taxes, ranking No. 40.
Red states and blue states had nearly the same ROI, with blue states getting the slight edge. While Alaska gets good ROI for its extremely favorable tax situation, it ranks only 30 in services provided. The violent crime rate in Alaska is five times higher than that in Vermont. Further, Vermont's incarceration rate is less than a tenth of South Dakota's.
Where states rank on the list isn't always a matter of providing good services -- taxes count, too. Nebraska, which provides the third-best set of government services, according to the report, has the second-highest taxes in the country, meaning it only ranks in at No. 23 on the list. Alaska, which is No. 1 in taxes and tops the list with the best ROI is just ranked No. 30 in terms of services.
See if your state ranks in the bottom 10 when it comes to spending your tax dollars. Also, check out which states are the best here.
10. Illinois 
Illinois ranked No. 51 in taxes (the District of Columbia was also measured in the study) and No. 28 in government services.
9. Rhode Island
Rhode Island ranked No. 48 in taxes and No. 32 in government services.
8. New Mexico
New Mexico ranked No. 26 in taxes and No. 41 in government services.
7. Kentucky
Kentucky ranked No. 37 in taxes and No. 37 in government services.
6. West Virginia
West Virginia ranked No. 22 in taxes and No. 46 in government services.
5. Michigan
Michigan ranked No. 45 in taxes and No. 45 in government services.
4. Louisiana
Louisiana ranked No. 19 in taxes and No. 49 in government services.
4. Mississippi
Mississippi ranked No. 38 in taxes and No. 47 in government services.
2. Alabama
Alabama ranked No. 12 in taxes and No. 50 in government services.
1. Arkansas
Arkansas ranked No. 40 in taxes and No. 48 in government services.