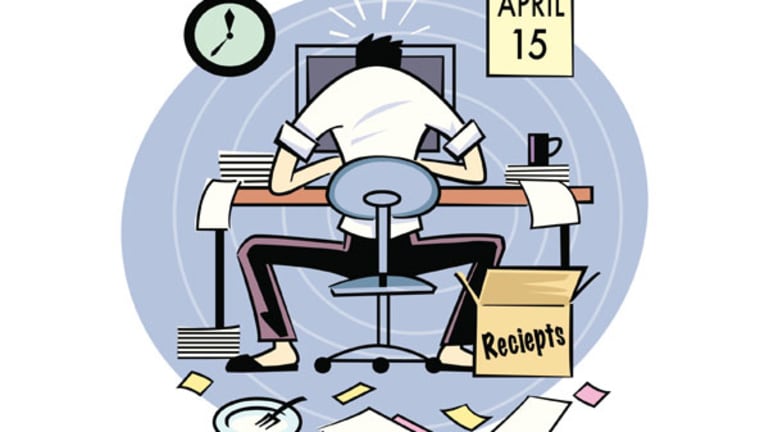 Publish date:
Tax Problems in 2014? Fix Them Now for 2015
Even though you're ready to put taxes to bed for another year, now's the time to ensure next year's tax day is stress free.
Even though you're ready to put taxes to bed for another year, now's the time to ensure next year's tax day is stress free.
NEW YORK (TheStreet) -- Now that April 15 is behind us, taxes are probably the last thing you want to think about. Yes, you're sick of crunching numbers, talking to accountants and gathering receipts, but smart taxpayers won't wait to start preparing their taxes for 2014.
Ask yourself: What could I have done in 2013 to better prepare for tax day? Chances are there are a few steps you can take now to ensure next year is easier than ever. Our experts weigh in on the top three things you can do now and throughout 2014 to ensure there are no surprises this time next year.
1. Get organized
"You just finished filling out that return and you discovered what was hard for you and what was easy for you," says Kay Bell, tax expert at Bankrate.com. "No one knows better than you where you need to get organized."
Most people can look back at their most recent filing and see where the problems were: with receipts that were hard to track down, with stray 1099s from contract work or with statements on mortgage interest or child care.
"A lot of people don't realize what they need until they start filing, and at that point in the game they go crazy. They've got a deadline looming, and in many cases they have to get an extension. Don't put yourself in that situation," Bell says.
Keep an eye out for the same problems that hung you up last year to appear during the year this year, Bell suggests.
"If you aren't moving or changing jobs, you know already that you'll have the same mortgage and property tax, and roughly the same income, so you don't have to be surprised by any of that."
Also see: How to Choose Between Tax Software and Accountant>>
If you're not the type of person that likes to file hard copies of documents, Jeff Pickard, CEO and president of Lucion Technologies suggests going paperless.
"People get frustrated looking for forms and documents, 'Where did I put this one?' 'Where did I put that one?'" Pickard says. "You need a good piece of software that allows you to organize your files, your previous returns and any email correspondence with your accountant."
With an electronic system, you don't have to worry about files getting lost or misplaced, and you can check in easily on your tax situation at any point during the year, Pickard says.
"At any time if your accountant asks for your records or if you need to check on something with your salary or your mortgage, you'll have it all in the same place."
2. Adjust your withholdings
When you were filing your 2013 taxes, did you get a big refund? Did you owe a lot of money? In either case, it's time to go to your HR department or payroll office and ask for a new W4 form to adjust your withholdings, Bell says.
"A lot of people use their tax refund as a forced savings account. With interest rates so low, that's not necessarily a bad idea, but you want to be in a position where you can make that money work for you during the year," Bell says.
Likewise, if you were confronted with a big tax bill, adjust your withholdings so you don't have to write a big check to Uncle Sam again next year.
"Most people will either owe or get back a little, but if you either owe or get back thousands of dollars, then it's time for an adjustment," Bell says.
Also see: What to Do If You're Missing a W-2 Tax Form>>
Also, if you're expecting any life changes in 2014, keep in mind that W4 adjustments are something you can do any time.
"Think about your withholdings throughout the year. Maybe you start the year having a certain amount taken out, but then you have a baby or buy a home, and you have new deductions. Anytime there is a major change in your financial life, go down to HR and get proper documentation. You can make as many changes as you want throughout the year," Bell says.
3. Find a tax professional you like and trust
As every April 15 approaches, many people get into the "last-minute wild dash" to finish their returns, and that's when mistakes happen, says Jonathan Barsade, CEO of Exactor and a former tax attorney for Akin Gump.
"People make small, silly mistakes as they get pressured to complete their return," Barsade says. "During crunch time people fail to put the correct numbers in the right area of their return or forget the correct tax code, or fail to sign their return. That's when it's going to get rejected, and there could be serious penalties."
Unfortunately, finding a tax professional who can help you avoid those errors is next to impossible if you wait until March, as so many people do.
"Now is the time to start thinking about finding a tax professional -- not this time next year. By early 2015, many of them will be booked up and not taking new clients," Bell says. "If they do agree to take you on as a client, you're going to pay a higher rate."
Finding someone later this spring or summer when things are slower will be no problem, Bell says. Also, if you meet with them early, they'll be able to give you advice for this year that will ensure an easier filing in 2015.
If you're unsure where to look to find a tax professional, Bell recommends talking to friends and family to get recommendations and checking out the American Institute of CPAs to find people in your area.