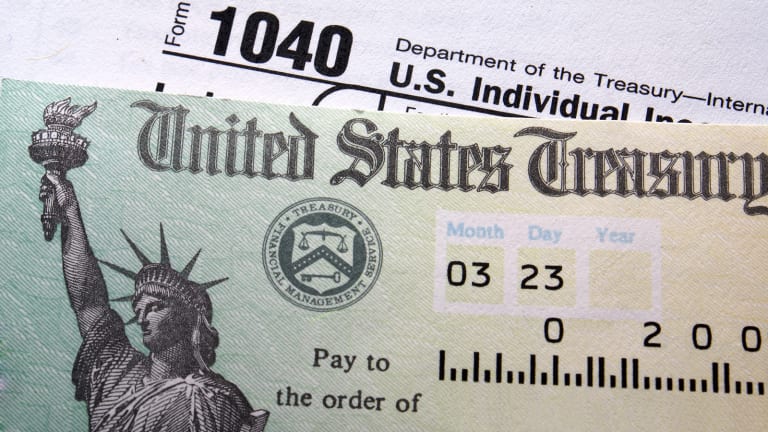 Tax Day 2016: 8 Awesome Freebies and Deals
The deadline for filing your tax returns has a silver lining, thanks to a variety of sweet offers from popular retailers.
If you're like most Americans, you're not exactly looking forward to the deadline for filing your income tax returns. Thankfully, several well-known retailers are helping to ease your woes by offering discounts and free stuff on and around Tax Day.
"Retailers offer deals and freebies on Tax Day to take the sting out of filing your taxes," says Jon Lal, founder and CEO of BeFrugal.com. "Tax Day usually falls during a quieter time, in between holidays, so it's also a good opportunity for stores and restaurants to host promotions and get people in the door."
Keep in mind that Tax Day 2016 is on Monday, April 18—three days later than usual—because the government will be observing Emancipation Day on Friday, April 15. (Emancipation Day is usually on April 16, but since the 16th falls on a Saturday this year, the holiday will be celebrated a day early.)
From cheap margaritas to a free burger you'll have to sing for, here are some of the best Tax Day deals to check out after you've filed your returns.
$5 Presidente Margaritas at Chili's
Let's face it—doing your taxes can be exhausting. Chili's apparently feels your pain and is offering $5 Presidente Margaritas to help you take a load off on Tax Day. A killer combo of tequila, orange liqueur and brandy, the Presidente Margarita is a great way to celebrate the joy of finally finishing your taxes.

Free Cookie at Great American Cookies
For the fourth year, national gourmet cookie shop Great American Cookies is giving away one free original chocolate chip cookie to customers on Tax Day. According to a statement on the Great American Cookies website, the company understands that "tax season can be a bit of a bummer" and "there's no better way to take the edge off than with a sweet reward." The company also assures that no purchase or proof of completed taxes is necessary in order to get your hands on a free cookie. Phew!

Buy 2 Keurig Boxes, Get 1 Half Off
Coffee probably got you through tax season, so why not continue to keep your caffeine buzz going all spring long? Keurig.com is allowing customers to get 50% off a select box of K-Cup, K-Mug, K-Carafe, Rivo and Vue pods or bagged coffee when they buy two. Simply use the code TAXDAY at checkout to get the deal. The offer actually ends on Sunday, April 17—the day before Tax Day—so act fast.


Half Chicken Meal for $10.40 at Boston Market
As a clever play on the notorious 1040 tax form, Boston Market will be offering a pretty substantial meal for just $10.40 on Tax Day—no coupon needed. The deal includes a half chicken individual meal with two sides and cornbread plus a regular beverage and a cookie.


Free Burger at Hard Rock Café
If this deal sounds too good to be true, there's a slight catch. If you want a free burger, you've got to sing for it. That's right, Hard Rock Café will give you a Legendary Burger for no charge if you sing your favorite song on stage on Tax Day. Considering that the Legendary Burger is a juicy half-pound Angus beef patty topped with smoked bacon, cheddar, lettuce, tomato and a fried onion ring, it might just be time to get over your stage fright once and for all.


30% Off at VitaminWorld.com
Dubbing it the "Time to De-Tax!" promotion, VitaminWorld.com is offering customers 30% off their order of $75 or more with free shipping. Use the code DETAX16 to activate the savings. Who knows, an extra surge of vitamins, minerals and supplements might just give your body the boost it needs after the stress of tax season.

25% Off at DesignerLiving.com
Looking to spruce up your home with some new furniture, bedding or décor? Through Saturday, April 16, DesignerLiving.com is allowing customers to take an extra 25% off sitewide. Use the code TAX25 to get the deal.


Free Kids Meal and Online Discount at Noodles & Company
Noodles & Company, a casual restaurant chain serving noodle and pasta dishes from around the world, is offering two great promotions to celebrate Tax Day. On Monday, April 18, guests who bring in their little one can receive a free kids meal with the purchase of any regular entree. The restaurant is also offering an online promotion now through April 18 that gives guests $4 off any $10 purchase placed through the Noodles & Company website. Use the code TAXDAY at checkout.