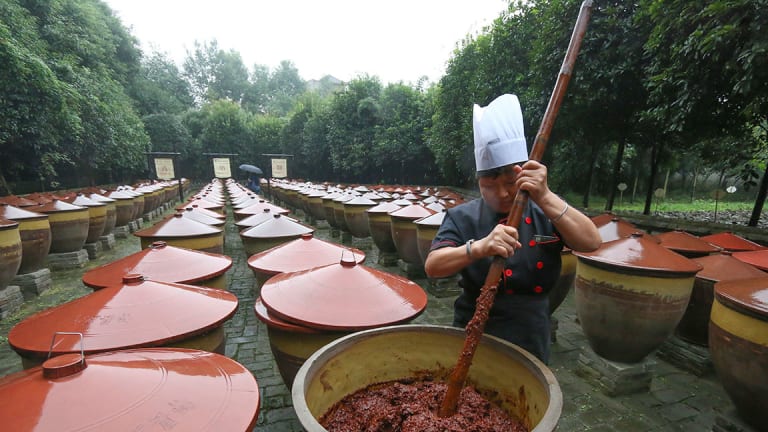 Tasty Cities Worth Visiting for Their Culinary Creativity
These cities are embracing their unique food histories and culinary traditions.
Some say the best way to experience a culture is through food.
The cities on this list, designated "creative cities of gastronomy" by Unesco, are embracing their unique food heritages and culinary traditions, and seeking to brand themselves for tourism and food industries and other investors.
Unesco's creative cities of gastronomy focus on local food and cuisine as a strategy for sustainable development. They joined the network as a way to exchange ideas and promote creativity in the area of food and agriculture. Each city's objective is to place creativity and cultural industries at the heart of their development plans.
If you're looking for new travel experiences or culinary destinations, these tasty cities might be worth a visit.
Alba, Italy
Alba, known as the White Truffle Capital, is home to one of the oldest food fairs in the region, the White Truffle Fair. Every fall, the fair celebrates food, wine, design and art. Alba is also known as being an early player in the creation and development of the Slow Food movement.
Above, truffles at the Alba festival. The truffle festival runs weekends in October and November and features cooking demonstrations, truffle sensory analysis, wine tastings and wine pairings.
Belem, Brazil
Belem's historic food market has given rise to the largest annual festival in the Amazon region dedicated to gastronomy, according to Unesco. Thanks to its geography, the city has a range of local food products, including seafood, acai berries (pictured) cocoa and pupunha, the fruit from peach palm.
Bergen, Norway
Surrounded by mountains and fjords, Bergen, on Norway's southwestern coast, has a long history in international trade in seafood. Organic food and sustainable seafood are intrinsic to the city's cultural identity and development, according to Unesco.
Bergen's famous fish market is one of Norway's most visited outdoor markets. It has been a meeting place for fishermen and merchants since medieval times.
Buenaventura, Colombia
The coastal seaport city's mainly Afro-Colombian population has used its culinary culture and traditional cuisine as a way to tackle the challenge of making a comeback in a city affected by Colombia's internal conflict. Traditional cuisine of Buenaventura is based on the diversity of local fruits and seafood. Note that the U.S. state department currently has a travel advisory in place for this area of Colombia.
Burgos, Spain
Burgos is famous for the caves of the Sierra of Atapuerca, where archaeologists discovered skeletal remains believed to be the earliest evidence of humans in Western Europe. The city has a Museum of Human Evolution. Because of this connection, Burgos is pioneering study to raise awareness of the connections between food and human evolution.
Chengdu, China
Chengdu is considered the cradle of Sichuan cuisine. Chengdu cuisine is notable for its variety of flavors, based on the artful blend of sweet, sour, bitter, spicy and salty flavors.
Above, a man stirs chili bean sauce at the Sichuan Cuisine Museum in Chengdu.
Cochabamba, Bolivia
This city's culinary history stretches back to the pre-Columbian era, when Cochabamba was an important center of grain production of the Incan Empire. According to Unesco, gastronomy is so deeply rooted in the city's identity that a local saying goes "A Cochabambino does not eat to live but lives to eat."
Denia, Spain
This Mediterranean port city with its traditional fishing culture has a vision of gastronomy focusing on innovative models of local food ecosystems. The gastronomy and food industries are the main economic drivers of the city. Above, Denia's annual DNA Festival, a food fair.
Ensenada, Mexico
Ensenada is the largest wine producer in the region. The diversity of natural resources in the area helps the city's gastronomy flourish. The Ensenada for Everyone festival brings together ethnic minorities and immigrant groups to share a diversity of cooking know-how.
Above, a winery near Ensenada.
Florianopolis, Brazil
Mostly an island, Florianopolis is famous for its beaches, but the city plans to hold an annual food festival with guest chefs, as well as to expand academic exchange programs for students from culinary schools.
Gaziantep, Turkey
Often described as "a gastronomy capital," food has been at the core of this city's cultural identity since the Iron Age. Gaziantep's biggest festival is the Pistachio Culture and Art Festival. Another local festival is the Shira Festival, a three-day event celebrating the diversity of local cuisines inherited from the Gaziantep's location on the ancient Silk Road.
Above, a girl hangs peppers for drying in the sun in Gaziantep.
Hatay, Turkey
Hatay's multicultural identity comes from its location on the Silk Road and has been the centre of spice trade for centuries. As many as 13 civilizations have influenced and shaped its food culture with cuisines from the Middle East, Anatolia and the Mediterranean.
Jeonju, S. Korea
Jeonju's geography gives it a diversity of local food: rice production from the plains, fish from the Yellow Sea and greens from the nearby mountains. The Jeonju Korean Traditional Wine Museum demonstrates the making of local rice wines. Above, the Heritage Village, an area of traditional houses, craft shops and food stalls.
Macao, China
Across the Pearl River Delta from Hong Kong, Macao might be the original home of fusion cuisine. Once a colony of the Portuguese empire around 1600, Macao's food and architecture still show strong Portuguese influence. Cuisine in Macau is a unique blend of Cantonese and western flavors.
Ostersund, Sweden
According to Unesco, Ostersund's culinary tradition is intimately linked to its natural surroundings and is known for its gastronomic culture based on local sustainable food inspired from longstanding culinary traditions.
Panama City
Located between the Pacific Ocean and a tropical rain forest, Panama City's wealthy biodiversity and marine ecosystem supports a rich gastronomy history. The city has nearly 2,500 restaurants and food kiosks.
Paraty, Brazil
Paraty was an important crossroads that blended indigenous, Portuguese and African cultures. Its diversity is reflected in traditional recipes such as pacoca-de-banana (boiled plantains with coconut).
Paraty is also celebrated for its cachaca, a distilled spirit made from fermented sugarcane juice, pictured. Paraty's Folia Gastronomica festival displays traditional and innovative local cuisine through lectures, tastings and trainings and involves more than 50 chefs.
Parma, Italy
Famed for Parmesan cheese and prosciutto, Parma regularly hosts food-related events, including the Finger Food Festival and Parma Ham Festival.
Nearly a third of the labor force here works in the agri-food and culinary industry. Above, a local street food festival in Parma.
Phuket, Thailand
In Phuket, ancient recipes are passed down through generations within families and communities. This commitment to preserve traditional expressions is highlighted by the annual Old Town Festival, a three-day event that attracts more than 400,000 people.
Popayan, Colombia
Pre-Columbian culture, Spanish and African cuisine form the basis of culinary traditions here. The National Gastronomy Congress of Popayan is held each September.
Rasht, Iran
A rich variety of natural resources, especially various species of fish and in-season products, fuel the cuisine here. Gastronomy in Rasht is synonymous with the protection and promotion of cultural heritage. Ancient recipes and even unique cooking utensils are passed on through generations. Pictured is a weekly public market in the city center. The U.S. State Department advises U.S. citizens not travel to Iran due arbitrary arrest and detention.
San Antonio, Texas
A crossroads of cultures, San Antonio cuisine is a complex fusion of flavors and culinary techniques. The city plans to use cultural mapping and oral histories to support the preservation of cooking techniques, foods, and recipes handed down from generation to generation.
Shunde, China
Located in the Pearl River Delta, Shunde is one of the cradles of Cantonese cuisine. A combination of inventive cooking methods, creative presentation and outstanding flavors make the city's cuisine "truly exceptional," according to Unesco.
Tsuruoka, Japan
Surrounded by sea, plains and mountains, Tsuruoka's geographic diversity has a unique cuisine that includes foods such as mountain vegetables and mushrooms, rice, bamboo shoots, edamame and seafood. The city encourages the preservation and promotion of indigenous crops and their use in traditional gastronomy, and sharing the knowledge with future generations.
Tucson, Arizona
Tucson has the longest agricultural history of any city in the U.S.- a 300-year tradition of vineyards, orchards, and livestock ranching that have produced an array of local heritage foods. Tucson has more than two dozen annual food festivals, fairs, and tastings each year. Above, Tumerico, a restaurant near the campus of the University of Arizona that serves organic food made from scratch. The university offers a bachelor's in food studies, which covers the social, political, environmental, and cultural dimensions of food.
Zahle, Lebanon
Known as the "City of Wine and Poetry," Zahle's culture has long revolved around its grapes, wine and arak, a distilled anise-flavored drink traditionally served in cafés at any time of the day. One important cultural event is the Festival of the Vine in the fall. There are many waterfront restaurants along the Berdawni River.
    >> Check out: Best U.S. Cities for Foodies