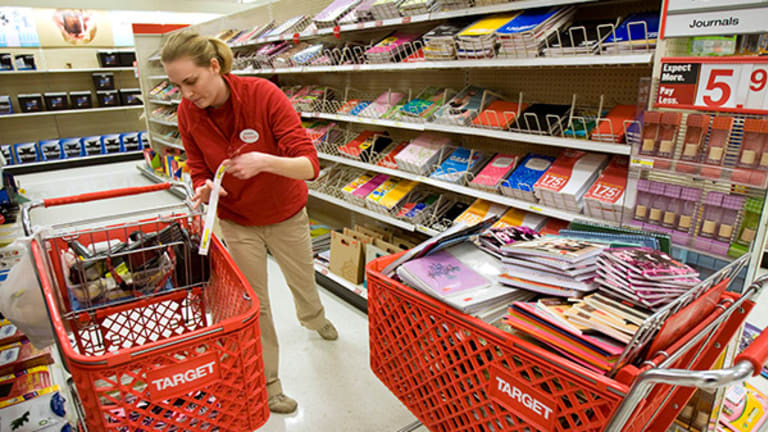 Target Paving Way for Higher Retail Wages
Target's move to increase its current minimum wage rate to $11 per hour lights the way for other retailers to enact their own adjustments as the labor markets are shrinking and public pressure has demanded higher salaries.
Target's (TGT) move to increase its current minimum wage rate to $11 per hour paves the way for other retailers to enact their own adjustments as the labor markets are shrinking and public pressure has demanded higher salaries.
Hourly workers in the retail industry have typically beared the brunt of low wages even as their skill levels have risen.
The stance that Target has adopted to raise its hourly wages -- with the goal of getting to $15 an hour -- is "unequivocally a step in the right direction," said Jake Rosenfeld, a sociology professor at Washington University in St. Louis who studies unions, wages, labor and other workplace issues.
A wage consisting of $15 an hour for an individual working full-time translates to $31,200 a year, which is "enough to lift a family of four out of poverty," he said.
The average salary for retail workers currently is just under $23,000 a year. Target's increase does "represent a significant step up," Rosenfeld said.
The annual earnings of $31,200 remains "far below" the average household earnings in the U.S. if the worker is the sole breadwinner of the household, which is about $58,000, he said.
More of What's Trending on TheStreet:
One large issue which hinders retail employees is that the majority of retailers do not hire full-time workers. Even when Target raises wages to $15 an hour, a typical employee would need to supplement his salary with a second job or from another earner in the household.
This course of action is an advancement, one that "Target deserves credit for as do the organizers, activists and organizations that have played such a vital role in pressuring low-wage retailers into increasing their pay," Rosenfeld said.
Increasing wages is a method of attracting and retaining employees and can be a good strategy for other retailers to implement.
Prospective employees considering working for a retailer who pays more hourly will likely evaluate whether another company will offer a better package with healthcare benefits, said Mike Zorn, vice president of workplace strategy at WorkJam, a Montreal, Quebec-based employee engagement application for the service industry.
"I do think retailers in competition for the same hourly associates as Target will have to evaluate their total rewards package and make sure they are competitive for the talent they need to drive engaged customers," he said.
Target's decision to boost wages could signal a shift in the retail industry's stance to take on more responsibility for employees being able to live on their hourly wages, Zorn said. Retailers who are seeking to increase brand loyalty will increase their focus on training employees who will emerge as "empowered and engaged associates" to help brands create loyal customers, he said.
"The growth of the middle class is important to our society," Zorn said. "Wage is a factor in this equation, but there is so much more that drives a culture where associates can thrive and grow such as career development opportunities and flexibility in schedules."
Increased wages are a key factor in attracting and retaining talent, as well as the culture of the organization and opportunities for advancement and growth.
The move by Target to increase wages is the result of a scarce labor market where companies are facing struggles to find skilled employees, said Mike Davis, a business strategy and economics professor at the Cox School of Business at Southern Methodist University in Dallas.
"It has almost nothing to do with the politics of the minimum wage," he said. "Target is also struggling to differentiate itself from its competitors, especially Walmart (WMT) , the club stores [Costco (COST) , Sam's Club and BJ's BJ and Amazon (AMZN) ]. Target understands that the in-store experience is part of what will make them successful, so it must hire and retain good people. Pay is an important part of that."
Minimum wage increases are good for businesses, because supporting his employees will ultimately lead to better service for his customers, said Jerry Skillett, CEO of Citizens Parking in New York City. By embracing hourly wage hikes and increasing his employees' salaries to $12.25 to $18.31 an hour, he estimates that there will be less turnover, higher productivity and more disposable income for his employees.
"We have for years had our full-time employees on schedules that allowed overtime, so that between base wages, overtime and in many cases some tips, our full-time workforce can make a career out of working for us," he said. "The minimum wage debate across the country and now the accelerated version of it in Manhattan is a business reality."
States and Cities Hiking Up Wages
Minimum wage increases across the U.S. became effective at the beginning of the year, with many cities enacting their own hikes. 
The tension has bubbled up in areas where the wage increases have been enacted. For example Seattle, where minimum wage became $15 an hour as of January 1, some of the businesses such as the Marriott, the owner of the W Hotels, passed the buck initially to consumers, but rescinded it after public and media scrutiny.
The higher minimums passed by 29 states along with the District of Columbia and nearly two dozen cities and counties include a minimum of $7.50 in New Mexico to $11.50 in D.C., according to the U.S. Department of Labor's Wage and Hour Division. These states encompass 61% of the working-age or employees who are 16 and older population, according to the Pew Research's analysis of U.S. Census Bureau data.
Chicago will increase the hourly rate to $13 by 2019 and several cities are part of a nationwide trend which have focused on the benefits of increasing minimum wages since the federal minimum wage has not changed from $7.25 an hour since 2009.
Many groups such as labor organizations have stressed the importance of increasing wages to $15 an hour federally, and public sentiment is largely in favor of it. An August 2016 Pew Research Center survey found that while 52% of people agreed with increasing the federal minimum to $15 an hour.
States and cities can help employees through minimum wage increases, new laws which give workers advance notice of their schedules such as the Fair Week Work Act passed in Oregon and efforts to offer workers paid sick leave such as the one that just passed in Rhode Island, Rosenfeld said.
"Combined with the pay increases, these political campaigns have the potential to transform low-paying, highly unstable service-sector jobs to jobs that are more predictable, offer a modicum of core benefits, and offer above-poverty level wages, he said. "That represents substantial progress in our high inequality age."