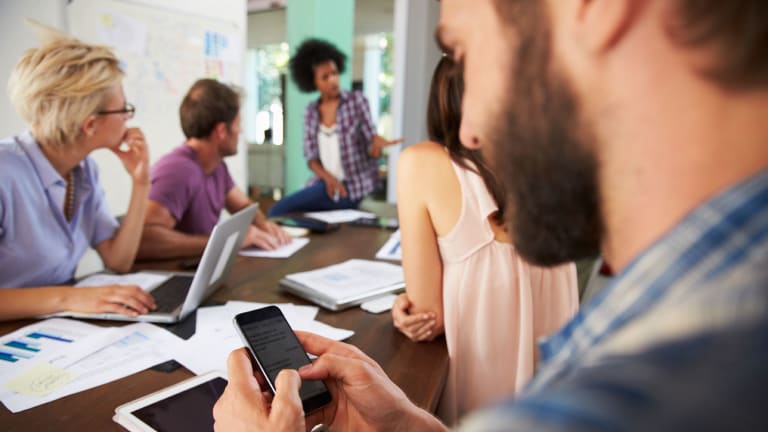 Swipe Right to Get Hired? Tinder-Like Apps for Job-Seekers
Jobs apps that use the same technology as online dating apps are quickly being adapted by 20- and 30-something candidates.
Jobs apps that use the same technology as online dating apps are quickly being adapted by 20- and 30-something candidates.
NEW YORK (MainStreet) — Jobs apps that use the same technology as online dating apps are quickly being adapted by 20- and 30-something candidates, shifting the search process from job boards to match apps on smart phones.
Similar to romantic matchmaking, job search apps marshal data on candidates, and many of these apps display similar interface to the popular social matchmaking app Tinder — swiping left to reject and right to accept a potential career match.
"The early adapters have been Millennials, younger people," said Rasheen Carbin, chief marketing officer at nspHire, a Chicago-based job search app that launched in October 2014. "They use Tinder, so they get the idea the idea of a match and in-app messaging." 
Carbin, 38, founded the nspHire app with college friend Daniel Mullaney and have had about 12,000 candidates registered since the launch with 130 employers, which are mainly tech-based firms.
The majority of its candidates on the nspHire app (the name is a play on "inspire") are aged between 22 and 26 and applying for telecommute tech-based jobs such as Java developers, said Carbin.
"They tend to have bachelor's or associate's degrees and are not so far out from [finishing] college," Carbin said, who added many of nspHire's applicant apply for telecommute technology-based jobs.
The Federal Reserve Bank of New York reported that 44% of college graduates were underemployed in June 2014.
"We see today that job boards are broken and black holes where job seekers apply and never hear back," said Susan Zheng, co-founder of the New York City-based start-up Lynxsy.

Zheng says her site and mobile job app, which has matched over 300 young people with full-time jobs, is geared toward recent college graduates.
"We focus on junior-level and non-technical job-seekers, because we see that as a really underserved market," said Zheng.
Lynxsy's niche is matching recent college graduates with marketing and sales jobs at tech companies based New York, Boston, San Francisco and Los Angeles.
Smartphones and tablets have become essential tools for Millennial job-seekers with over 200 job search apps listed in Apple's app store.
More human resources professionals are now Millennials themselves and use newer technologies to recruit applicants, which includes the use of mobile jobs apps.
More than one-in-three American workers today are Millennials, defined as adults aged 18 to 34 in 2015. This year they surpassed Generation X as the largest share of the American workforce, according to Pew Research Center analysis of U.S. Census Bureau data.
"People in the job space know that recruiting and mobile applications is where things are headed," Carbin said.
Many tech-based companies use these "Tinderesque" mobile apps to recruit young and even mid-level talents, said Switch CEO, Yarden Tadmor.

Tadmor, started New York based Switch last year, which uses an algorithm similar to popular dating sites to scan users' resumes and locations from user-created mobile profiles. Users can also you their profile from the social media-networking site LinkedIn.
More than 100,000 users are on the platform, which works with more than 1,000 companies, such as Amazon, Microsoft, eBay, Facebook and Blue Apron, Tadmor said.
Switch is geared toward positions in Boston, Chicago, Washington, D.C., Seattle, San Francisco and Austin, and it is planning to expand its reach nationally in the coming months.
Job search app creators say matching with a company with an app interface, is aimed at fixing the soon to be out-dated method of applying online.
"There has to be a smarter way for job seeking and hiring for the next generation," said Zheng.