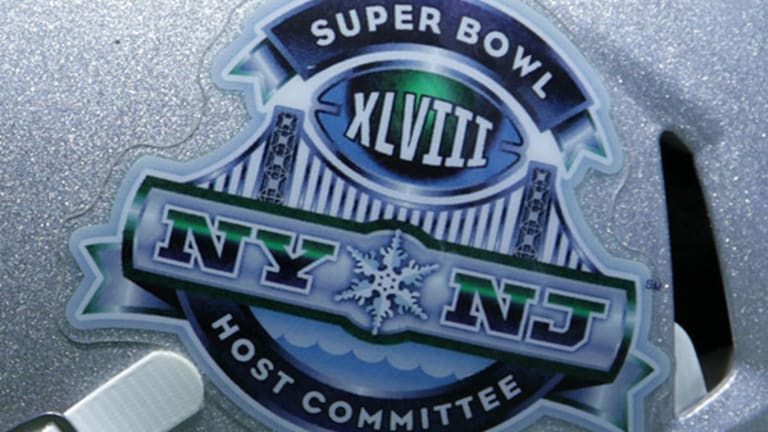 Super Bowl Home Rental Is a Tempting Gamble
New Jersey and New York homeowners can make thousands in a week, but need to hedge a bit if they're going to bet the house on some extra income.
PORTLAND, Ore. (TheStreet) -- The National Football League first started kicking around the idea of hosting a Super Bowl in the New York Metro Area roughly five years ago, and New York and New Jersey residents have been considering renting out their homes to Super Bowl attendees for nearly that long.
As the Feb. 2 event draws closer, vacation rental sites such as HomeAway still have properties for rent near the MetLife Stadium site in New Jersey as well as in New York City and the Hudson River Valley. While one property owner in Brigantine is hoping the more than two-hour drive to the game won't ward people off the $400 rental price, the owner of a one-bedroom apartment in Tribeca is charging $14,000 for all of Super Bowl week.
If you're living in Greater New York and can take off for a few days if it means renting your place for extra income, should you?
The answer's about as certain as the Super Bowl coin toss or the first team that's going to score. Your home isn't something you want to wager on a proposition bet, but it could be worthwhile if the only downside is maintaining the status quo. As Reuters discovered in December, local hotels aren't doing themselves any favors by jacking up rates when the big game comes to town. A Best Western hotel in West Orange, N.J. -- which is a half-hour and a whole lot of train-free hills and highways away from the stadium -- is increasing the price of a room from $100 a night to $1,000 on the off chance someone wants to stay that far away. Meanwhile, five-star hotels such as the Ritz-Carlton and Sofitel are offering three-night packages, complete with a Super Bowl ticket, access to parties and round-trip transport to the stadium starting at more than $5,600 per person, double occupancy.
By comparison, a four-bedroom house in rail-connected Montclair, N.J., right next door to West Orange goes for $1,800 a night. Why are we harping on the rail point? Because parking for the Super Bowl isn't cheap, easy or particularly fun. Parking passes went for $150 -- up from $30 for a standard Jets or Giants game -- and tailgating and limousine dropoffs have been banned.
It's a big reason New York Giants rookie safety Cooper Taylor put his apartment near the Rutherford NJ Transit station up for rent on Craigslist last month. Taylor is asking $9,000 from those who want to rent his two-bedroom apartment for the week and is clearing out for the same reason most of his neighbors would like to: Because that week is just going to be absolute madness in that area.
The problem is that Taylor is by no means alone in his bid to be a part-time landlord on Super Bowl week. The site Super_Bowl_Rentalz.com -- which is far better maintained than the "Z" in its name would suggest -- features dozens of properties ranging from a $800-a-night two-bedroom apartment in Hillsdale to a two-bedroom apartment in Hoboken charging $20,000 for four nights.
Then again, the NFL is expecting more than 400,000 fans, media members and other visitors to descend on the area for the event. The northern New Jersey-New York area has about 115,000 hotel rooms, with the NFL filling about 20,000 rooms of those with executives, players, coaches, staff and sponsors. That leaves a whole lot more demand that high-priced hotel rooms are squeezing out and that HomeAway and other rental sites may not be able to fill in the future if the Super Bowl comes back this way again.
Back in October, rental site Airbnb was served a subpoena by New York State's attorney general, who is seeking the records of the city's 225,000 Airbnb users and information on 15,000 Airbnb properties there. The AG's office says the site flouts a 2010 law that prohibits subletting a property for less than 30 days. Hotel operators, meanwhile, say the system allows property owners to duck hotel taxes while making a profit through vacation rentals.
Airbnb head of global policy David Hantman doesn't think much of New York's "fishing expedition" and vowed the company will fight the AG's subpoena with everything it has. Meanwhile, the New York hotel industry has made noise about filing a class-action lawsuit against Airbnb demanding that hosts pay their taxes just as hotels do.
Meanwhile, scammers at last year's Super Bowl in Indianapolis have also made it tough on would-be Super Bowl renters. Indiana's attorney general sued two Arizona-based companies that took payments between $450 and $5,500 to rent out homes, but instead took the money and ran. Combine that with property rental horror stories such as the 2011 destruction of an AirBnB user's home and there are some significant downsides to this approach for property owners and renters alike.
If renting out your place still seems palatable -- if only to get you and your family out of the area for the week -- there are a few ways to shield yourself from potential damages and drawbacks. For one, call your homeowner's insurance company and see if a little extra protection may be in order. Secondly, consider having a property manager oversee your home temporarily just as a precaution. Those steps take a chunk of of the rental price, but it beats the cost you could face later.

Take lots of photos of your home as-is before listing and check what nearby homes are going for to help set both a price and security deposit -- which is all too important when you're afraid of potential damage. Take payments by credit card or through a payment service such as PayPal or Square, if possible, and don't just entrust your property to a "reputable" site. The "sharing economy" is built on site founders and app builders putting as much distance between themselves and the products they're offering as possible. Some -- such as HomeAway, AirBnB and TripAdvisor's FlipKey -- now have some protections for property owners, but that's not always a given. Many rental services call themselves a conduit between renters and owners and don't tend to hold themselves responsible or accountable for what goes on after a transaction.
It's still a gamble, but if you cover yourself and hedge against worst-case scenarios, you can still come out ahead.
-- Written by Jason Notte in Portland, Ore.
>To contact the writer of this article, click here: Jason Notte.
>To follow the writer on Twitter, go to http://twitter.com/notteham.
>To submit a news tip, send an email to: tips@thestreet.com.
RELATED STORIES:
>>Uber Will Never Be The Next Taxi
>>10 Best Holiday Beer Buys of 2013
>>5 Best Cars For Driving In The Snow
Jason Notte is a reporter for TheStreet. His writing has appeared in The New York Times, The Huffington Post, Esquire.com, Time Out New York, the Boston Herald, the Boston Phoenix, the Metro newspaper and the Colorado Springs Independent. He previously served as the political and global affairs editor for Metro U.S., layout editor for Boston Now, assistant news editor for the Herald News of West Paterson, N.J., editor of Go Out! Magazine in Hoboken, N.J., and copy editor and lifestyle editor at the Jersey Journal in Jersey City, N.J.