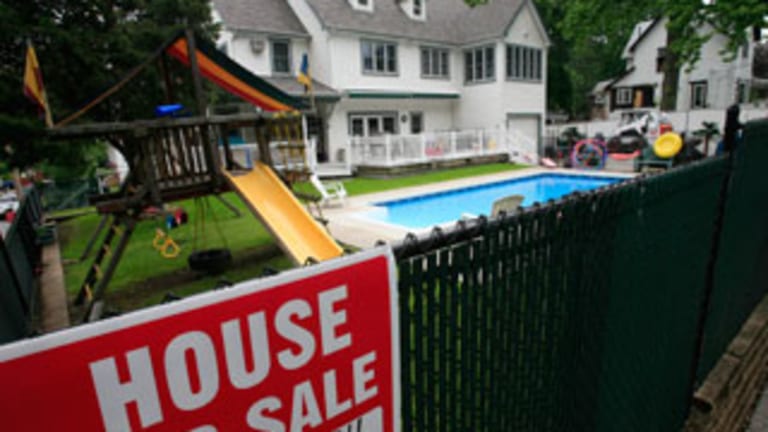 Sunny Day, Finally, for Your 'For Sale' Sign
Census Bureau and Case-Shiller data suggest it's really, truly, finally safe to sell your home.
NEW YORK (
) -- There's an avalanche of housing data coming out this week. Pulled together, it offers one conclusion to homeowners:
Go ahead and pop that "for sale" sign on your front lawn.
As always, there are caveats.
If you're itching to sell, it's the best time in years to do so. If not, go ahead and take the calculated risk that the economy will grow healthier and that your home value will rise accordingly, making that periodic trip to Zillow.com to estimate what your home is worth that much more enjoyable.
Also see: Cramer Greets the 21st Century: Airbnb
But
data from the U.S. Census Bureau
show that sales of new single-family U.S. homes rose 12.3% from February 2012 to last month. That signals increasingly aggressive buyers coming out of the woodwork, anxious to cut a deal before home prices really take off -- if that even happens.
One sour note from the Census Bureau data: the February numbers show an actual decline of 4.6% in terms of home sales from January 2013. But that may well be due to lousy weather in February in the upper half of the U.S. compared with a relatively milder and dryer January, keeping home shoppers in doors.
S&P/Case Shiller also weighed in this week, with its home price index estimating a 7.3% rise in U.S. home prices for its 10-city composite, and 8.1% for its 20-city composite. That index covered January 2012 through January 2013.
All 20 cities in the
-- even Detroit -- showed year-over year gains, although the Motor City was the only one of the 20 to clock in at a lower home price growth rate. Phoenix, Ariz., led the way in terms of average price gains, at 23.2%.
Those growth rates are fairly remarkable in the opinion of Case-Shiller analysts.
"The two headline composites posted their highest year-over-year increases since summer 2006," says David M. Blitzer, chairman of the index committee at S&P Dow Jones Indices. "This marks the highest increase since the housing bubble burst."
Every major U.S. city, Blitzer says, has a sunnier story to tell.
Also see: 10 Ways Your Credit Can Betray You
"After more than two years of consecutive year-over-year declines, New York reversed trend and posted a positive return in January," he says. "The Southwest (Phoenix and Las Vegas) plus San Francisco posted the highest annual increases; they were also among the hardest hit by the housing bust. Atlanta and Dallas recorded their highest year-over-year gains."
The long-term picture is healthy, too, as a grab bag of housing data demonstrate a genuine recovery.
"Economic data continue to support the housing recovery," Blitzer says. "Single-family home-building permits and housing starts posted double-digit year-over-year increases in February 2013. Despite a slight uptick in foreclosure filings, numbers are still down 25% year over year. Steady employment and low borrowing rates pushed inventories down to their lowest post-recession levels."