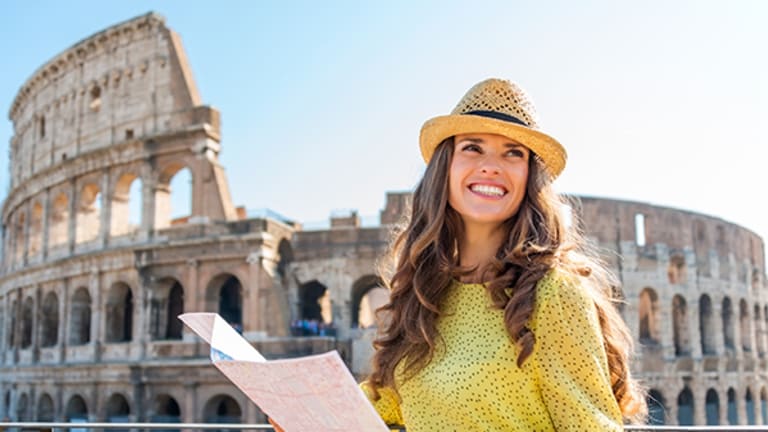 Summer Travel Deals Are Heating Up: How to Land a Great Online Vacation Bargain
Go online to snag the best summer travel deals on airfare, auto rentals and everything else under the sun.
With warmer weather creeping northward across the U.S., travelers are awakening from their winter slumber to start nailing down a trip or two this summer, to get away from the office or household, and share some new experiences with family and friends.
There's nothing wrong with that. But when you launch your summer vacation planning campaign, bring a few key weapons to the table - particularly, some old-fashioned budget savvy, and several well-researched, useful online travel and booking sites.
But it's the internet angle that offers the best deals to the U.S. traveling public, and travelers seem to know it.
According to Chicago-based Market Track, 64% of U.S. travelers say they plan to book summer vacations through an online booking site. By comparison, only 20% plan on booking over the phone, Market Track reports.
This year, the travel industry is aggressively steering consumers to online sites. According to Market Track, the travel industry is posting a 75% increase in digital ad spending for the first quarter of 2016, many of them chock full of discounts, coupons, rewards points, and other perks.
"Travelers will have plenty of incentives to take a vacation this summer," said Traci Gregorski, senior vice president of marketing at Market Track. "June, July and August have historically been the most popular time to take vacation, so it's important for consumers to start looking for deals now."
"As for the hot spots this summer, 40% stated that they plan on heading to the beach or a tropical locale," Market Track says. "Additionally, 50% of the respondents indicated that they will drive to their destination, while 45% plan to fly. Of those that will fly, 60% listed price as the most important factor in deciding which airline carrier to take." 
While you're searching airline fees, note the online travel "powers that be" are carefully watching you, says Natalie Tanner, founder of the travel web site, TheEducationalTourist.com. "They track what you search, the destination, the dates, the time, and the internet remembers. Each time you search...the price goes up."
"To avoid higher costs related to an online travel search, do all your research and then when you are ready to buy, clear the cookies from your computer," Tanner adds. "Then, search again. This will bring you back to the best price."
(Here's a good tutorial on cookie, or "cache" clearing, if you don't know the ropes.)

Also, when online travel planning, beware of blogs that tell you nothing, Tanner adds.
"Some blogs remind me a lot of politicians - they say a lot of words, but say nothing of value or substance about online travel planning," notes Tanner. "Reading about someone else's fun time without real information you can use doesn't do you any good. To plan the adventure of your dreams, you need details, information and ideas."
The best solution in that spot is to Google with specific questions in mind, she says. "Instead of your Google search 'Bahamas' try 'Visiting Bahamas with Kids.' With more details in your Google search, you are more likely to find a blog that has the information you need."

Online coupons can also be a treasure trove for travelers, and they offer benefits that go beyond the coupon discount you may not have considered. "By using online coupons for travel people can expect to save up to $30 a night on hotels, $300 on vacation packages and $20 a day on rental cars," says Scott Kluth, founder of CouponCabon.com. "The bonus when it comes to online coupons is that they are stackable. You can maximize your savings by combining multiple coupons with cash-back offers."
If you need help with a car rental, there are plenty of online moves to save money there, too.
"Rental cars have become way too expensive, but there are a lot of ways to save," says Sorab Bhardwaj, founder of Zalyn.com, which clears a direct path to help consumers save on vehicle rentals.
The most quoted strategy is to save by using a discount code, Bhardwaj explains. "Most people don't get quotes right because they don't look far-enough and wide-enough," Bhardwaj says. "That's because it takes up too much time."
Bhardwaj says he has a way to help car renters cast a wide net and include a variety of discounts that are applicable to the traveler (like AAA, Costco, USAA, Airline Reward Programs, etc.) "We evaluate all the coupon terms and conditions to discard the ones that don't apply," Bhardwaj says. "That process gives consumes all available rental cars along with a list of coupons for each rental car."
"We're finding that most people find the best discounted rental car in under two minutes," he adds.
One more good tip - if you find a vacation packager/tour operator or two that seems to have great deals, it can pay real dividends to sign up for their email lists so as to make sure you're in the loop when they have a big promotion/sale/special offer available, says Greg Geronemus, co-chief executive officer at smarTours in New York City.  "There are a few websites out there that aggregate travel deals and where you can search based on different criteria to find the best deals," he says. "TourMatters is one such example, and Stride Travel is another good choice."
If you're rolling into a good summer vacation this summer, go online and find a great deal. Then use some of the savings to treat yourself to a nice dinner, where you can pat yourself on the back and bask in the glow of being ultra-savvy travel master.