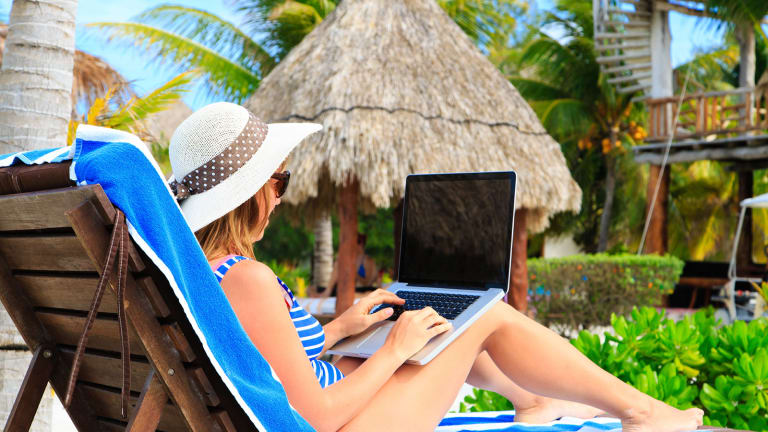 Stealth Vacations: Overworked and Fearful Americans Act on the Sly
More employees want to take vacations but are fearful of the backlash they could incur among co-workers. Instead they sneakily take time off.
During the four years that Earle Richards spent developing marketing strategies for digital advertising firms, he rarely took a vacation day in hopes that he would impress his boss and alleviate a massive backlog of work when he returned.
Even though he let his vacation days of two weeks expire year after year, the New Yorker never felt a twinge of regret despite consistently putting in ten-hour work days every week. Taking vacations was not frowned upon at the firms and Richards knew his team would cover his workload during his time off, but "you knew it was a rough re-entry," he said.
"The work would be waiting for you," said Richards, who is now a freelance consultant for startups, media and agencies. "I just didn't see the point of being penalized when you returned."
This sentiment is becoming increasingly popular as more employees want to take vacations, but are fearful of the backlash they could incur among co-workers. While they plan and schedule trips, they have found another method to cope with potential conflict by waiting until the last possible minute to inform them that they will be out of the office.
Adopting a strategy of taking a "stealth" vacation, taking off last minute or not requesting or announcing an official vacation at all, is likely the product of a workplace culture which not only encourages, but rewards employees for putting in long work weeks. Of course, this method can affect project deadlines or client meetings.
Managers are noticing and frowning upon this trend since their employees are not committing to vacation days ahead of time. In August, CEO Karen Firestone observed that her employees at Aureus Asset Management, a Boston asset management firm, were still reluctant to announce their vacation plans. She found this phenomenon both frustrating and vexing, because it disrupted potential plans with clients, she wrote in the Harvard Business Review.
"We have asked, even pleaded, that people mark the days when they will be away, even if they are still tentative," Firestone wrote. "To be fair, some of my colleagues, with a degree of self-confidence and consideration, do indicate their days off well in advance — but the practice of the stealth vacation still persists."
For 22 years, she was pressured heavily at her prior finance jobs from her co-workers who boasted endlessly about spending the majority of their time at the office. When Firestone started her own firm, she didn't want her own employees to feel inadequate for not putting in enough hours.
Although she continues to encourage her employees to "to take a break and get away from the office," she still faces some pushback. Firestone has worked at creating more transparency and trust by announcing her own vacation plans and has urged her senior managers to follow suit.
Feeling guilty about taking time off may not vanish entirely, but Firestone believes that people need to be "comfortable with accepting our own need for time off," she wrote.
"If people have to sheepishly admit that they were planning on being off later this week or next week, it's not as if they are coming clean about a coke addiction," Firestone wrote. "It is just vacation — and they deserve it."
Employees Leave Vacation Days On the Table...

Despite encouragement by many managers to take time off, many employees still do not heed finding a better work and life balance. A recent survey conducted by Robert Half, a Menlo Park, Calif. staffing firm, found that 39% of workers do not use all the paid vacation time they receive; 38% of those workers attribute this hesitance to saving the days while 30% are fearful of falling behind at work.
The pressure employees feel, whether it's internal or from their boss not to be perceived as a slacker, could wind up being counterproductive and result in burnout, said Bill Driscoll, a district director of Accountemps, a Menlo Park, Calif. staffing firm.
"Not taking earned time off to relax and recharge could lead to higher stress and turnover and lower morale and productivity," he said.
Managers need to lead by example and take time off so that their employees will "live by the culture you are trying to create," Driscoll said.
Taking time off for a vacation was never allowed at the first law firm Brittany Lee worked at despite her repeated requests the first two years. Lee, who is now a deal attorney in Atlanta, was already working on most major holidays, including Thanksgiving and New Year and weekends. Since she was fresh out of law school, she made the sacrifices to grow her career but was told by the partners that they did not need to give her time off.
The situation barely improved when she went to work at a second law firm, and even though she gave them two months advance notice, when she returned, one partner retaliated by not giving her any work.
"Their action were very egregious, and it was like going through a hazing period to prove yourself," she said.
Six months ago, Lee, who is now 25, became one of the in-house attorneys for an energy company who has an official vacation policy mandating that employees take their vacation time.
"You have to use your vacation days and they do not allow you to come into work," she said. "It's really important to give people vacation time, because it's the ethical thing to do. I wish the first couple of years I had been stronger and stood up for myself by setting better boundaries."
Several years ago when Patrick Morris was working at French bank, his boss was "insanely interested in working harder and not smarter," he said. "In his mind, if you were not at the desk, you were not working."
His boss even admonished him for golfing with clients on Fridays in the summer and nearly forbade him to have friendly conversations with clients.
Now that Morris is CEO of New York-based HAGIN Investment Management, his perspective has shifted to seeking employees who have enough drive and "self-respect" to produce "excellent work," he said.
"The number of hours I have paid people to look busy is painful to think about," Morris said. "I would rather have a well-rested, happy, loyal and motivated workforce, than a bunch of dejected, exhausted automatons."

When Alexander Mann Solutions, a U.K.-based company who works with companies to attract and retain employees, opened their first U.S. office in Cleveland, many employees had trouble believing they had 15 to 25 vacation days off in addition to sick days and floating holidays.
"We were shocked because prospective employees couldn't quite work out whether it was all 'too good to be true,'" said Ruth Smyth, head of human resources. "They genuinely didn't trust it and I think the general feeling was that, secretly, the generous vacation policy was a ruse to lure people in."
Smyth said it took awhile to convince employees to shed their self-imposed guilt and the time given to them was merely "what were used to."
"You wouldn't believe how ingrained not using this time had become in them from past careers," she said.
Richards, the New York-based consultant, has relented his policy and now adds a couple of vacation days during holiday weekends, which is more "his style" than taking two weeks off at once.
"I would rather take more frequent vacations that are shorter, so there is less work to be done when I return," he said.