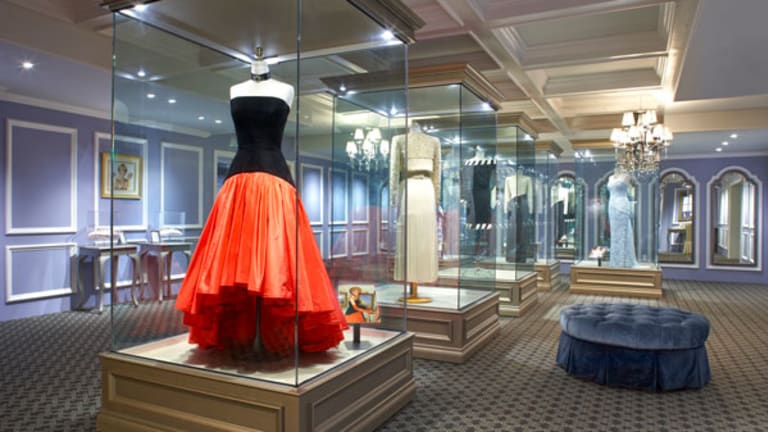 Stay With Princess Di on the Queen Mary (and Get Some Kate Middleton)
The 'Diana: Legacy of a Princess' exhibit reveals the thoughtful, very personal side of one of an icon.
The 'Diana: Legacy of a Princess' exhibit reveals the thoughtful, very personal side of one of an icon.
SAN DIEGO (
) -- There are few people who symbolized all that is luxurious more than Princess Diana, with a seemingly endless stream of fabulous dresses worn amid palaces, glamorous parties and a jet-setting lifestyle.
But Diana was also a dedicated mother, humanitarian, lifelong devotee of psychics and prolific letter writer, and in one handwritten private letter after another, the words of this princess are both eloquent and touchingly revealing.
As part of the
Diana: Legacy of a Princess
exhibit, all these facets of her personality are on display on the Queen Mary in Long Beach, Calif.
What more appropriate way to showcase the life of such a glamorous and fascinating icon than on a ship that was the most luxurious of its time when built in the 1930s?
The Queen Mary was given five dining areas and lounges, two cocktail bars and swimming pools, a grand ballroom, a squash court and even a small hospital. Docked in Long Beach since 1967, the storied Queen Mary was converted into a hotel in 1972.
The ship is offering a special Princess Diana Package that includes a one-night stay in an authentic 1930s Art Deco stateroom, two tickets to the exhibit and a $20 credit at the exhibit gift shop.
Also see: The Salamander Stands Alone in 2013 Luxury>>
The exhibit has many highlights, but clearly the biggest draw here is the display of dresses worn by Diana. From those she famously wore to public events, creating forever memorable fashion moments, to those from her private life, the dress display is one of many up-close looks this exhibit offers of the larger-than-life princess.
"I think the dresses are certainly the most attention grabbing and the biggest wow of the exhibit," says Steve Sheldon, the Queen Mary's director of entertainment events. "These dresses were sold by Princess Diana in June 1997, prior to her passing -- and she passed in August of 1997. So within two months these dresses became enormously more valuable. She sold these dresses to raise money for charity, and now these dresses are being used to raise money again for one of her causes."
A portion of the proceeds from the exhibit, made up primarily of items owned by the nonprofit Pink Ribbons Crusade, will go to two Southern California organizations focused on breast cancer prevention and awareness: City of Hope and Breast Cancer Angels.
Nine of Diana's dresses are on display, with several more joining in October for what Sheldon says will likely be the largest collection of Diana's dresses in the world.
But they are just one aspect of this fascinating exhibit open through 2014.
Being able to listen to a series of voicemails Diana left for her psychic is one of the more unexpected elements. Diana's voice -- almost fragile, and childlike in its softness as heard on the recordings - is a unique way to experience yet another revealing aspect of her life.
Also see: How the Rich Are Traveling in 2013>>
The exhibit also includes dresses and clothing belonging to Duchess of Cambridge Kate Middleton -- who has the world aflutter, having just given birth to the future king of England, now His Royal Highness Prince George of Cambridge. Middleton is a fashion icon in her own right, and her clothing being part of the exhibit is another surprise.
You could easily spend hours exploring the exhibit. But if you're visiting Long Beach for the first time or from out of town, it's also worth stopping at downtown Long Beach's
District Wine Bar
, a cozy and stylish lounge and bar specializing in small-production wines and imported beers that is singlehandedly upping the cool factor of downtown Long Beach.
Not only are the daily wine tastings a good choice here (three for $14), but the food is not to be missed. Some of the best items on the menu include the gorgonzola and honey crostini; prosciutto bonbons; and the Pinot-braised pork belly.
Owned and operated by husband and wife Mark and Angela Dunton, the personalized attention and thoughtful explanation of each wine is refreshing.
Back on the Queen Mary, you could spend a bit of time exploring the ship itself or enjoying a light tea service in its Tea Room. Inspired by the British tradition of afternoon tea, this is a final way to experience another part of Diana's life.
"Just walking the decks of this historic ship is an experience," Sheldon says. "It's the only ocean liner of her kind still in existence. Guests can walk up to the stage Bob Hope performed on, and we have one of the largest collections of Art Deco art and architecture in the world. So it really is a unique experience ... because of the history of the ship, it really is a truly unique experience that you can't get anywhere else."