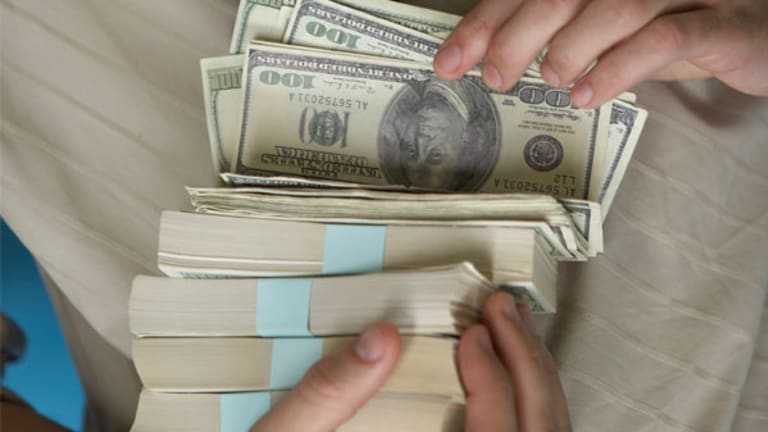 Standard vs. Standout Valentine's Day Hotels
Picking the most historically romantic hotel in town for Valentine's Day is fine, but a little more effort could yield a stay you'll love.
BOSTON (TheStreet) -- Valentine's Day flowers, candy, dinner and hotel stays can get costly, but they're not worth a thing if almost no thought goes into them.
Piles of money and precious little thought goes into making the "most romantic day of the year" decidedly average. Consumers will spend an average of roughly $69 on their loved one this Valentine's Day, up from little more than $63 last year, according to the National Retail Federation. Adults 25 to 34, however, more than triple that by spending nearly $190 on average, boosting overall spending that is slated to top $15 billion.
Rank amateur romantics make up most of that take, as Valentine's bouquets from the local florist or filling station make up 20% of the floral industry's annual take, according to the Society of American Florists -- which estimates that more than 180 million roses are grown solely for the holiday. The Greeting Card Association, meanwhile, thanks Valentine's Day for contributing a quarter of holiday-card sales, with the 190 million Valentine cards sold in the U.S. and 1 billion sent worldwide trailing only Christmas' tally. Those open to DeBeers' suggestion that six months' salary is an appropriate amount to spend on Valentine's Day helped that holiday's jewelry sales soar to $2.2 billion, according to the U.S. Census Bureau.
This said, the same folks who put those three items on cruise control likely do the same with their choice of romantic accommodations. Every major city has a grand hotel that's an easy default for a Valentine's Day spender with lots of money to burn and little time or desire to plan. There's nothing wrong with these hotels, and their prestige and tourist appeal are the envy of places that have to ply guests with gift packages and multiday deals, but there's great reward in digging for a hidden gem.
With help from Jennifer Garfinkel, editor of hotel site >
,
TheStreet
took a look at hotels in major cities across the country and came up with beloved romantic standards and hidden standouts in each. How do they stack up? It depends.
NEW YORK
Right near the Beaux-Arts Public Library is The Library Hotel, which arranges its 10 guest floors by the 10 categories in the Dewey Decimal System, with each room dedicated to and filled with a collection of books about topics ranging from economics, botany and ethics to love, poetry, romance languages and erotic literature.
The Valentine's Day specials take a page from this plan as well; Cupid's Pink Romance Turndown package includes a bottle of Veuve Clicquot Rose Champagne, a pink roses and petals turndown service, pink Champagne truffles and a selection of romantic books chosen by the staff -- all for $395 at night. The $475-a-night Erotica Package, meanwhile, fills the shelves with a bottle of Mionetto Prosecco, a dozen roses, a Kama Sutra package of honey dust and oils, erotic dice, an "Erotic Moods" CD, a book of exotic chocolates, two plush robes and a Kama Sutra pocket guide. When guests are finished, um, considering the subject matter, a rooftop bar includes a greenhouse garden, fireplace and wine and cheese served every evening from 5 to 8 p.m.
Generations of tourists have considered a stay at the Plaza a quintessential part of the New York experience.
Standard: The Plaza Hotel
Along with carriage rides through Central Park, hours-long lines for the Empire State Building and stopping in the middle of a fast-moving sidewalk crowd during rush hour to stare up at the skyline, generations of tourists have considered a stay at the Plaza a quintessential part of the New York experience. It's difficult to argue with 103 years of tradition, that lovely park-adjacent location and the hotel's recent $6.5 million restoration to its famed Palm Court -- where the Plaza's fictional literary resident Eloise held her afternoon teas -- but this isn't the same Plaza where tourists' grandparents spent Valentine's Day. The new hotel shop and British-style food hall built by chef Todd English are lovely additions, but the recently completed $450 million reservations subtracted a number of rooms to make 152 condos. Decreased supply and steady holiday demand mean even the cheapest Valentine's Day rooms start at $600, with prices rising to $3,000 for two-bedroom suites.
LAS VEGAS
This luxury hotel in the recently completed CityCenter is less noteworthy for what it has -- a full spa, a skywalk to City Center's shopping area, chef Pierre Gagnaire's Twist restaurant, poolside bar, 42-inch TVs and DVD players in every room -- as for what it lacks. Walk into the Mandarin and listen closely: No ringing bells, no clattering chips, no cheering craps players, no crying blackjack losers. There's no casino at all, and the resulting serenity is the Mandarin's prime selling point, with Valentine's Day peace and quiet starting at $285 a night.
It's across the street from a fake Venice and an even less believable Paris, yet it still manages to be the most romantic hotel on the Strip. The out-of-towners come for the dancing fountains but stay for the gorgeous conservatory and botanical gardens, the aesthetics and acrobatics of Cirque du Soleil's "O" and high-end restaurants such as Jean-Georges Vongerichten's Prime Steakhouse, Julian Serrano's Picasso and Todd English's Olives. So what's the problem? A Vegas hotel is only as romantic as its loudest slot machine, and unlike the Mandarin Oriental, the Bellagio has 2,300 of them as well as plenty of other electronic sports and betting distractions. The Bellagio is booked solid for Valentine's Day, but a constant "dingdingdingdingdingding" and the sound of grown men cursing the paid athlete who just cost them next month's mortgage is a lousy way to say "I love you."
BOSTON
Close to Boston Common and surrounded by gardens, antique shops and the brick homes of Beacon Hill, this boutique hotel's lofty price (rooms start at $350 a night) is made up in amenities. Each room gets its own gas fireplace, custom linens, surround-sound stereo, free Wi-Fi access and complimentary in-town car service via the hotel's Lexus LS460L, which comes in handy for trips to the nearby theater district or the shops on Newbury Street. While it'll also take you to nearby restaurants, its in-house restaurant Mooo is much better than the name implies.
At a spry 99 years of age and with a prime spot on Boston's Copley Square, the Copley Plaza is a natural choice for New England romantics. The gilded, sky-painted ceilings in the entrance, the curious canine resident Katie Copley welcoming guests with a sniff on the way in, the darkened Oak Room providing a cozy corner for late-night drinks and a per-room price tag that ranges from a $3,200-a-night presidential suite to a $216-a-night entry-level double make it tough to criticize a Copley Plaza reservation on Valentine's Day. That said, what you're gaining in ambience, you're losing in frills. That base price can shrink the room to a snug 210 feet, while a marble bathroom's beauty doesn't mask its most glaring February feature: bitter cold.
LOS ANGELES
No, it doesn't have a pool, spa, restaurant or valet parking. What it does have is 43 French-meets-Mandarin-designed rooms with textured wallpapers, dramatic red headboards, patterned ceilings, pineapple-shaped lamps, Italian linens and designer toiletries for $195 to $245 a night, all a mere five blocks from Rodeo Drive. That's significantly cheaper than the "standard" hotel choice you'll find below, which is only seven blocks away, providing savings suitors can use to visit any of the nearby restaurants or blow on cocktails at the downstairs noir bar -- which has a nightly $5 absinthe happy hour -- or on room service that is essentially high-end takeout from the area's surrounding name-chef eateries.
Standard: The Beverly Wilshire
On one hand, it's the hotel from
Pretty Woman
. On the other hand, that movie was about a prostitute. And if you're not role playing, that's a tough signal to send on Valentine's Day.
The 82-year-old, Four Seasons-run Beverly Wilshire just underwent a $40 million overhaul to restore its presidential and penthouse suites. Each of those suites has its merit -- the presidential has two bedrooms, living room, library, 4,000 square feet of office space, deep-soaking tub, steam showers for two and a dining room with a granite-countertop kitchen area, matched only by the penthouse's 5,000 square feet of space on the private, key-accessed 14th floor and free use of the hotel's Porsche. That's a tough call for Valentine's Day procrastinators, who'll pay $20,000 to $25,000 a night for the privilege. Less glamorous rooms -- though they have 42-inch televisions, furnished balconies and marble bathrooms -- start at $475 to $520 for Valentine's Day, since something has to pay for the Wolfgang Puck-founded, Richard Meier-designed CUT restaurant, the "see-and-be-seen" Blvd restaurant and full spa.
WASHINGTON, D.C.
After an extensive renovation two years ago, this little boutique prides itself on such features as a full spa, flat-screen televisions embedded in the bathroom mirrors, working dumbwaiter, cozy library with fireplace and three restaurants -- the Monticello-inspired Plume, the cozy Quill cocktail lounge and the skylit Greenhouse breakfast and lunch room. The Jefferson's key, however, is service, and not just the kind that comes with a $403 "Room For Romance" package with its half-bottle of champagne, chocolate-covered strawberries and breakfast for two. The Jefferson spoils couples with a personal butler who greets you on arrival and can check you in from the comfort of your own room. For their $400 to $700 a night, Valentine's Day guests get a free garment pressing each day, Wi-Fi and extra toiletries brought to the room on a silver tray.
Standard: The Willard InterContinental (IHG) - Get InterContinental Hotels Group PLC Sponsored ADR Report
You're not just getting the marble-palm-and-oak awe of the lofty lobby or the periodical-and-tea people-watching from the chairs of sprawling Peacock Hall for the price of your visit, but 150 years of history as well. The pride of Pennsylvania Avenue has hosted every president since Franklin Pierce, given Mark Twain a place to finish two books and allowed Martin Luther King Jr. enough quiet to complete his "I Have A Dream" speech in peace. Not the stuff great romances are made of, but you can certainly do worse for your $399-a-night basic-king room or $2,200-a-night suite. The hotel's Cafe du Parc French bistro has a $70, three-course prix-fixe Valentine's Day menu including snapper fillet or filet mignon, and its Occidental Grill provides a more classic steakhouse. Yet fixtures such as the Round Robin bar -- which served Twain and Walt Whitman and is still going for that 1800s appeal -- seem less historic than dated and incredibly likely to bore the stuffing out of any date who's not a history buff.
SAN FRANCISCO
Parked on a restaurant-lined block on the Embarcadero waterfront, this hotel has spacious, tranquil guest rooms with swanky bathrooms views of San Francisco Bay and Bay Bridge. The cozy confines of its Americano Italian restaurant are the least of its offerings for couples, as the perks of its $400- to $500-a-night Valentine's Day rooms include walk-in showers with rainforest heads, bathrobes and slippers, a "pillow library," car service and free yoga. The capper, though is the hotel's Spa Vitale and its "Bathing Ritual," in which couples soak in twin tubs in the private rooftop bamboo garden.
Imagine the exact opposite of the Vitale's modern, mirthful trappings and you'll see something akin to the Fairmont. How long as the Fairmont been a San Francisco mainstay? So long that it was damaged by the 1906 earthquake during its construction and looks like much of the replacement decor has stayed in place since. So long that it spawned the namesake hotel chain that now owns the Plaza, the Copley Plaza and several other pieces of other cities' hotel histories. So long that even its most kitchy comforts -- including the 1967-vintage Tonga Room & Hurricane Bar bamboo-and-frond-covered tiki bar and restaurant -- have received landmark consideration.
The tourists love that the cable car stops right outside and that the rooms have amazing views and gorgeous bathrooms with deep tubs, but some of that Nob Hill charm comes at the expense of space -- 325 square feet in the most stripped-down rooms -- and parking, which runs $50 a day. That's about the only exorbitant expense in this old standby, however, as dated decor means little when Valentine's Day rooms start at $150 to $200.
-- Written by Jason Notte in Boston.
>To contact the writer of this article, click here:
Jason Notte
.
>To follow the writer on Twitter, go to
.
>To submit a news tip, send an email to:
.
RELATED STORIES:
>>Why Your Valentine's Day Already Failed
>>Buffett, Bacon, Chili Chocolate for Valentine's
>>Long Weekend Getaways For Valentine's Day
Follow TheStreet.com on
and become a fan on
Jason Notte is a reporter for TheStreet.com. His writing has appeared in The New York Times, The Huffington Post, Esquire.com, Time Out New York, the Boston Herald, The Boston Phoenix, Metro newspaper and the Colorado Springs Independent.