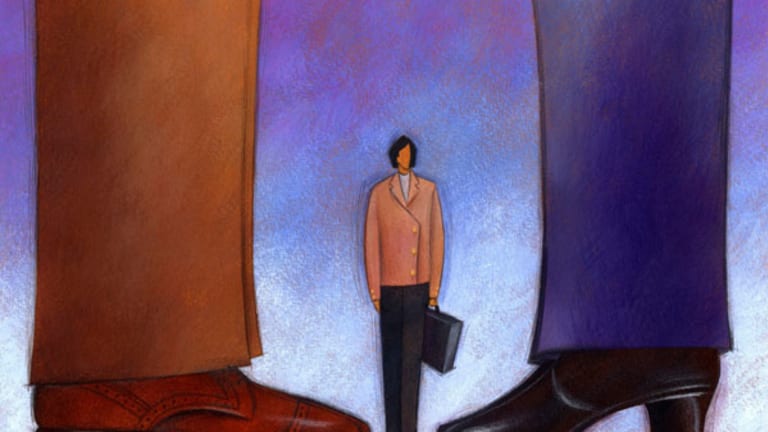 Sprint Fights Back With No-Contract Plans
Sprint's growing month-to-month service might help it gain customers after it lost a record number of long-term subscribers last quarter.
Some
practices are so common, they're taken for granted, such as money-back returns, end-of-season sales and toll-free numbers for
customer service
.
But all of them were once game-changing risks. It's only by reinventing the rules that businesses expand and improve.
That lesson came to the forefront this week, thanks to
Sprint Nextel
(S) - Get SentinelOne, Inc. Class A Report
. The country's third-largest provider of
said it lost $594 million in the first quarter, when a record number of contract subscribers defected. These customers have been the backbone of the cellular service business.
But don't count Sprint out yet. Its Boost Mobile division, which allows customers to pay for service month to month, has been a huge success, adding almost 800,000 new customers in the quarter.
While long-term contracts have been standard for years, more companies are discovering the value of flexibility by offering month-to-month plans. Allowing customers to bypass contracts might be the key to growth for wireless companies.
The shift could be viewed as a byproduct of an economic recession that has made consumers wary of contracts that lock them into prices for years. When money's tight, families are also less willing to hand out phones to their kids. With layoffs rampant, businesses are slow to renew service plans.
Worldwide sales of mobile phones are expected to drop about 20% this year, according to technology research firm In-Stat.
Nokia
, which sells more cell phones than any other company, saw profits tumble 90% in the first quarter because of declining sales.
Few Americans are dumping their cell phones to save money; they're just switching carriers to get better deals.
AT&T
and
Verizon Communications
(VZ) - Get Verizon Communications Inc. Report
each added more than a million subscribers in the first quarter. Sprint lost 1.25 million.
Does that mean Sprint's finished? Far from it. The company has been making some smart moves to compete in a brutal market. Sprint's taking the obvious steps, such as cutting 1,000 jobs this quarter. But it's also forging forward-thinking partnerships that could benefit the company in the long run.
For example, Sprint is in talks with
Ericsson
(ERIC) - Get Telefonaktiebolaget LM Ericsson Report
to outsource the maintenance of its cell phone towers. That would free Sprint to focus on service instead of hardware.
Its agreement to provide service to users of
Amazon's
(AMZN) - Get Amazon.com, Inc. Report
Kindle electronic readers might also pay off. As Kindle sales increase, so does Sprint's bottom line.
Sprint has also made a deal with
Palm
(PALM)
to be the sole service provider for its upcoming Pre smartphone. AT&T added subscribers as the exclusive provider for
Apple's
(AAPL) - Get Apple Inc. Report
iPhones.
Competing against AT&T, Verizon and T-Mobile won't be easy. But Sprint has kept itself in the game by changing with the times.
Elizabeth Blackwell is a freelance writer based in Chicago. She is the author of Frommer's Chicago guidebook, and writes for the Wall Street Journal, Chicago, and other national magazines.