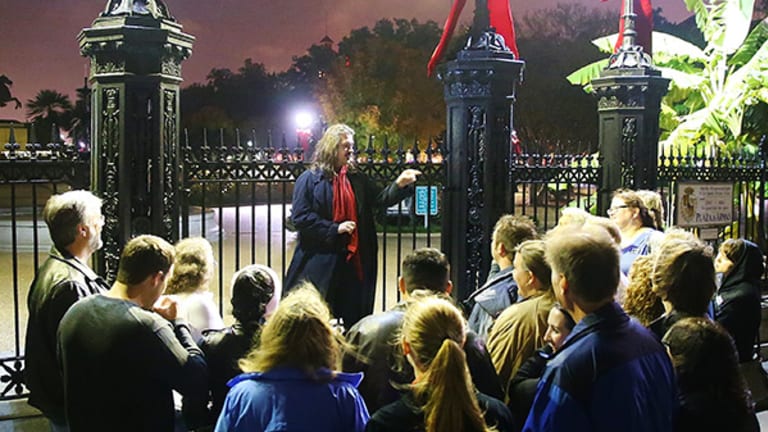 Spooky Vacations That Will Scare the Bejesus Out of You
Tired of staged haunted houses? Here's a look at some of the truly haunted and scariest places to vacation around the country.
NEW YORK (MainStreet) — In New Orleans, facts are often stranger, and more haunting, than fiction.
That's particularly true when you spend any amount of time bending the ear of Sidney Smith, owner of Haunted History Tours, the city's oldest and most successful purveyor of the paranormal.
The New Orleans native easily rattles off a half dozen hotels in the city with documented hauntings, as well as a colorful and assorted list of other hair-raising occurrences and ghost inhabited locations.
There's the Provincial Hotel on Chartres Street in the French Quarter, says Smith, that was once a Civil War hospital and is now haunted by Confederate soldiers. (Maids and security staff there repeatedly report seeing soldiers roaming the hotel's various buildings.)
The Andrew Jackson Hotel on Royal Street, meanwhile, was once the location of a boy's boarding school. In 1794, the school was destroyed by a fire and five boys lost their lives. It is believed they continue to haunt the property. The voices of young children playing in the hotel courtyard are regularly heard during the night at the hotel, Smith explains, even when there are no children staying there.
Those two examples are just the beginning of the many unusual tales Smith has to offer. New Orleans is easily America's most haunted city, he says.
"We have had a heavy concentration of death, that has taken place in a small area, over a relatively short period of time," he says. "We're a city filled with tragic events. The earliest French settlers were warned not to build a city here, that the area was cursed. The people who populated the area had to deal with cannibals, quicksand, alligators, snakes. ...The murder rate was high. We had two major catastrophic fires in the late 1700s that destroyed the city and much of its population. We had over 27 yellow fever epidemics in the 1800s."
For those tired of visiting the same old staged haunted houses year after year, Smith's Haunted History Tours, which include ghost tours, vampire tours and voodoo tours, are just one example of the numerous alternative options throughout the country that may make for a more interesting Halloween (or year round) entertainment.
From hotels with true tales of hauntings and histories of paranormal activity, to weeklong haunted Appalachian vacations and walks through former prisons and insane asylums - once you start digging, the opportunities for encounters with real hauntings seem endless.
Skeptics may want to check out here. But for those searching for a different, more authentic kind of scary this year, something beyond a commercial haunted house, read on.
Haunted Hotels

Some hotels and inns are happy to share the details of their ghost stories, while others try to keep them hush hush. Whatever the case may be, there's a long list of currently operating properties around the country that have tales of hauntings said to be real. Here's a few of them.

The Historic Brookstown Inn, Winston-Salem, North Carolina
Originally a cotton mill built in 1837, the top floor of this four-floor property is believed to be haunted by a woman named Sally who was murdered here in the 1800s. Her room, 401, is the spookiest room at the inn.
"The story that's been around since I've been here is that the fourth floor used to be dormitories for the ladies who worked at the mill, they lived up there," begins Brookstown Inn employee Allison Southard.
As the story goes, one of the women living on the fourth floor, murdered another by pushing her down the elevator shaft. The victim, Sally, still roams the hotel to this day, Southard explains. Guests have reported a variety of unsettling encounters, as well as unexplained voices throughout the night and more.
"They see her roaming the hallways," Southard says. "We get a lot of guests that show us pictures they've taken here that have orbs in the picture or an outline of a woman. People have also experienced the feeling of someone else being in the room with them."
Still other guests have written blogs about their experiences at the hotel, explaining the events that led them to believe it is haunted. One woman, the author of Posh Tots blog, reportedly heard creaking wood and the voices of children giggling and playing late at night, only to find out there were no children staying at the inn.
Although she's never encountered Sally or any of the other reported ghosts herself, Southward says she has seen the many pictures taken by guests, and tries to avoid having to spend any time on the fourth floor because of the unsettling feeling she gets.
"It's a very eerie, eerie feeling up there," Southard says.

The Brown Palace Hotel, Denver, Colorado
This hotel dates back to 1892, a time when people from all over the country were arriving in the west seeking their fortunes in gold and silver. The Brown Palace Hotel was built by Henry Cordes Brown, a carpenter turned real estate entrepreneur. Open every day since August 12, 1892, there were many people who made the hotel their home, died here and now continue to haunt its halls.  
Guests and employees have reported seeing ghosts of train conductors walking around as well as ghosts of travelers carrying luggage who are dressed in clothing from the early 20th century. One hotel employee reported seeing an entire string quartet playing in the hotel, and when he told them they had to leave, the musicians stated they lived at the hotel and then vanished into thin air. Today the hotel offers ghost tours highlighting its unexplained phenomena and the stories about guests who have apparently chosen to spend eternity here.

Union Station Hotel, Nashville, Tennessee
Originally built as a railway station in 1900, the Union Station hotel is on the site where a train collision took place in 1918 killing 101 people. Many people believe that the ghosts from this tragic accident haunt the hotel property to this day.  Guests and employees have reported seeing the ghost of a young man wearing a World War II uniform, a woman in bloody and torn clothes and a woman flinging herself off a third floor balcony. Other guests have reported lights and televisions turning off without explanation.


The Casa Monica Hotel

What is it about ghosts and fourth floors exactly?  Because much like Brookstown Inn, the fourth floor of this hotel is said to be the most haunted. Guests and employees have reported hearing children running up and down the halls and women talking and laughing, but when they go to investigate, no one is there. There is also a suite said to be haunted by a woman in white, who has been photographed. The most common ghost citing reported is a man walking around in 1920s-era clothing.

During the day, the Houdini Museum, in downtown Scranton, Pennsylvania, is a family friendly attraction honoring magician Harry Houdini. The exhibits include relics, memorabilia and more. But on Halloween night, the museum hosts interactive seances to conjure the spirits of three people who died in the house decades ago. (The museum, located in a 150 year old house, was voted one of "the most haunted places in Pennsylvania" by the Pennsylvania Department of Tourism.)
The seances are led by paranormalist Dick Brooks and renowned magician Dorothy Dietrich. The evening begins with a walk through the dimly-lit house to view the crime scenes and hear about the details of each death - by murder, suicide and electrocution. Participants then engage in a dark seance to summon the victims. Past participants have reported hearing screams and whispers in their ear, among other unsettling occurances.

If a mere evening at a haunted hotel or a seance at haunted museum is not enough to quench your appetite for the spooky and unexplained, Appalachian Ghost Walks will create an entire haunted vacation for you.
The company, owned by Stacey Allen McGee, who has been conducting professional paranormal research for 22 years, does everything from offer lantern-led walking tours that last a few hours to entire weekend or weeklong getaways focused on the region's many well researched haunted and historic mansions, towns, caves and more.
McGee describes the walking tours and vacations as providing a positive look at the afterlife. The dozens of different tours showcase the results of years of investigations about the area's hauntings. Among the tour options is a "Historic Haunted Jonesborough Ghostwalk," - focused on Tennessee's oldest town and a place once featured on the Travel Channel as one of the most haunted towns in America and "Haunted Historic Blountville Ghostwalk," which covers hauntings that can be traced back to the Revolutionary era.
Vacation packages meanwhile can include stays at local haunted bed and breakfasts, and the itineraries are customized for each guest's interest and budget.
"We do fully planned haunted vacations - up to nine days," he says. "They are something else to do besides a regular theme park vacation."
No matter which option you choose, McGee says all of the tours are "significantly spirited."
"We have miraculous things happen to people," he says. "People have an unseen hand run down their arm, or feel like they have been poked in back, their clothing tugged on. They'll hear sounds and voices coming from the most unexplained places."