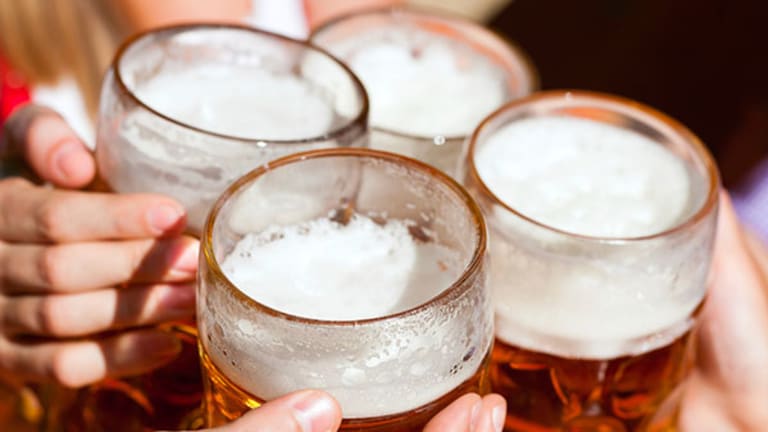 Some Craft Beer Resolutions for 2014
As the beer industry grows in the new year, its more important than ever to keep an open mind and ask questions.
As the beer industry grows in the new year, its more important than ever to keep an open mind and ask questions.
PORTLAND, Ore. (TheStreet) -- Even when performing the most enjoyable tasks, there's always room for improvement.
Covering the beer industry and writing about beer is a pleasure on most days and nearly on par with drinking beer on its best days. The brewers are fascinating, the search for new brewers and beers leads to some of the most worthwhile stops on the map and the approach to beer by people in various places tells you quite a bit about who they are and what they want out of life. Its core is what's brewing in the tuns and kettles, but its hidden gems lie in beer aisles, on barstools and in gatherings large and small.
We're entering our fifth year of beer and craft beer coverage here at TheStreet and it's been an enlightening ride from our first look at pumpkin ale in 2010 to our chats with folks such as Boston Beer's Jim Koch, the Craft Brew Alliance's Rob Widmer, Sierra Nevada's Ken Grossman and New Belgium's Kim Jordan. We've learned quickly that beer isn't just a product. It's a portion of brewers' heritage and buyers' memories. It's an ideal worth petitioning the government over and pedantically defining down to its smallest details.
It matters and, more importantly, it matters a lot to you folks. If our stories about beer weren't read and those reading them weren't asking for more, this writer would likely be reassigned to the pork bellies beat. Beer stirs passions that few other commodities can, and it has a connection with people that we want to continue to explore in years to come.
But we want to do it better. Just like the holiday host who thinks he or she could stand to lose a few pounds after finishing off this years leftovers or the procrastinators who decided that this is the year they finally see the rest of the world or do that one thing that's been scaring them senseless all these years, we know there's work to do. That's why we've come up with a few resolutions of our own this year we hope some of you will join us in keeping:
1. Try everything
We mean everything. We know that you know that tallboy of Rainier isn't brewed in Seattle anymore and is basically malt liquor. Taste it anyway. We know that Herman Joseph's Private Reserve is made by AC Golden, a subsidiary of MolsonCoors. Taste it anyway. We're fully aware Goose Island is owned by Anheuser-Busch InBev now and that its Bourbon County Stout is now an A-B product. Try it anyway.
Does a beer sound really bitter? Try it anyway. Does a beer have chili in it? Try it anyway. Is it coming out of a cask, a nitrogenated tap or a hop-filled device known only as Randall? Try it anyway.
Knowing beer isn't about posing with a pint of Pliny the Elder and showing the world how cool you are. It's also not about putting down as much of a 30-pack as you can before kickoff. It's about exploring what's out there and informing your decision. It's about hearing the ignorance warning you off a particular beer and shrugging it off in favor of personal experience. It's about giving a retiree's brewery and taphouse in the suburbs the same chance you'd give a renowned brewer's new brewpub in the adjacent city.
In short, it's a continuing education. It's learning the styles, learning the process behind it, learning what you like and learning why people like beers you don't. As with just about any area of study, the moment you're ready to learn everything about beer is the moment you accept what you don't know about it.
It's why gifted brewers still make pilgrimages to Belgium, Germany, the Czech Republic and elsewhere and apprentice under brewers whose families have been making beer for centuries. It's why beer lovers visit Trappist monasteries and adhere to their rigid rules just for a taste of their beers. It's why stout lovers will try Guinness in both Ireland and Nigeria and why a witbier enthusiast will visit Naka, Japan, just as readily as he or she will head to Hoegaarden, Belgium.
Beer isn't as much about what you know as it is about what you can learn next. If you approach it with an open mind, we'll do the same.
2. Look for deals
We're not saying you shouldn't take a sip if someone offers you a $150 bottle of Samuel Adams Utopias. We're just saying that if you can get a dram of it for less, go for it.
Maybe we've just been getting spoiled by breweries beyond the big cities and coastal towns but, more often than not, we're discovering that you can still get your hands on good beer for $5 or less. Yes, Boston, Chicago, New York and San Francisco -- this means you too. Here in Portland, most brewpubs will let a 12-ounce glass of their stronger beers go for $4.50, with pints of midrange beer elsewhere going for $5 on the high end. At taphouses, pints of just about anything that isn't a barleywine or a Belgian import will land between $4 and $5.
That gets tougher elsewhere, but there are some tricks to the trade. First, ask for half pints. A pub's ability to serve them will vary widely by state, but if you can get your hands on one, it's a great way to do a lot of tasting for little. Failing that, ask for tasting sizes. Good bartenders will happily pour some for you and it prevents you and the establishment from wasting beer and money on a full pint you didn't want.
We also strongly suggest hitting bottle shops if your state allows it. Stay away from 22-ounce bottles when possible, as they're a slightly less terrible deal than pints, and mix-and-match as much as possible. Finally, don't be afraid to look in places you'd least expect. The Craft Brew Alliance's Redhook brand recently partnered with Buffalo Wild Wings to get its beers on tap there, while Boston Beer put both Samuel Adams and the specially crafted pint glasses it makes for that beer in Red Lobster locations across the country.
3. Keep your eyes open
There are now 2,500 breweries throughout the United States. If you're taking a trip somewhere, chances are there's one nearby.

My father-in-law, who joins me on several of my own beer excursions, used to find breweries just by working on boats for the National Oceanographic and Atmospheric Association. While stationed in Kodiak, Alaska, he had the great fortune of coming across Kodiak Island Beer and its La Granja stout and Liquid Sunshine California Common. While driving across the country on our move to Portland, my wife and I got to sample great breweries in Syracuse, N.Y. (Middle Ages and Empire Brewing); Cleveland (Great Lakes); Chicago (Half Acre and Revolution); Rapid City, S.D. (Firehouse Brewing); Bozeman, Mont. (Bozeman Brewing and Big Sky); McCall, Idaho (Salmon River) and Walla Walla, Wash. (Laht Neppur).
Each year, we write a large piece documenting craft beer vacation destinations. It's because each year we find a dozen or so new breweries to visit while just out and about. While it's tough to traverse the whole country each year, popping into the occasional beer festival or keeping track of the point of origin for beers of a taproom beer list make it a bit easier to double back later and check places out.
The best way to find new beer and new people making it is to seek it out. Who knows? Maybe you'll take away a better souvenir from that vacation or business trip than you anticipated.
4. Ask questions
Not just the easy ones, either. Texas and Alabama were among the states that changed beer laws last year largely because people looked around, saw restrictions in their state's beer laws that didn't exist elsewhere and pushed for a change.
In Alabama's case, it made that state the last in the U.S. to allow home brewing.
We realize this is by no means an easy task. It's kind of tough to show a legislator from a state that doesn't allow growlers a 32-ounce jug and tell them you want to fill it with beer, screw a cap on and take it home. We'd love to spend just a minute inside their heads to see the cartoon images of overall-wearing yahoos swigging from jugs with XXX painted on them while driving their pickup down the nearest interstate.
It's also by no means easy to explain to legislators in a state with state-run packaged goods stores how switching away from that model won't take away jobs, drive up prices and turn their lovely little patch of earth into a den of iniquity. We're also not saying that there's an all-encompassing approach to beer law that can keep everyone happy.
What we are saying, however, is that there was similar adversity in states such as Utah, Mississippi and Alabama and people there were still able to effect change. As we mentioned, it helps to have all options available when making decisions about beer, and not having access to full-strength beer, various forms of packaging or even outlets that sell it can make those decisions more difficult than they need to be.
You may not be able to get the taps flowing every time, but you'll at least get the explanations you deserve. We'll try to delve more deeply into beer law this year as well just so you don't have to do all of the heavy lifting.
5. Don't get caught up in the extracurriculars
You're going to hear a lot of people telling you what's "craft" and what isn't. You're going to see a lot of breweries buying up other breweries and hear wails about what that will do to the beer. You'll hear squabbling over distribution, naming rights, beer styles, brewer credentials, advertising strategies, marketing efforts and a whole lot of other sausage making that's coming between you and a taste of beer.
Don't pay it a whole lot of mind. Again, it comes back to that first point: Try everything. The noise does a good job of steering people toward certain beers and away from others. While that's been great for Blue Moon sales and attendance at Three Floyds' Dark Lord Day, it also overlooks a lot of great beer in the middle.
Oddly, the best way to avoid all of that is to just try beers and learn on your own. If quality is what matters to you, your palate will build that distinction by itself. If helping local business is key to your agenda, just a quick question about the beer you like ("Where's this from?" or "Who makes this?") will go a long way in helping your decision.
The beer world is growing quickly. With that growth comes a bit of pain, squabbling and jockeying for position. While all of that information is helpful to investors checking in on those BUD, TAP, STZ, SAM, BREW and DEO tickers -- and we're looking out for those folks, too -- it's only important to the consumer when it denies them access to as broad a beer spectrum as possible or affect how much they pay for it. When distribution and behind-the-scenes deals limit your options on tap or in coolers, you should know about it. When breweries ask for tax breaks but don't pass those breaks down to the consumer, you should know about it. When breweries snipe about who's in the craft club or bicker about styles, names and packaging, it's usually entertaining but not extremely important.
It's gossip and bickering that an informed beer drinker can sweep aside. It's hard not to dip an elbow into that puddle every so often, but we'll try our best to keep clear of it.
-- Written by Jason Notte in Portland, Ore.
>To contact the writer of this article, click here: Jason Notte.
>To follow the writer on Twitter, go to http://twitter.com/notteham.
>To submit a news tip, send an email to: tips@thestreet.com.
RELATED STORIES:
>>The Brilliance Of The Holiday Beer Sampler
>>10 Cheapest Beers In The NFL
>>What The Craft Beer Industry Really Looks Like
Jason Notte is a reporter for TheStreet. His writing has appeared in The New York Times, The Huffington Post, Esquire.com, Time Out New York, the Boston Herald, the Boston Phoenix, the Metro newspaper and the Colorado Springs Independent. He previously served as the political and global affairs editor for Metro U.S., layout editor for Boston Now, assistant news editor for the Herald News of West Paterson, N.J., editor of Go Out! Magazine in Hoboken, N.J., and copy editor and lifestyle editor at the Jersey Journal in Jersey City, N.J.