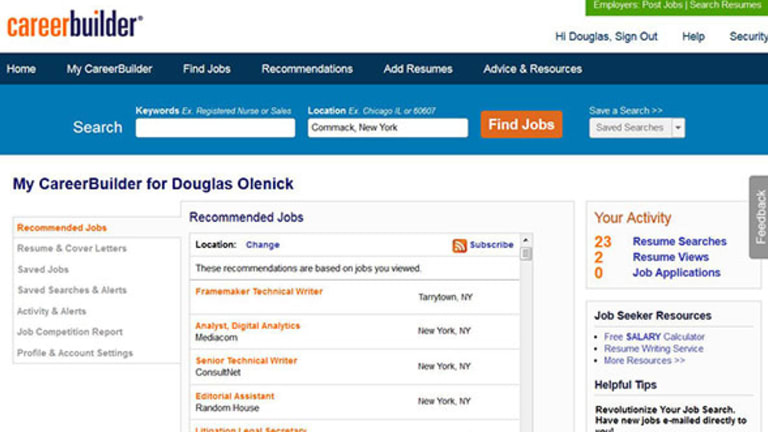 So You Lost Your Job: How to Be Calm and Get Ready to Move on
Jumping into finding a new job in the immediate aftermath of being downsized is a mistake that could delay finding a new position. Time and context are needed first.
NEW YORK (MainStreet) — The unemployment rate in the country may slowly be declining -- currently at 5.7% -- but there are still hundreds of thousands of workers losing their job each month, and the steps those people take in the immediate aftermath of being let go can make the difference between being out of work for months or quickly finding a new job.
The most important piece of advice given by experts is not to act. In the wake of being called into what will be a highly emotional meeting with your supervisor and the ever-present human resources representative, the average person is not going to be in the correct frame of mind.
"Do nothing," said Dr. Bruce Hurwiztz, CEO of Hurwitz Strategic Staffing. "You are going to be resentful, angry and scared, and you don't want to start talking to people when you sound bitter. You don't want anyone to have the wrong impression of you."
Hurwitz suggests taking a few days to get some sleep and put your goals into perspective before taking the first steps toward finding a new job.
CareerBuilder spokesperson Mary Lorenz concurred, adding that the newly unemployed face a huge task.
"Searching for a job can be an overwhelming experience - particularly following a job loss, which can shatter one's confidence," she said. "Breaking it down into smaller, more manageable goals and setting a schedule will reinforce a sense of control and make the process less daunting."
Getting your mind into the proper state to properly search and find a new position is job one.
"Get out your resume," Hurwitz said. "Focus on your achievements and successes. This will remind you of all the good you did and lets you know that you did nothing wrong." 
For someone who is a bit older or has not had to look for a position recently, there are many new wrinkles to the modern job hunting experience. Like every other aspect of life, the Internet will play a central role.
"One thing they may not realize is how to use social media as a job search resource," Lorenz said. "For example, a lot of companies have dedicated Twitter accounts and Facebook pages for their career sites, so following companies they're interested in working for can be a great way to learn about job openings."
She added that candidates should use their online profiles to highlight their skills, experience and professional accomplishments.
On the flip side, potential employers also will be on the web checking out applicants so this requires the job hunter to sanitize his online presence making it employer-friendly or at least inaccessible to outsiders using the privacy settings.
Hurwitz pointed to LinkedIn in particular as a great online tool. He suggests job hunters fill their profile with all the information from their resume and even add touches like creating an audio or video resume and attaching it to your page.
Beyond the online world, it's just as important get out and start networking with friends within a short period of time, family and colleagues. Of course, the candidate has to be careful about what he says. Hurwitz said it is important to practice a "ten-second elevator pitch" on friendly ears before heading out to network with others. At that point, it's important to keep the conversation positive
"Don't talk about the past, talk about the future,... say 'I am looking for a new opportunity,'" Hurwitz said.

While these tips will work well for people of any age, older folks who find themselves back in the job market face additional challenge of their age. The trick is to turn a potential negative into a positive.
"Think of your age as an advantage, rather than an obstacle, and highlight your vast experience when sending out cover letters, reaching out to your network, updating your social media profiles and speaking with hiring managers," Lorenz said.
A recent CareerBuilder study, for example, found that employers hire mature workers because they have valuable intellectual capital, great mentoring skills and know-how to weather a tough economic situation.
Hurwitz added that companies pass over older candidates, because they are worried the person will not be in it for the long haul, so during the interview process, it is important to send a message that you are looking for a long-term position.
Lorenz and Hurwitz also said that for some calling in a professional to help is an excellent option.
"Go see a career counselor, learn interviewing skills and resume writing, and you have to have your networking skills honed," Hurwitz said.
For some, spending now scarce money might not be needed.
"It always helps to have a professional look something over; however, [job searchers] may want to start online, where there are so many free resources available today to help with something like that, Lorenz said.
--Written by Doug Olenick for MainStreet