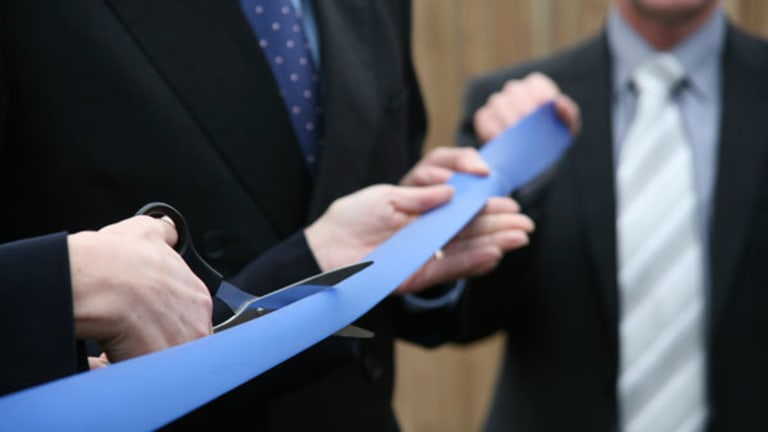 Snuggie Cashes In Where Others Failed
The newest version of the 'sleeved blanket' has sold about 20 million units, though it's hardly the first of its kind on the market.
The newest version of the 'sleeved blanket' has sold about 20 million units, though it's hardly the first of its kind on the market.
BOSTON (
) -- If you watch television, you know the Snuggie, a fleece blanket with sleeves that sells for about $20 at
CVS
(CVS) - Get Report
,
Bed Bath & Beyond
(BBBY) - Get Report
,
Target
(TGT) - Get Report
and other retailers. The product is advertised heavily enough that it's reached "Kleenex" status in the modern lexicon. To most Americans, "Snuggie" is synonymous with "sleeved blanket."
But the market is packed, due, in part, to the fact that pioneers in the field were unable to patent the idea.
There's the Snug Mee (sold at
Wal-Mart
(WMT) - Get Report
for $15.95,) the n-a-p Cuddle Blanket ($35 at
Brookstone
), The NFL Huddler (on sale at
HSN.com
for $9.95) and the Doxie CuddleRoo ($59.95 at
Collectibles Today
), a sleeved blanket that sports a front pouch meant to hold a wiener dog, along with the embroidered sentiment "My Dachshund's Love Warms My Heart."
At least two sleeved-blanket products preceded the Snuggie: the Freedom Blanket ($24.99 at
TheFreedomBlanket.com
) and the Slanket ($32.99 at
TheSlanket.com
and $33 from
QVC
). Each company claims on its Web site that its apparel is "The Original Blanket With Sleeves," although Slanket has trademarked the slogan. With nearly a million Slankets sold to date, it's arguably the second-most successful sleeved blanket on the market. Snuggie sales have reached over 20 million units.
Snuggie's parent company,
Allstar Products Group
, acknowledges that Snuggie wasn't the sleeved-blanket pioneer. "Similar products were on the market," says Anne Flynn, vice president of marketing for Allstar. "However, Allstar Products Group brought the product to the masses as a value point, making the Snuggie affordable for anyone's budget."
According to Slanket Chief Executive Officer Gary Clegg, the Snuggie people poached his idea several months after QVC started selling the Slanket in summer 2007. That was 10 years after Clegg's freshman year of college at the University of Maine, when he was struggling with an age-old, cold-climate, couch-potato problem.
"My remote control signal wouldn't work from beneath the blanket," he says. "I expressed my frustration to my roommate, and he was like, 'Just cut a hole in the blanket.' And within five minutes, I had this idea. I went home that Christmas, and I asked my mom if she could make a blanket with sleeves."
After a year of successful QVC sales, "we were planning that summer to knock ourselves off with a cheaper, discounted version," Clegg says. He was set to approach brick-and-mortar retailers with the cheaper version of the Slanket, dubbed the Snuzzle, when the Snuggie attacked the TV-sales market in the fall of 2008. Snuggie hit retail stores in September 2009.
"They undercut us and got into Bed Bath & Beyond, Target, etc.," Clegg says.
Clegg says he tried to protect the Slanket by applying for a patent several years ago, during the product's infancy, but to no avail.
"To be patentable, an invention must be new and useful, and must not be an obvious combination of known inventions," says Jeffrey Schox, a patent attorney and founder of the Schox Patent Group in San Francisco. "Most inventions satisfy the 'novelty' and 'utility' requirements, but only a few satisfy the 'non-obvious' requirement. Essentially, the sleeved blanket is just a robe that's on backward, and robes have been around for several millennia, so there's no way to patent that."
Har-Bex Products has a patent for its
($68), a plush blanket with arm holes and "an exclusive foot pocket" that gives it a leg up on competitors, design-wise. But the Nuddle has a design, not a utility, patent. "A design patent just covers the aesthetics, not the function," Schox explains.
Says Clegg: "If I had been in my bed and created a hybrid combustion engine, maybe I could have patented that, but I didn't."
Hence, the sleeved blankets keep on coming. Last week at the Consumer Electronics Show in Las Vegas,
ION Audio
unveiled the Toasty, an electric blanket with sleeves. Stay tuned for new Snuggies, too. "We will continue to offer new Snuggie styles and colors each year," Flynn vows.
-- Reported by Carmen Nobel in Boston.