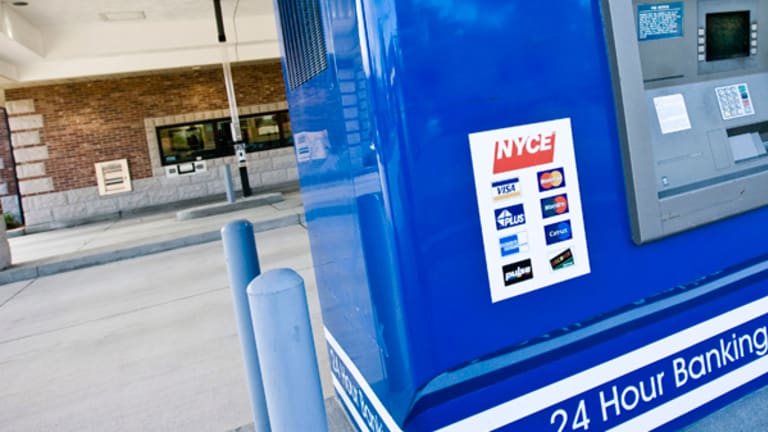 Smartphones Are Killing the Bank Drive-Through
Another big culprit: electronic checks such as the 57.5 million sent monthly by the Social Security Administration.
NEW YORK (
) -- So you're a
Bank of America
(BAC) - Get Bank of America Corporation Report
customer in
,
Charlotte, N.C.,
or
who wants to use a drive-through window to conduct banking errands.
Too bad -- the banking behemoth is dismantling drive-through windows, shuttering nine in Baltimore, six in Charlotte and four in Beantown.
The closings aren't isolated or anecdotal; they're yet another sign that stand-alone banks are an endangered species.
According to Bank of America spokeswoman Nicole Nastacie in comments to the
, the bank was focusing on closing drive-through window locations where traffic was low, although in some cases, the bank is keeping drive-throughs but taking human interaction out of the equation.
Also see: 3 Things Banks Have to Do Right Now to Stop Losing Customers>>
"Although we are discontinuing the teller services from some of our drive-up locations, customers will continue to have 24-hour access to drive-up ATMs at most locations," Nastacie says. "This will ensure they can continue to bank from their vehicle whenever they would like."
The fact is, banks really don't need the added expense of drive-through windows. According to
, Bank of America reports it has 13 million mobile banking customers depositing about 160,000 checks per day via smartphone (by snapping photos of the front and back of the check and transmitting the images via a banking app).
Thus, closing drive-throughs is not totally a cost-cutting measure. It's just an admission times have changed and customers are bypassing the venerable drive-through window to use mobile phone and online platforms to handle their banking needs.
Also see: Making It Easy: Swipe Your Card, Donate to Charity>>
According to the Federal Reserve
, 48% of U.S. financial consumers who own smartphones used mobile banking services last year, up from 42% in 2011. Another 21% used their mobile phone to deposit a check in the past year -- double the amount from 2011.
Another big reason is the uptick in electronic checks. As of March 1, the U.S. Social Security Administration transmits checks to 57.5 million beneficiaries via e-check -- taking visits to the bank (walk-in or drive-through) unnecessary.
No doubt about it, if video killed the radio star, technology is killing the bank drive-through window.
Few bank consumers -- especially younger technology users -- seem to be mourning the loss.