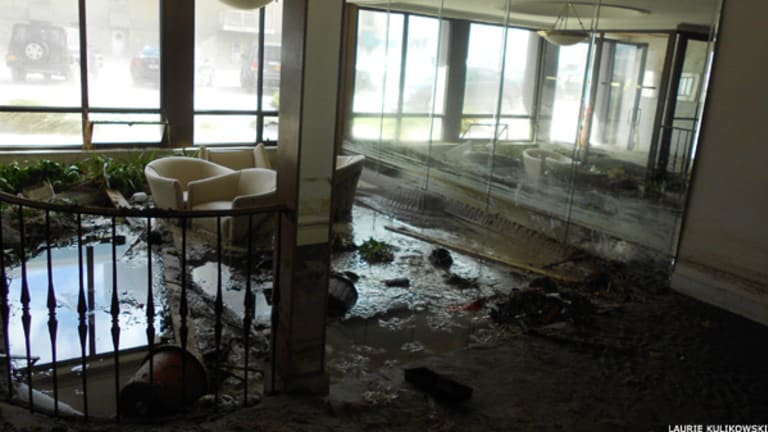 Small Businesses, Social Media Saved My Town During Hurricane Sandy
A natural disaster can sink a business. But a business, or a few, can save a community.
LONG BEACH, N.Y. (
) -- It's taken me a week to be able to sit down at my computer and peck out words between an evacuation, a clean-up and the emotional trauma of surviving a hurricane like Sandy. It's not one I'll ever forget.
I live in Long Beach, N.Y., a coastal community located on a barrier island on the south shore of Long Island. I've lived here for the better part of 11 years, and the reason I love it so much is not only for the beautiful ocean views from my apartment located right on the Atlantic, but for the strong sense of community encouraged in the town.
About 30,000 people live in Long Beach. Before the storm, it was usual to see joggers at all hours of the day on the 2-mile boardwalk, riders on their cruiser bicycles, surfers in the water (even in the dead of winter) and locals wearing flip flops year-round. Between the limitless benefits, road races, summer music concerts on the beach, happy hours in popular bars in the West End and the annual Polar Bears Super Bowl Splash in the winter, the residents and businesses of this town have created a sense of connection, comfort and security.
The lobby of an apartment building in Long Beach mangled by Hurricane Sandy.
But Hurricane Sandy put Long Beach to the test.
The weather forecasts weren't wrong when they warned of dangerous storm surges and massive flooding. I was one of many people who stayed in town during the storm. (I live on the fourth floor of an apartment building about 20 feet from the ocean and assumed the storm would be similar to Tropical Storm Irene in 2011.)
I wish that were the case. During the worst of the storm, I watched water, 4-feet high, rush through the streets. Large chunks of our beloved boardwalk were ripped off by the wind and carried by the surge up my block. My building and the one near me have apartments on the ground floor. One poor soul had his door forced open by the surge, so besides flooding, he had tons of sand enter his apartment. Car alarms kept sounding off all night by those unlucky enough to leave cars parked in the lots closest to the water. They floated around like bumper cars crashing into one another.
Tuesday morning after the storm, I decided to head outside to survey the damage, since my apartment had none. What I saw shocked me. It was similar to Hurricane Katrina photos.
>>>Hurricane Sandy: A Hoboken Perspective
Those who live in ground-floor apartments came back to absolute ruin. Many of my closest friends have had to throw out their most personal possessions because of the flooding. The boardwalk now has huge gaps, and it is unsafe to walk on. Sand was piled as high as the ground-floor windows. The beach was literally in my lobby as the doors and windows broke open from the strong surge. Anyone who had a car in Long Beach, no matter where it was parked, was soaked on the inside. Businesses, no matter how far from the ocean, had at least some water damage. Our power, water and sewer still remain out of order.
In those first days, it felt like the town would be permanently ruined. But that strong sense of community started to peak almost immediately. And, quite frankly, this could not be done without the power of social media.
I have received
all
of my information about my town and resources like FEMA and the Red Cross to help through the evacuation process and recovery via social media. The
Facebook
(FB)
and
pages have been at a fever pitch, with constant updates on getting our town livable again.
An unofficial, yet informative, resource is the Facebook page
Long Beach, NY Hurricane Information
. Although it was set up little more than a week ago, more than 10,000 people have liked the page, which offers by-the-minute updates and messages.
Two people have even set up a crowd-sourcing page on Indiegogo --
Rebuild Long Beach
. The creators are looking to raise $100,000 by Christmas to help the people of Long Beach who were most hurt.
And community members are sharing as much as possible through Facebook. To know there are others going through the same experience and emotions as I am, even though I've had to temporarily relocate to another part of Long Island, has made the process of dealing with this disaster a million times better.
Being a small-business reporter, once I secured safety for myself and my cat (big thanks to my boyfriend and his father for helping me), my thoughts turned to the businesses that have been affected by Hurricane Sandy. And I keep remembering a statistic that was told to me that more than 25% of small businesses affected by a natural disaster never reopen their doors.
In New York and New Jersey, that number is likely to be higher, especially as power continues to be down in many areas. There's a severe gas shortage, and now another coastal storm is coming Wednesday. Small businesses typically don't have the cash reserves to sustain an extended closing (while losing product, such as spoiled food). A natural disaster can sink a business.
But the resiliency I've seen over the past week by local businesses has been uplifting, especially as the nation talks about the fragility of our small-business economy and how important hiring and supporting these businesses is during a difficult economy.
Let me take a moment to point out a few that stick out in my mind.
As I walked around town in shock Tuesday morning, I passed my favorite nail salon, Best Nails, on Park Avenue. The owner and her husband were already inside mopping up water.
Top China in Levittown, N.Y., had its gas ranges fired up Tuesday. The owners were without power but cooked as much of their food as possible so it wouldn't spoil. Chinese food never tasted so good.
A friend tells me that Smithtown Bagels in Smithtown, N.Y., was open bright and early the morning after the storm. The shop didn't have power but, with a lantern over its gas stove, the establishment was serving bacon, egg and cheese sandwiches to hungry and thankful customers.
On Wednesday, when I went back to town to clean out spoiled food from my refrigerator, donate essentials and pack what clothes I could, I saw tow truck companies in Long Beach. The sand hadn't even been plowed yet. One tow truck even got stuck in the sand, the owner working furiously to get it out.
One of the few towns on Wednesday that did have power was Freeport, N.Y. Raimo's Italian Restaurant and Pizzeria had its ovens working overtime. As busy as Raimo's was, it took less than five minutes to be served hot and delicious slices.
Even though Long Beach is still without power, just yesterday I saw a promotion on Facebook by the restaurants and bars of the West End that had come together to offer Sunday dinner to residents. From what I can see in the pictures, the 13 establishments used charcoal grills, portable smokers, generators and donated goods to offer free food and drink to those in need.
The businesses in small towns like Long Beach, N.Y. define strength and resiliency. Many have talked about how much of life has been put into perspective because of the storm. My biggest insight is that these small businesses, the ones in my town, are key to the survival of communities. Because behind them are regular (and dedicated) people who are keeping them going.
As a small-business reporter, I try to spend my money at local shops. As the holiday season starts, I hope others will remember those that helped all of us when we really needed it.
-- Written by Laurie Kulikowski in New York.
To contact Laurie Kulikowski, send an email to:
Laurie.Kulikowski@thestreet.com
.
>To submit a news tip, email:
.
RELATED STORIES:
>>Metar Weather Offers Weather Risk Insurance to Small Business
>>Halloween Entrepreneurs Capitalize on Fear
>>Blood Manor's Spooktacular Business
Follow
TheStreet
on
and become a fan on
Disclosure: TheStreet's editorial policy prohibits staff editors, reporters and analysts from holding positions in any individual stocks.