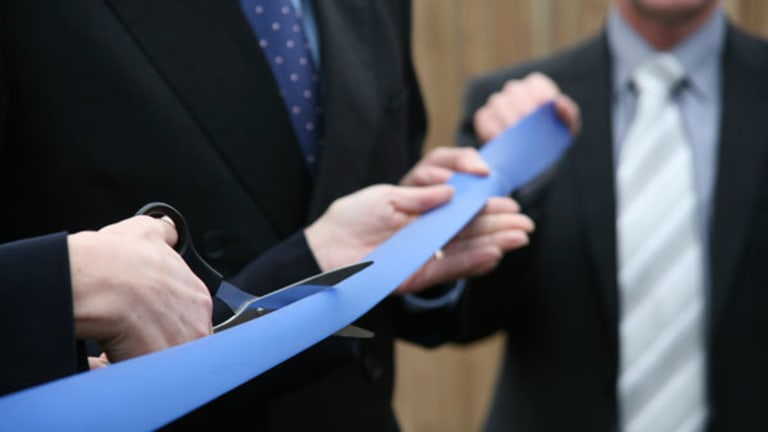 Small Businesses Keep Copycats at Bay
Small businesses have a lot to lose if they don't protect their intellectual property. Trademarks can fill the gap until a patent is granted.
PROVIDENCE, R.I. (TheStreet) -- In a world where imitation is the sincerest form of flattery, it's almost a given that big businesses will copy the ideas of entrepreneurs who don't protect their intellectual property.
While securing a patent is the best way to protect intellectual property, applying for a trademark can be effective, too, especially for cash-strapped companies that don't have time or money to wait for a patent.
"The trademark has actually worked well, and by far it's a lot cheaper
than hiring a patent attorney," says Roni Kabessa, managing director of
Decor Craft
, the Providence, R.I.-based company behind "
I Am Not a Paper Cup
," a porcelain coffee cup that looks like a paper cup. Kabessa wasn't surprised when several companies, including
(SBUX) - Get Starbucks Corporation Report
, came out with similar products.
"A product creates a trend, and a trend creates copycats," he says. "But we realized that if we create a trademark for it, it actually works better than a patent
for marketing purposes. If you go online and research 'I am not a paper cup,' it will come to us. It won't go to Starbucks or anyone else. They can't steal our
brand
."
Though applying for and securing a patent through the U.S. Patent and Trademark Office is an expensive process that can take years, Decor Craft's cup was able to get a registered trademark in a matter of months, Kabessa says. (That allowed Decor Craft to issue cease-and-desist letters to companies that tried to use the "I Am Not a Paper Cup" brand.)
Furthermore, while companies are waiting for a registered trademark (denoted by an "R" in a circle), they have the option of establishing a brand by posting "TM" after the name of a product so the public knows the brand is theirs. That's not the case with patents because the phrase "patent pending" doesn't establish ownership.
The small toy business
HandsOnToys
applied for a patent shortly before launching
Toobers and Zots
. "We got imitated almost immediately by
Wal-Mart
(WMT) - Get Walmart Inc. Report
," HandsOnToys Chief Executive Officer Andrew Farrar says. "We had filed for a patent, but it was still pending, and 'patent pending' doesn't protect you."
Wal-Mart sells a sleeved blanket called the "SnugMee," but those who care about branding know that this doesn't carry the cache of a Slanket (which has a registered trademark) or a Snuggie (which has a "TM" after its name).
By the same token, "Teva," which is synonymous with "outdoor sandal," is a registered trademark. Because Teva sports a patent for the sandal, parent company
Deckers Outdoor
(DECK) - Get Deckers Outdoor Corporation Report
was able to score legal settlements with what it said were a slew of copycats, including
Big 5 Sporting Goods
(BGFV) - Get Big 5 Sporting Goods Corporation Report
Wal-Mart and
Kohl's
( KKS).
A utility patent, which protects the technology and function of a product, or a design patent, which protects the aesthetics of a product, can be effective against bigger companies, says Jeffrey Schox, a patent attorney and founder of the Schox Patent Group in San Francisco.
"People often think of a bigger company walking over the rights of a smaller company," he says. "This happens, but if the patent rights are solid and the infringement is large, there are many law firms that will take on the case on a contingency-fee basis to protect the smaller company."
Entrepreneurs should decide whether their product is novel enough to warrant legal action. In Decor Craft's case, measured humility tells Kabessa that sometimes it's best to let it go. (That's what he decided to do when he recently saw a product similar to Decor Craft's Heart Measuring Cups in the bargain bin at
Target
(TGT) - Get Target Corporation Report
.
"To go and spend $6,000 or $7,000 on a patent that's a cup, as much as you want to make it seem special -- it's a cup," Kabessa says. "And in every single case I dealt with copying, I couldn't find a lawyer who would take the case on retainer."
-- Reported by Carmen Nobel in Boston.