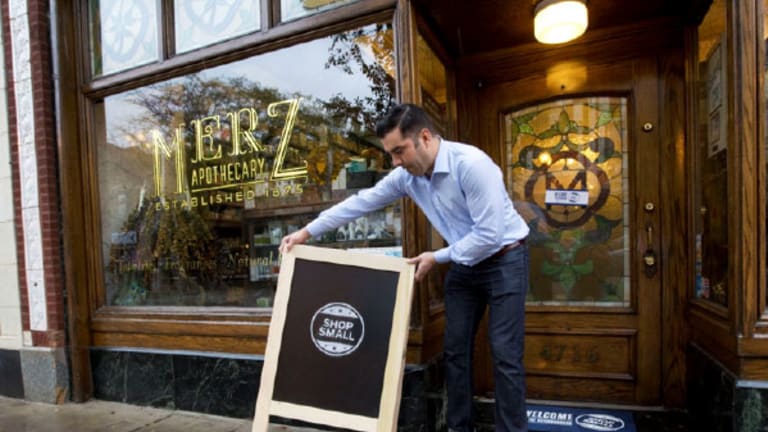 NEW YORK (TheStreet) - 'Small Business Saturday' is set for Nov. 30 this year, the day after Black Friday.
The campaign, sponsored by American Express (AXP) - Get American Express Company Report and now in its fourth year, is intended to boost to sales for independently-owned business of the non-corporate, Main Street economy.
It all sounds great, but is this just a feel-good marketing effort for the credit-card operator, or a campaign that truly helps smaller-sized businesses?
"Do I think it's a marketing ploy? Of course. But they've also created a culture that's made people aware of shopping small every day and the importance of it," says Alison Dodson Anderson, owner of A. Dodson's, an eclectic lifestyle store selling a variety of products from apparel to home decor in Suffolk, Va. Dodson Anderson just opened a second location two months ago. "I don't really care where the movement came from I'm just glad it's here."
Dodson Anderson says Small Business Saturday is the third busiest shopping day of the year at her store, behind a biannual open house the store hosts.
"People are conscious about the day," she says hopefully, noting a recent Facebook status she posted on the store's page, which got more than 100 likes, a big response for a typical post by the store. 
Small-business owners have quite an uphill battle this Thanksgiving weekend and all holiday season long, when up against big-box retailers like Best Buy (BBY) - Get Best Buy Co., Inc. Report and Wal-Mart Stores (WMT) - Get Walmart Inc. Report as well as online behemoths like Amazon (AMZN) - Get Amazon.com, Inc. Report luring customers with cheap deals and fast, free shipping. The shortened holiday selling season this year has retailers in a further promotion frenzy to boost sales.
American Express situated the day smack in the middle of Black Friday and Cyber Monday to encourage consumers to "shop small."
Plenty of naysayers are pointing fingers to American Express, such as the Main Street Alliance, a national network of small-business owners, who criticize the credit card company for "championing small-business shopping," while at the same time having the highest credit card swipe fees at 3.5%, among other things, it says.
Instead, the organization wants to encourage shoppers to pay for their purchases with cash at small businesses this season.
But does it really matter whether it's marketing to get more people to use their American Express cards or a genuine do-good initiative? Because in the end, the growing awareness of the day is becoming a movement that isn't just about using American Express cards.
Last year consumers spent $5.5 billion at independent merchants during Small Business Saturday. (AmEx cardmember transactions specifically rose 21% compared to the 2011 event, AmEx says.)
While the number is small compared to the $59.1 billion spent over last year's Thanksgiving weekend, according to the National Retail Federation, the point is -- the initiative is working.
"We feel strongly that it's driving traffic," says Scott Krugman, a spokesman for American Express OPEN. "We're hearing nothing but positive things from small-business owners. [But it's] still in its infancy."
According to this year's Small Business Saturday Consumer Insights Survey, awareness of among U.S. consumers has improved to 44% of survey respondents, up from 34% a year earlier.
Among those aware of the day, 77% said they planned to shop at a small business. The survey was sponsored by the National Federation of Independent Business and American Express and conducted during the first week of November by polling 1,000 consumers at least 18 years of age.
Once again American Express is offering cardmembers (consumers) a $10 statement credit if they shop at a small business with their card on Nov. 30 this year.
But Krugman says that's not the point. "Small Business Saturday is not about that," he says, insisting that it doesn't matter whether customers pay with cash, card or check, but the important point is that they buy something from a small business.
"If it was just about American Express there would be no credibility to it," Krugman says.
Each year the movement keeps expanding. And this year its morphing into incentive for entire communities to hold events on Nov. 30.
Last year, American Express added the U.S. Chamber of Commerce to its list of partners for the day. This year, American Express created "Neighborhood Champions" program to help local chambers throw community events. It is also working with business organizations that include not only the U.S. Chamber of Commerce, but the American Independent Business Alliance, the U.S. Black Chambers, the Latino Coalition and the American Chamber of Commerce, it says.
"This year we have close to 1,500 events and activities happening in all 50 states," Krugman says. "In some cases it could be block parties or it could be as simple as a community providing free parking or shuttle services [to stores]."
Besides business organizations, companies like FedEx, Foursquare, Twitter and the U.S. Postal Service are offering merchants services like free printing and free online advertising to businesses.
"It's basically about finding these organizers to rally at least 10 local businesses, tell us what they want to do on the day and we give them an 'event in a box' -- banners and shopping bags and doormats helping them with the marketing materials that they need to really promote to make Small Business Saturday special," Krugman adds.
The event has spread globally as well, with Small Business Saturday happening in the U.K., Australian, Israel, Canada, South Africa and Asia, AmEx says.
"Our members are big supporters of Small Business Saturday," Bill Brunelle, spokesman for Independent We Stand, a grass roots campaign of independent business owners to educate communities to buy local and another partner with American Express. "It has become big part of the holiday shopping experience and it reminds consumers to 'shop small' all year round."
'Small Business Saturday' isn't the only day created to counteract the big-box retail mentality. #GivingTuesday, a national day dedicated to doing good deeds and encouraging others to do the same, was created in 2012. The idea was for a day of giving coming on the heels of the big retail events of Black Friday and Cyber Monday. #GivingTuesday falls on Dec. 3 this year.
Written by Laurie Kulikowski in New York.
Disclosure: TheStreet's editorial policy prohibits staff editors, reporters and analysts from holding positions in any individual stocks.