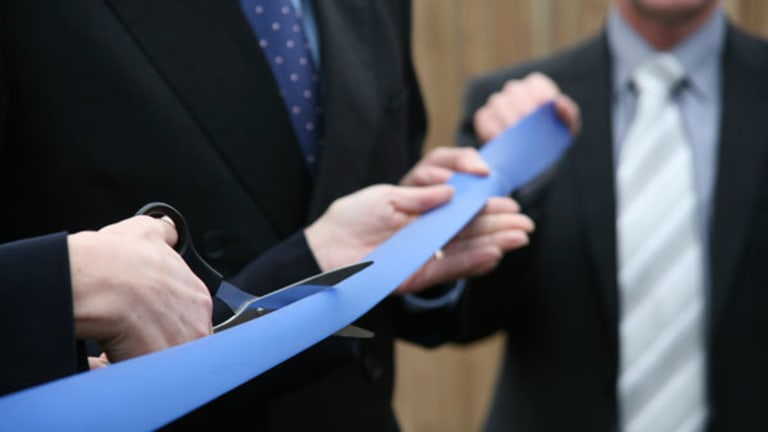 Small Business Sales: $10,000 a Minute
If you're an entrepreneur or own a small business, QVC, Home Shopping Network and similar companies can do the selling for you.
BOSTON (TheStreet) -- Not long ago, the idea of a TV infomercial or shopping channel conjured visions of large-headed ceramic angels and plastic guns that shot lettuce into salad bowls. These days, bolstered by supplemental Internet sales, TV retailers provide a promising storefront for any entrepreneur with a product to sell.
"The bucket tipped a couple of years ago, and we're no longer in a position that we have to sell manufacturers on the idea of selling something on
QVC
," says Doug Rose, vice president of programming and marketing at QVC, the television-shopping network owned by
Liberty Media
(LINTA)
.
QVC posted revenue of $7.3 billion in 2008, including sales of electronics from the likes of
Dell
(DELL) - Get Free Report
,
Hewlett-Packard
(HPQ) - Get Free Report
,
Bose
( BOSE) and
Toshiba
(TOSBF)
. The channel, whose name is an acronym for "quality, value and convenience," also sells entrepreneurial products such as
and
Bare Escentuals
cosmetics. Products advertised on the network sell at an average rate of $10,000 a minute, Rose says.
Hawking wares on national TV is a competitive business for entrepreneurs. Between trade shows and unsolicited pitches, QVC sees hundreds of thousands of potential products each year, about 15,000 of which will make it on the air or on
, Rose says. Similarly,
Merchant Media
-- best-known for the
Pasta Pro
-- markets only about 10% of the products the company considers each year, according to Merchant Media Chief Executive Officer Michael Antino.
Merchant Media differs from QVC in that the company typically licenses an entrepreneur's product and takes over the manufacturing and long-form advertising, retaining exclusive rights and paying out royalties. QVC acts more like a store, ordering products in bulk -- usually at wholesale, but sometimes on consignment -- and relying on the entrepreneur to take care of the manufacturing.)
Vendor-relations teams seek out "demonstrable" products with a cost-of-goods-to-sales ratio of about 1 to 4. Entrepreneurs should be able to demonstrate a working prototype and, ideally, have a trademark for their product to fend off copycats. Certain categories make for better TV than others. Those that perform well on shopping channels include housewares, exercise equipment, beauty, fashion, organization and storage. "Our customer is very much a suburbanite who likes to feather their nest," QVC's Rose says.
On the other hand, "prevention and car alarms don't do well," Antino says. "Our customers are anxious to use what they've purchased on TV as soon as they get it home. If it's a personal alarm, you may buy it and never use it. If it fixes flat tires, you may buy it and never use it."
That said, many shopping networks and infomercial companies including QVC, Merchant Media and the
Home Shopping Network
supplement their TV sales with Web commerce, which lends itself to more thoughtful purchases. About half of Merchant Media's sales and a third of QVC's are Web-based.
"It's allowed us to diversify the means by which people can shop," Rose says, noting that customers can now search for what they need, which isn't the case on TV. "If you need a new toaster, the chances of your seeing us demonstrating a toaster while you're watching
the network are pretty low."
Veteran entrepreneurs who make a pitch to a shopping network should be careful of the terms, especially consignment deals in which the entrepreneur must manufacture thousands of products -- but the network pays only for those that sell, and returns the rest.
"This can be tricky, so any mom-and-pop organization should really think it through," says Gary Clegg, CEO of
Slanket Loungin
, which sells sleeved blankets on QVC. His first deal with the network was a consignment deal, which included an initial order of 8,000 units. QVC sold them all within hours, but that may not have happened on a lesser-known network.
A good rule of thumb is: "Be very careful and willing to say no," Clegg says. "They will want to take product on consignment. I always go into a big purchase asking myself what is the worst-case scenario. If I can handle it, I go for it. But you have to be prepared to say no if the deal is a little too risky."
-- Reported by Carmen Nobel in Boston.